A&E > Food
Fresh sweet corn key to summer chowder
Wed., Sept. 9, 2015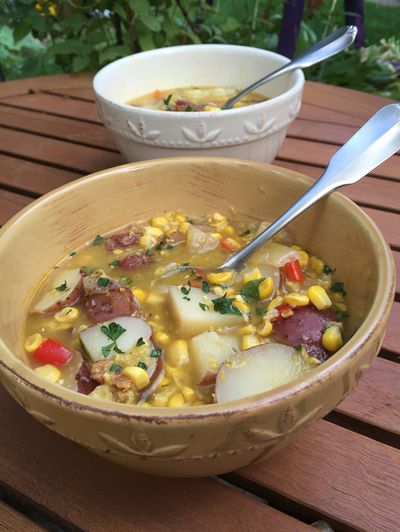 The suddenly cooler evenings and mornings have left me craving fall foods for comfort.
However, it can be hard to choose something homey that will appeal to an array of palates when most traditional comfort food is built around meat, cream and gluten.
Luckily, farmers markets are brimming with the perfect vegetable to help create a delicious, creamy chowder that can be vegan and gluten free, or customized for omnivores. Plus, using sweet corn cut from the cob gives me the feeling that I'm holding onto those long summer days even as they fade.
Former Cooks Illustrated executive editor and cookbook author Pam Anderson is the writer behind the Three Many Cooks website. Anderson, along with her daughters, Maggy Keet and Sharon Damelio, share their cooking triumphs and foibles on the site and have written a cookbook together under the same name. They offer at least three different takes on corn chowder. The simplest one is great for weeknights because it's quick and relies on ingredients that are easily found. Grilling the vegetables offers a great depth to the flavor without being too fussy.
Anderson scrapes the cobs of sweet corn to release corn juice and purees some of the kernels to lend a lovely creaminess to the chowder without dairy. If you're serving vegetarians and vegans, be sure to substitute vegetable broth and skip the bacon. If your table includes a mix of palates, fry the bacon, chop and serve it as a garnish for those who eat meat. The chowder is naturally gluten free.
The trio of cooks also offer another version of corn chowder that features green chilies and chipotle chili powder along with coconut milk to create a spicy, yet creamy main dish. I'm bookmarking the Three Many Cooks website so I can remember to check in more often. There were plenty of comfort food recipes I'd like to try on the site, including a Curried Coconut Soup with Peas and Spinach and a lightened version of cottage pie that substitutes pureed cauliflower for the traditional mashed potato topping.
Corn Chowder
Adapted from Three Many Cooks
8 ears husked corn, 4 ears left whole, kernels cut from remaining 4 ears and cobs scraped to release corn juice
1 large onion, peeled and sliced very thick
1/2 red bell pepper, stemmed and seeded
1 pound new potatoes halved
1 1/2 tablespoons olive oil
Salt and ground black pepper
4 slices bacon, chopped
1 teaspoon dried thyme leaves
1 quart vegetable or chicken broth
2 tablespoons chopped fresh cilantro, plus extra for garnish
Brush 4 ears of the corn, the onion, bell pepper, and potatoes with oil and sprinkle with salt and pepper. Puree cut-and-scraped corn in a blender (you should have about 2 cups).
Meanwhile, heat gas grill, igniting all burners on high for at least 10 minutes, or build a hot charcoal fire. Clean grate with a wire brush and then lubricate with an oil-soaked rag. Place vegetables on hot grate making sure to put potatoes cut side down. Cook until spotty brown, about 5 minutes for the potatoes (no need to turn) and about 10 minutes (turning once) for the corn, onions, and pepper. Remove vegetables from the grill; set aside until cool enough to handle. Chop potatoes and onions, and cut corn from cob.
Meanwhile, fry bacon in a large soup kettle over medium-high heat until crisp, 5 to 7 minutes. Add thyme and then corn puree; cook until it begins to bubble. Add chicken broth and bring to a boil; add vegetables, reduce heat to medium-low and simmer, partially covered, until flavors blend, about 5 minutes, adding water if necessary to desired thickness. Stir in cilantro. Ladle into bowl and garnish with cilantro leaves.
Yield: About 2 quarts
Grilled Corn Chowder
Adapted from Three Many Cooks
5 to 6 ears of corn (to yield about 3 cups of kernels)
2 teaspoons olive oil
2 slices of bacon, cut into small dice
1 large onion, cut into medium dice
1 can (4 ounces) green chilies
1 teaspoon chipotle chili powder
3 medium red boiling potatoes, cut into medium dice
2 cups chicken or vegetable broth
1 can regular coconut milk
1/4 cup packed, torn basil leaves
2 tablespoons chopped, fresh parsley
Salt and ground black pepper
Heat all burners of a gas grill on high until fully preheated, about 10 minutes.
Brush corn with oil and add to grill; cook, turning 2 to 3 times, until spotty brown all over, about 10 minutes. Remove from grill. (Can be cooled and refrigerated a couple of days ahead.) Cut kernels from cobs.
Fry bacon in a Dutch oven or soup kettle until fat has rendered; add onion and sauté until tender, about 5 minutes. Add chilies and chili powder; sauté until fragrant, a minute or so. Add potatoes, corn, broth and coconut milk; bring to a simmer.
Reduce heat to low and continue to simmer, partially covered, until potatoes are tender and flavors blend, 12 to 15 minutes. Add basil and parsley; adjust flavorings, including salt and pepper to taste. Let stand a few minutes and serve.
Yield: 4 servings
Local journalism is essential.
Give directly to The Spokesman-Review's Northwest Passages community forums series -- which helps to offset the costs of several reporter and editor positions at the newspaper -- by using the easy options below. Gifts processed in this system are not tax deductible, but are predominately used to help meet the local financial requirements needed to receive national matching-grant funds.
Subscribe to the Spokane7 email newsletter
Get the day's top entertainment headlines delivered to your inbox every morning.
---