A&E > Food
Pantry Fuel delivers: Spokane startup offers maximum-nutrition, minimum-maintenance meals
Tue., March 1, 2016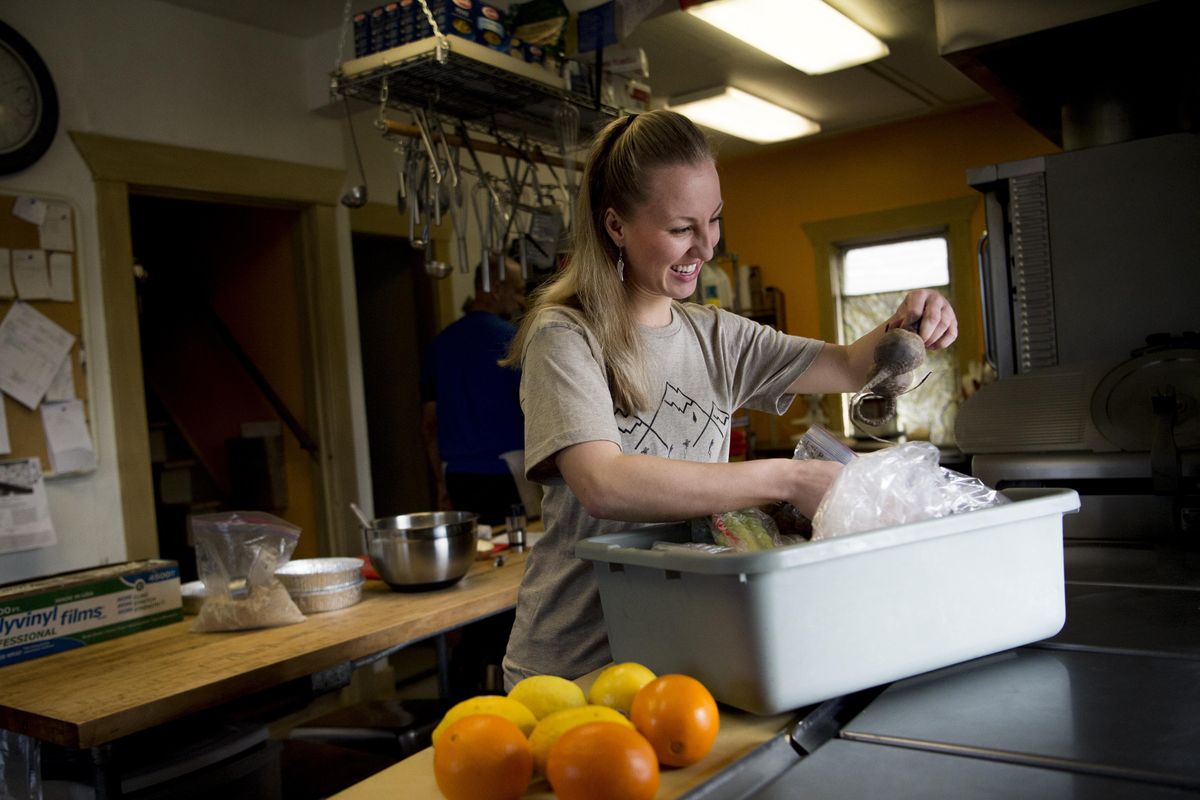 Jennifer Van Cott, owner of Pantry Fuel, a home delivery food service that offers healthy dishes, sorts through fresh ingredients while working at Gardens at Sunset's kitchen in Spokane. (Tyler Tjomsland tylert@spokesman.com)
Suzie Coffman had her staples, and they didn't include fish or vegetables.
Dinner – "probably four or five nights a week" – consisted of two ingredients: chicken and rice.
But that was before Pantry Fuel.
These days, convenience is about more than the microwave. It's about pre-prepped dinner ingredients delivered to your doorstep and tailored shopping lists and recipes sent to your inbox.
The meal-in-a-box business is booming. But unlike most dinner-subscription services, Pantry Fuel doesn't mail food to customers' homes. It drives it there.
The Spokane-based startup was founded last March by Jennifer Van Cott, a recent Gonzaga University graduate. A year in business, she has about 40 clients who consistently place orders.
Her focus is on using local, seasonal ingredients and maximizing nutrition.
She signs Pantry Fuel emails with "To Your Health."
Ingredients are purchased and prepared locally – and delivered in insulated bags throughout Spokane as well as Airway Heights, Cheney, Mead, Spokane Valley, Liberty Lake, Green Bluff, Post Falls and Coeur d'Alene.
"We deliver groceries" – or ingredients – "to you, and you cook it yourself," Van Cott said.
There's plenty of competition – and variety. Depending on where they live, meal-delivery customers can go gourmet or opt for vegan or kosher or ultra-quick.
Gobble promises 10-minute, one-pan, pre-cooked meals. PeachDish focuses on Southern fare. Pete's Paleo does gluten-, dairy-, egg-, soy- and sweetener-free, organic, non-GMO, meaty meals. For organic, non-GMO and ethically sourced vegan foods – as well as recipes developed by Mark Bittman, the former New York Times food writer – there's Purple Carrot.
There's plenty more competition. Companies such as Plated, Blue Apron, Sun Basket, Hello Fresh, Green Chef and Chef'd also ship kits with all of the pre-portioned, pre-packaged fixings – along with cooking instructions.
Many of these larger meal-kit companies deliver nationwide.
Pantry Fuel is uber-local and competitively priced.
Specialty ingredients can cost more. But the cost per plate at most meal-delivery businesses throughout the country typically breaks down to between $8 and $14. At Pantry Fuel, meals start at $10 for the no-meat specialty diet option. The regular, with-meat menu starts at $12 per meal.
There are three meal plans from which to choose: Heart Healthy, High Protein and Endurance. Each offers five recipes per week. Each is also customizable: gluten free, meat free, dairy free and meat and dairy free. Orders are available for one or two people or families of three or four. Monthly meal delivery subscribers receive a discount.
"You can pick and choose," Van Cott said.
The high-carbohydrate Endurance plan – the one Coffman uses – is aimed at long-distance runners and cyclists. The High Protein plan targets body builders, CrossFitters and those adhering to a Paleo diet. Heart Healthy – which is the most popular and features fruits, veggies and whole grains – "is kind of for everyone," said Van Cott, who creates the recipes and writes the meal plans.
She takes into account seasonal ingredients, nutrition requirements and food pairing, or balancing portions of fat, carbs and protein to help clients feel fuller longer.
Look for winter recipes such as Butternut Squash Bake with Chicken and Carrot-Ginger Chicken Wraps with Dipping Sauce. Recent recipes have included a Healthy Burrito Bowl, Light Pea Carbonara Pasta, Jambalaya, Beef and Broccoli Stir-Fry and Honey-Ginger Stir-Fry.
Since Coffman signed up about six months ago, the Sandpoint triathlete has been cooking all kinds of things she never thought she'd like.
Beets. Brussels sprouts. All sorts of roasted root vegetables. Even fish, something she hadn't eaten since she was a kid because she didn't think she liked it.
"I like fish now. I eat all of that stuff now, and I actually love it," said Coffman, who uses the meal-planning part of the service and receives an email every Monday with a week's worth of recipes, plus a grocery list. "I don't think I've ever seen the same thing twice."
Initially, Van Cott, an endurance runner and coach – she coaches the Shadle Park High School cross-country team as well as trains triathletes – had planned to focus solely on athletes.
"All of my athletes kept making excuses for eating healthy," she said. "Everyone had this idea that eating healthy is so expensive. Food marketing makes it sound that way. You have to buy the best to be the best."
She expanded her scope to include the Heart Healthy plan to reach more people, including seniors, patients recovering from surgery or illness and others who might have difficulty getting to the grocery store either because of mobility issues or busy schedules.
Van Cott said she aims to keep food waste as well as costs down. She also aims to use 25 or fewer ingredients per week to keep it simple and orders staples from LINC Foods, a worker- and farmer- owned cooperative in Spokane.
Two chefs, Anne Mayer and Mark Bruskiewicz of Gardens at Sunset Catering, prep meals on Tuesday. Spokane delivery is Wednesday.
In addition to meal delivery kits, Pantry Fuel offers meal planning and grocery shopping services. It also makes and delivers grass-fed bone broth and healthy treats.
It took about a year and a half for Van Cott, 24 and a certified nutritionist, to formulate her Pantry Fuel business plan and save money to launch it. Born and raised in Spokane, she graduated from GU with a bachelor's degree in business in 2013, the same year her grandmother died.
Van Cott said her grandmother in Hawaii – her father's side was raised in the islands – lived alone and struggled to eat nutritiously. Fresh ingredients would often go to waste before she could consume them. So, Van Cott said, "She ate a lot of frozen dinners and drank a lot of protein shakes."
She died at 76, four months after being diagnosed with pancreatic cancer. In Hawaii for her memorial service, Van Cott stayed with her great-aunt and great-uncle, who were in their late 70s. On her blog, she wrote: "I noticed that they also didn't cook much, but instead had access to meal delivery. The service offered multiple restaurants on the island to choose to have delivery from. I looked over the menus – nothing was particularly healthy, nor were there many options for those on specialty-diets, but it was convenient and fairly affordable."
Back home in Spokane, Van Cott was inspired to start Pantry Fuel. Today, some of her customers are in their 70s, like her grandmother and older relatives in Hawaii. But most range in age from about 35 to 55.
Coffman, 53, learned about Pantry Fuel through Van Cott, who is also her endurance coach.
"I thought, 'I need to get it together and eat healthy,' but I don't cook," said Coffman, who works 10-hour shifts and trains for two to three hours per day. "It was really easy to come home to an empty refrigerator. I really needed some help in that area."
She figured she'd try Pantry Fuel for a month and see how it goes.
"I think it's one of the best moves I've ever made. The meals are all extremely nutritious, and it's made a huge difference for me, giving me the energy I need to train."
Butternut Squash Bake with Chicken
By Pantry Fuel
1 pound boneless skinless chicken breasts, cubed
3 pounds butternut squash, peeled, seeded, and cubed
1/3 cup onion
2 tablespoons olive oil
1/2 cup bread crumbs, divided (seasoned with oregano and basil)
1 tablespoon thyme
2 ounces Parmesan
1/2 cup shredded greens (such as spinach, kale or chard)
Toss the chicken, squash, onion, olive oil, 1/4 cup bread crumbs, thyme and Parmesan in a large mixing bowl. Season with salt and pepper. Pour the mixture into a large baking dish. Sprinkle remaining 1/4 cup bread crumbs over the squash. Top with shredded greens.
Bake in the preheated oven until lightly browned on top, 35 to 40 minutes. Internal temperature of chicken should read at least 165 degrees.
Carrot-Ginger Chicken Wraps with Dipping Sauce
By Pantry Fuel
For the wraps
8 ounces boneless skinless chicken breasts, chopped and cooked
4 whole wheat tortillas
1 cucumber, julienned
2 cups sprouts ( 1/2 ounce)
1 medium carrot, peeled and julienned
1 bell pepper, stem and seeds removed, julienned
1 cooked/steamed red beet, trimmed and thinly sliced crosswise
For the sauce
1 small shallot, quartered
3 medium carrots, peeled and coarsely chopped
2 tablespoons coarsely grated peeled fresh ginger
1/4 cup rice-wine vinegar
2 tablespoons low-sodium soy sauce
1/4 teaspoon toasted sesame oil (optional)
1 tablespoon vegetable oil
For wraps: Divide chicken evenly between wraps, then place cucumber, sprouts, carrot, bell pepper and beet slices atop chicken. Fold ends in and roll tightly to enclose filling.
For the dipping sauce: Puree all ingredients through toasted sesame oil in a food processor until smooth. With machine running, add vegetable oil and then a little water through the feed tube in a slow, steady stream. Serve sauce on the side with wraps.
Ribollita with Chicken
By Pantry Fuel
2 tablespoons olive oil, divided
10 ounces boneless skinless chicken breasts, chopped
1 onion, finely chopped
2 carrots, finely chopped
2 garlic cloves, grated
1 (7-ounce) can chopped or diced tomatoes
6 ounces of kale
1 (14-ounce) can cannellini beans, drained and rinsed
2 teaspoons rosemary leaves
2 1/2 cups vegetable stock
Heat 1 tablespoon oil in pan and add chicken. Cook thoroughly, approximately 10 minutes, and set aside.
Heat remaining oil in a heavy large pot over medium heat. Add the onion, carrot and minced garlic. Cook until the onion is golden brown. Add tomatoes and stir.
Add the cooked chicken, kale, beans, herbs and stock. Bring the soup to a boil, reduce heat and simmer for 30 minutes.
Local journalism is essential.
Give directly to The Spokesman-Review's Northwest Passages community forums series -- which helps to offset the costs of several reporter and editor positions at the newspaper -- by using the easy options below. Gifts processed in this system are not tax deductible, but are predominately used to help meet the local financial requirements needed to receive national matching-grant funds.
Subscribe to the Spokane7 email newsletter
Get the day's top entertainment headlines delivered to your inbox every morning.
---