News > Spokane
Supersonic jet startup Spike Aerospace eyeing Spokane for manufacturing
Mon., Nov. 28, 2016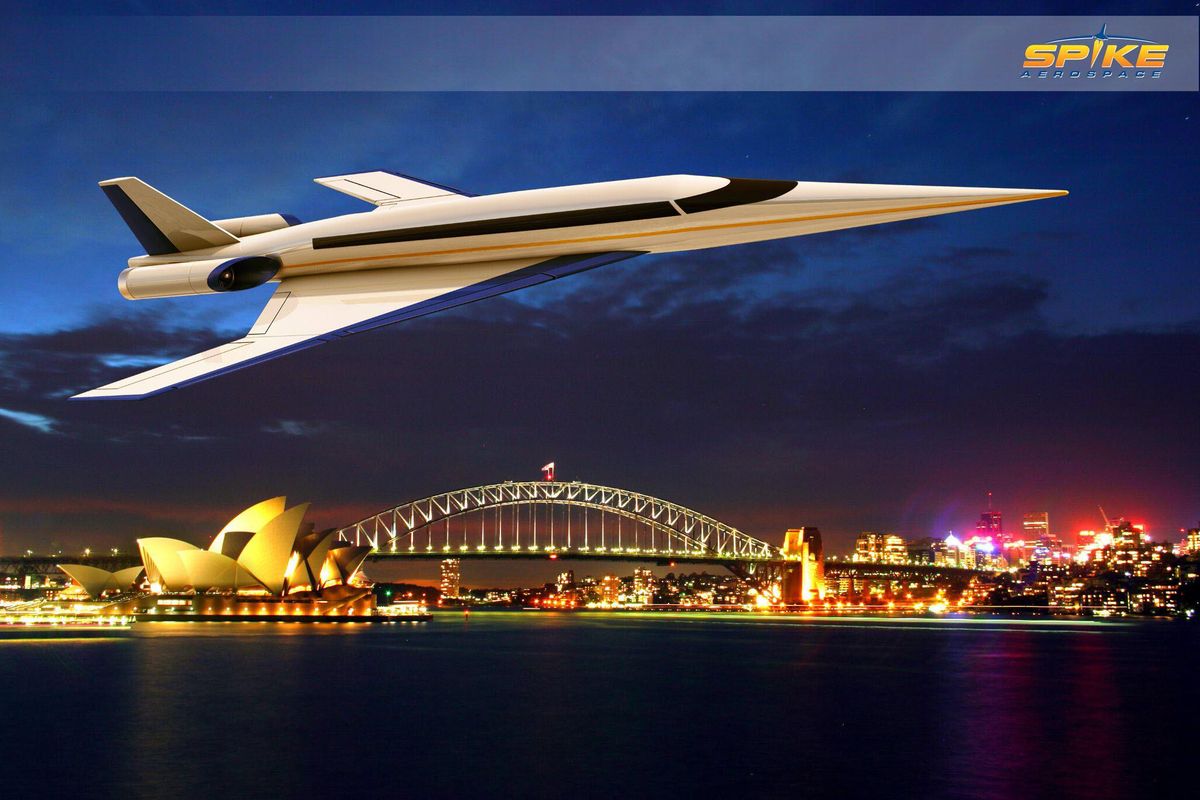 Spike S-512 Supersonic Jet is an 18-passenger plane that would cruise at Mach 1.6 – about 1,200 mph – and could fly from New York to Los Angeles in just over three hours. (Spike Aerospace www.SpikeAerospace.com)
A Boston company is eyeing Spokane as a location to manufacture a supersonic jet now in the early stages of development. It's a move that could create hundreds of high-paying jobs.
Spike Aerospace is designing an 18-passenger supersonic jet that could fly from New York to Los Angeles in just over three hours. The privately held company is one of three U.S. startups looking to revive supersonic technology with a focus on business travelers.
At an aerospace conference last month in Lynnwood, Washington, Spike's chief executive officer said the company is considering several locations in Washington, including Spokane, Moses Lake and Everett. The company has considered several other states, but CEO Vik Kachoria has called Washington "one of the top contenders."
Last week, the state Department of Commerce approved a grant to speed up development of land currently owned by Spokane International Airport. Local officials said an out-of-state aerospace company has expressed "great interest" in building a factory on the site, but they declined to name the company, citing a nondisclosure agreement.
And in a phone call Monday, Kachoria declined to say if Spike is that company. He said it's too early to pinpoint where each phase of the manufacturing process would take place.
"We're not moving to Washington state just yet," he said last month at Gov. Jay Inslee's annual Aerospace Summit. "Each region offers something interesting that we want to explore."
The Department of Commerce granted the airport $20,800 for an environmental review of the land, which officials hope to complete by June 2017. It's one of the last steps in obtaining approval from the Federal Aviation Administration to sell the land to a private party.
According to preliminary plans filed with the state, the unnamed company wants to build a 305,000-square-foot facility that would employ 100 engineers and 200 technicians, producing aircraft parts and distributing them to 17 states.
The facility would cost about $90.5 million and occupy a 40-acre swath of land bound by Spotted Road and Flightline and Geiger boulevards. Officials said it could be operational by early 2019, and plans leave room for a 150,000-square-foot expansion.
In its 2014 master plan, the airport designated nearly 1,700 acres as "non-aeronautical land," meaning airport funds can't be used to maintain it. The airport, which is owned jointly by Spokane County and the city of Spokane, is paying $48,200 for the environmental review to sell the 40-acre property.
County Commissioner Al French said the environmental clearance will save time and money for whatever company buys the property.
"This is part of our continuing effort to make sure that we have shovel-ready sites for development," he said.
French also defended the secrecy of the process, which is code-named "Project Eagle," as a way to shield the company's plans from its competitors. The company has hired a third-party firm to scope out potential locations, he said.
Spike Aerospace has been working on designs for about three years and now employs about 45 engineers, Kachoria said. He envisions flying a prototype in late 2018 and delivering the first full-scale jet by 2023.
"That's definitely the target, and I think we're well on our way," he said Monday.
The market for supersonic passenger jets has been dormant since the British-French Concorde airliner went out of service in 2003.
Spike faces competition from two other supersonic-jet startups with major financial backing. One is Reno, Nevada-based Aerion, which has partnered with Airbus and is financed by Texas billionaire Robert Bass. The other is Boom, a Colorado company that plans to fly its first prototype in 2017 and already has orders pending from Richard Branson's Virgin Group.
Spike says its first plane, the S-512, would be built largely from composites and cost about $100 million. One selling point is noise-reduction technology that would make a sonic boom sound "like a soft clap or background noise," allowing the plane to be flown over land.
The company's chief technology officer, Anutosh Moitra, has helped design supersonic jets for NASA and Boeing.
Kachoria has declined to say if Spike might partner with Boeing. Last month, however, Spike secured a partnership with Kirkland, Washington-based Greenpoint Technologies, which makes cabin interiors for Boeing's 787 Dreamliner and 747-8.
Meanwhile, local officials say another aerospace manufacturer is considering another 40-acre swath of land near the airport. Todd Mielke, the CEO of Greater Spokane Incorporated, said the company would build aircraft components for other companies.
That land sits south of Electric Avenue between Soda and Thomas Mallen roads. Developer Dick Edwards, who owns the property, said he's spent millions installing gas, water, sewer and electrical lines to attract a major buyer.
Triumph Group, which already operates an aircraft parts factory on the West Plains, recently put that factory up for sale amid a companywide retrenching that has resulted in plant closures and consolidations across the country. The announcement came several months after hundreds of unionized Machinists went on strike demanding better wages and benefits.
Steve Warren, a business representative for the Machinists, said he wasn't familiar with either of the proposed developments, but that any surge of manufacturing jobs would benefit the local economy.
Local journalism is essential.
Give directly to The Spokesman-Review's Northwest Passages community forums series -- which helps to offset the costs of several reporter and editor positions at the newspaper -- by using the easy options below. Gifts processed in this system are not tax deductible, but are predominately used to help meet the local financial requirements needed to receive national matching-grant funds.
Subscribe now to get breaking news alerts in your email inbox
Get breaking news delivered to your inbox as it happens.
---