News > Spokane
Black bear swats Priest Lake jogger on Kalispell-Reeder trail; injuries minor
UPDATED: Tue., Aug. 1, 2017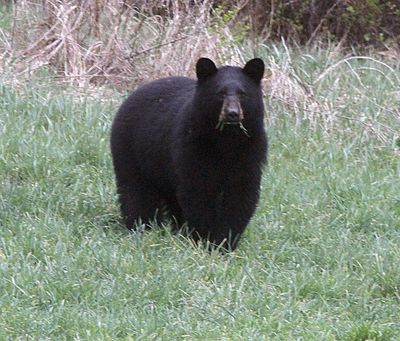 A black bear charged a man jogging along Priest Lake on Monday, inflicting minor injuries to his leg before running off, Idaho Fish and Game Department officials say.
The incident follows a more serious attack on a woman hiking about with her two unleashed dogs on July 4.
Monday's incident occurred on the Kalispell-Reeder Trail on the west side of Priest Lake not far from Elkins Resort, said Phil Cooper, IFG spokesman in Coeur d'Alene.
"The man was jogging and said he passed a bear about 30 feet off to the side of the trail, but the man continued with no incident," Cooper said. "The jogger made a loop and on his way back he passed the bear again. He said the bear ran up on the trail and chased him for a short distance. He said he put his hands up in the air to look bigger but the bear kept coming so he dropped to the ground.
"He said the bear swatted his leg and caused minor cuts before the bear left. The man said he did not seek medical attention."
The Forest Service closed the trail as well as the Lakeview Trail overnight while IFG brought in a houndsman to try finding the bear.
"It was so warm the dogs couldn't pick up a track," Cooper said. "We would have considered lethal removal if we'd have found it, but we're trying to keep this in perspective."
Running in the presence of bears, wolves or other animals can trigger attacks, experts say, noting that it's better to stop and back away from bears slowly. Carrying bear spray also is a useful deterrent to aggressive bears.
Cooper said the man was not running with dogs and there were no reports of the bear having cubs, two factors that distinguish this incident from the more serious event that occurred July 4 six miles farther south near the Priest Lake Visitor Center.
In that case, officials say the loose dogs with the woman may have accounted for the prolonged attack on the woman by a sow that had at least one cub. She was able to summon help from friends on her cell phone between multiple attacks by the bear on her and her dogs.
The Forest Service has posted signs at trailheads near Priest Lake warning trail users that bear activity has been reported.
Local journalism is essential.
Give directly to The Spokesman-Review's Northwest Passages community forums series -- which helps to offset the costs of several reporter and editor positions at the newspaper -- by using the easy options below. Gifts processed in this system are not tax deductible, but are predominately used to help meet the local financial requirements needed to receive national matching-grant funds.
Subscribe to the Coronavirus newsletter
Get the day's latest Coronavirus news delivered to your inbox by subscribing to our newsletter.
---