A&E > Food
In the Kitchen with Margaret Albaugh: Cooking for vegan kids
Tue., Jan. 10, 2017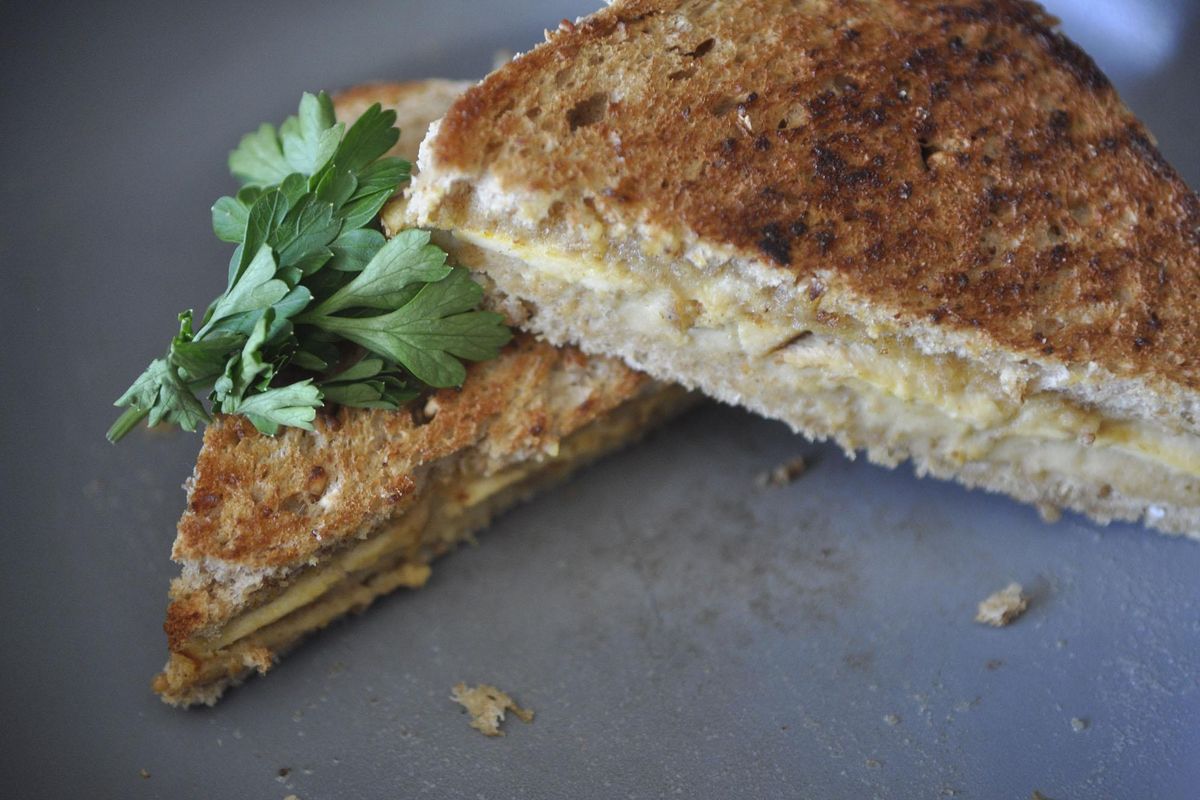 These vegan kid-friendly grilled sandwiches are stuffed with hummus instead of cheese. (Adriana Janovich / The Spokesman-Review)
Roasted seaweed is a favorite snack.
So is hummus, macaroni with creamy cashew sauce, and baked tofu. Pesto's good on almost anything. So is a sprinkling of nutritional yeast, or "nooch," which offers "cheesy flavor and adds a ton of nutrition" to whatever dish she's making for her vegan kids.
Margaret Albaugh's been vegan for about six years now, and she was vegetarian for 10 years before that. She made the change during her freshman year of college while studying nutrition in her native California. Her husband went from omnivore to vegan about the same time she went from vegetarian to vegan.
Their children – Harry, 4, and Eleanor, 2 – have been vegan their entire lives.
Kids are notoriously picky eaters. Vegan kids, well, they can be finicky, too.
While they have fewer foods to choose from – all animal products are off the table, from dairy and eggs to honey, gelatin and, of course, meat – they still have plenty of plant-based options.
Here, Albaugh shares some of her favorites for feeding her vegan kids.
She makes most of their food. That way, she said, "I have control what goes in it. "I'm always looking for ways to increase the nutritional value of something."
She eschews processed foods and tucks pureed lentils into soups for protein. For flavor, she uses mustard and balsamic vinegar.
"I find that if I put balsamic in anything they'll eat it," said Albaugh, 34, a South Hill photographer and filmmaker who specializes in family portraiture. "They like to eat and dip things and feed themselves and feel like they have that control."
Chickpea nuggets are a favorite. So are cheese-less quesadillas and grilled hummus sandwiches.
"Kids love finger foods," Albaugh said. "I've never given them candy or fruit snacks. We try to do whole foods: peanut butter, cashews, pistachios, pureed fruit and veggies. They both love raw carrots and avocado."
One of her time-saving tricks: freezing cashew cream in ice cube trays to have small amounts of the sauce readily available for macaroni-and-not-cheese and other entrees.
Vegans and vegetarians make up a small number of Americans. It's difficult to pin down an exact percentage; recent polls put figures for both at anywhere from 2 to 10 percent. And those percentage points don't include children, which are even more difficult to track.
Albaugh and her husband, Clint, switched to a plant-based diet before they had children and after watching the documentaries "Earthlings" and "Food Inc." and reading "Fat Land" and "The Omnivore's Dilemma."
The move "just made sense to me," she said. "Except for the emotional and sentimental attachment to certain foods, I didn't have any reason not to be vegan."
She and her husband discussed whether the diet was right for their children. She said she wondered: "Are we just pushing our idea on them about what's right and what's not right? Well, my husband said, that's what parents do."
The Albaughs moved to Spokane from Oklahoma because of his job – he's a major in the U.S. Air Force. They make a point to visit farm sanctuaries – including Higher Ground Animal Sanctuary in Green Bluff – to help their children make the connection between animals and their reasons for not eating them. As they get older, Albaugh said, they can have deeper conversations about the ethics and health benefits.
Birthday parties and school cafeterias could pose challenges.
"I think," Albaugh said, "they're always going to be packing a lunch."
Red Lentil and Tomato Soup
From Margaret Albaugh of Spokane
Margaret Albaugh tucks red lentils into classic tomato soup to add protein and increase the nutritional value. She often cooks the lentils ahead of time and will come back to this recipe when she has more time.
1/2 cup uncooked red lentils
1 can plum tomatoes
1 teaspoon basil
1/2 tablespoon oregano
1 teaspoon thyme
1 tablespoon salt
1 tablespoon garlic (about 2 cloves)
Pepper to taste
3 tablespoons nutritional yeast
1/2 cup almond milk or cashew milk (soy can be used if the flavor is not overwhelming) (optional)
Cook lentils. Drain and let cool. Blend all ingredients in a blender. You can choose to have a chunkier soup or keep blending for a smoother soup. Pour mixture into pot to simmer and let the flavors meld for a bit before serving.
Grilled Hummus Sandwich
From Margaret Albaugh
2 slices wheat bread
2 tablespoons hummus
Dash of garam masala
Dash of nutritional yeast
Sliced baked tofu
Plant-based spread, for greasing pan
Spread hummus on slice of bread. Sprinkle with seasonings and nutritional yeast. Pile on tofu slices, but not too thick (for little mouths). Grease pan. Grill sandwich on pan at medium-low heat for about 3 minutes on each side or desired texture.
Easy-Dillas
From Margaret Albaugh
3-4 tablespoons vegan refried beans
1 tortilla
1/4 avocado, sliced
Dash of nutritional yeast
Spread beans on half of the tortilla. Place avocado slices atop beans. Add a dash of nutritional yeast. Fold tortilla in half and grill on low for a few minutes until desired texture.
Vegan Pesto
From Food52
2 cups basil
1/2 cup pine nuts or walnuts
1 clove garlic
1/2 cup extra virgin olive oil
Sea salt and pepper, to taste
1 tablespoon lemon juice
3 tablespoons nutritional yeast
Place the basil, walnuts or pine nuts and garlic in a food processor fitted with the S blade. Pulse to combine, until the mixture is coarsely ground. Turn the motor on and drizzle the olive oil in a thin stream. Add the sea salt, pepper, lemon and nutritional yeast, and pulse a few more times to combine.
Chickpea Nuggets
Adapted from Happy Herbivore
"My kids gobble these up, and they like to dip them in balsamic glaze," Margaret Albaugh said.
1 can chickpeas, drained
1 cup cooked quinoa
1/2 cup shredded kale (optional)
1/2 tablespoon nutritional yeast
1 teaspoon poultry seasoning
2 teaspoons soy sauce
1/3 cup oats
1/2 cup vital wheat gluten
1/4 cup water
1/2 cup corn flakes
Cooking oil, for baking sheet
Process chickpeas, cooked quinoa, kale, yeast, seasoning, soy sauce and oats in the bowl of a food processor. Try not to over-process. You don't want paste; the chickpeas should still be chunky but not too chunky. The texture should be similar to wet sand.
Place mixture in a large bowl. Cover with plastic wrap. Let rest overnight in the refrigerator.
Add the wheat gluten. Pour in about 1/4 cup water and work the mixture like dough. Start with a fork or spoon to spread the gluten and water, then use hands to knead it together.
In a separate bowl, mash the corn flakes to a fine texture.
Break off small pieces of the chickpea mixture and roll them to finger-food size, then roll them in the corn flake dust. (If your mixture is dry you dip the nuggets in a milk alternative, then roll them in the dust.)
Spray a baking sheet with cooking oil and lay out nuggets. Bake for 22 minutes at 400 degrees. (Flip at about 15 minutes.) Let cool. The texture is better if they sit for a bit, even overnight.
Local journalism is essential.
Give directly to The Spokesman-Review's Northwest Passages community forums series -- which helps to offset the costs of several reporter and editor positions at the newspaper -- by using the easy options below. Gifts processed in this system are not tax deductible, but are predominately used to help meet the local financial requirements needed to receive national matching-grant funds.
Subscribe to the Spokane7 email newsletter
Get the day's top entertainment headlines delivered to your inbox every morning.
---