News > Spokane
Air quality 'unhealthy' in Spokane, North Idaho, Northeastern Washington
Aug. 13, 2018 Updated Mon., Aug. 13, 2018 at 5:12 p.m.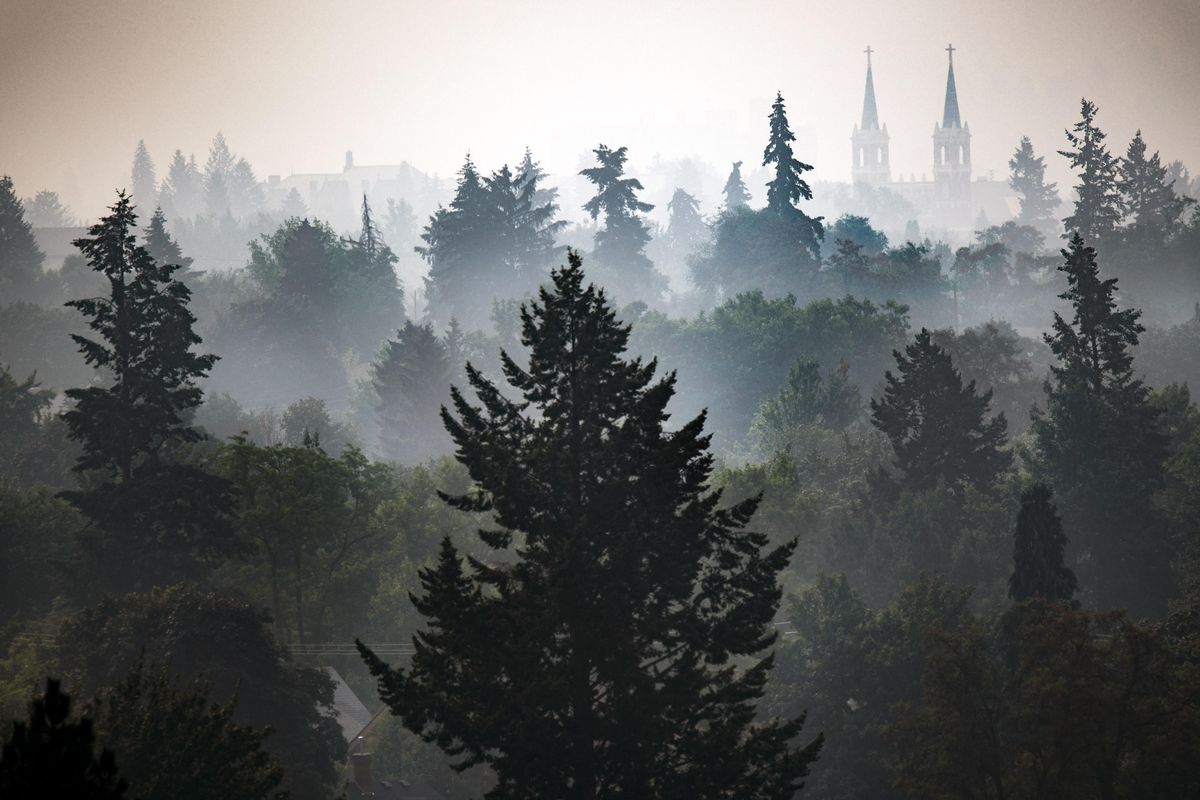 The spires of St. Aloysius Catholic Church are clouded in wildire smoke on Monday, Aug. 13, 2018. The smoke has created unhealthy breathing conditions across Northeastern Washington and North Idaho. (Colin Mulvany / The Spokesman-Review)
Wildfire smoke that has blanketed Northeastern Washington and North Idaho, creating unhealthy breathing conditions, is expected to linger through much of the week, experts said.
Many air quality monitors, including ones in Spokane, Wellpinit, Omak, Twisp, Ritzville and Sandpoint, were reading in the "unhealthy" category Monday morning. Lisa Woodard, a spokeswoman for the Spokane Regional Clean Air Agency, said the influx of smoke had resulted in the worst air quality so far this year.
The wind has been blowing into Spokane from the northeast, bringing smoke from fires in Canada, Montana and North Idaho, said Joey Clevenger, a meteorologist with the National Weather Service in Spokane.
While some smoke at higher altitudes may blow farther south, Steven Van Horn, another weather service meteorologist, said air conditions probably wouldn't improve much for several days. That's due to a lack of strong winds and temperature inversions – layers of warm air trapped beneath layers of cold air – that are holding smoke close to the ground, he said.
"There might be a little improvement, but I don't expect there to be a massive improvement in air quality," Van Horn said. "The smoke is probably going to linger throughout the week."
The air quality in Spokane was bad last week, too. It was measured in the unhealthy category on Wednesday and Thursday, though as of Sunday, a whole 24-period had not averaged in the unhealthy category, Woodard said. The 24-hour average air quality on Thursday and Friday, however, was in the "unhealthy for sensitive groups" category.
Jennifer Semenza, a spokeswoman for Providence Sacred Heart Medical Center, said the hospital had seen a small yet insignificant increase in the number of patients complaining of respiratory problems.
"Most people with conditions irritated by poor air quality are likely seeking treatment from their primary care physician first rather than coming into the emergency department," Semenza said in an email.
The emergency room at MultiCare Deaconess Hospital, as well as MultiCare's urgent care centers, also saw "moderate" increases in the number of asthma patients during the past week, said Kevin Maloney, a hospital spokesman.
"That's due not only to the smoke that we've had, but also the heat," Maloney said. "It sounds like it's specifically affecting people who had the asthma condition already."
MultiCare's Valley Hospital, meanwhile, reported that its uptick in respiratory patients was about average for this time of year, Maloney said.
The weather service is forecasting "widespread haze" at least through Sunday. Temperatures are expected to be in the 80s Monday and Tuesday before heading back into the 90s on Wednesday and Thursday.
Spokane's summer also continues to be drier than normal. There has been no rain in August, compared to the normal amount through Aug. 13 of 0.21 inches. In July, 0.06 inches of rain fell in Spokane, compared to the normal of 0.64 inches. In June, Spokane had 0.55 inches of rain compared to the normal of 1.25 inches.
Staying indoors
The city of Spokane announced Monday it would again close its six municipal pools until air quality levels drop below the unhealthy category. Up-to-date swimming information can be found by calling the city's aquatics hotline at (509) 625-6960.
The smoke didn't stop some people from enjoying city parks, however. Children were playing Monday afternoon on the big red wagon in Riverfront Park.
At the Wonderland Family Fun Center on North Division Street, outdoor attractions including the go-carts and miniature golf course were all but abandoned. Parents and caregivers kept their children indoors to avoid the smoke.
Rose Dussell, a nanny from Spokane, accompanied 4-year-old Sullivan Bryant as he ran from one arcade game to the next, gleefully throwing balls, slamming buttons and racing a plastic motorcycle on virtual courses.
The arcade is one of few kid-friendly entertainment options when it's smoky outside, Dussell said. She went there when smoke clouded the area last year, too.
"We would usually go biking, but that's out of the question," she said.
Heather Whitney, a mother visiting from Seattle, said her family would prefer to spend time outdoors, somewhere like Manito Park.
"We want to be outside," Whitney said. "I want my 9-year-old to get exercise."
But it's more important that her son, Grey, isn't exposed to the smoke, she said. So they opted for laser tag.
"You have to be more creative," she said.
Anthony Hattrup, the general manager at Wonderland, said he was encouraging customers to stay indoors. Over the course of a busy day, several hundred people might use the outdoor attractions, but on Monday most elected to stay indoors, he said.
"If someone wants to go outside, we'll do it for them, but I'm also not going to have my employee out there all day," Hattrup said. "If (an employee) just can't handle the outside, we're not going to make them be out there because it's not exactly the healthiest."
Jobs to be done
Ben Parriman and his team of landscapers were busy Monday hauling boulders into the yard of a house in Spokane's Perry District – one step in a weekslong project to replace the thirsty lawn with drought-resistant plants. The homeowner is seeking to conserve water to get a special rebate on their utility bill, Parriman said.
When the wildfire smoke was bad last year, the landscapers wore filtration masks to keep the hazardous particles out of their lungs, Parriman said. But on Monday, the masks sat unused in his pickup truck.
"I notice the smoke a lot more in the morning, but as the day goes on I think we just get used to it," said Parriman, who owns a landscaping company called Ground FX.
Landscaper Jacob Mayfield said the smoke was unpleasant, but probably wouldn't stop them from completing the work.
"If it really started to cause us problems, we would probably just pack it up," Mayfield said.
If anything, the heat might be an obstacle. Parriman said the crew took Friday off because of temperatures that soared above 100 degrees.
Likewise, Mike Schimmels, the owner of Red Diamond Construction, said members of his road construction crew don't wear masks or take other precautions against the foul air because they're used to dire conditions.
"We're used to working around the dust and everything, so it really doesn't bother us," said Schimmels, whose company is working on the renovation of North Monroe Street.
Years ago, Shimmels wore a face mask during particularly dusty days, but he shed that safety measure.
"I guess I got immune to it," he said.
Schimmels said he feels worse for his asphalt crew, who is working with tarry sand and gravel that gets as hot as 300 degrees.
"They're working on that in the heat of the day," he said.
As for the smoky conditions that are becoming an August mainstay, Schimmels said he and his crew aren't the only ones who will be getting used to it.
"I think this is kind of the future for everyone," he said.
Local journalism is essential.
Give directly to The Spokesman-Review's Northwest Passages community forums series -- which helps to offset the costs of several reporter and editor positions at the newspaper -- by using the easy options below. Gifts processed in this system are not tax deductible, but are predominately used to help meet the local financial requirements needed to receive national matching-grant funds.
Subscribe now to get breaking news alerts in your email inbox
Get breaking news delivered to your inbox as it happens.
---