Coffee and doughnuts: Indaba and Hello Sugar pair up to offer the classic combination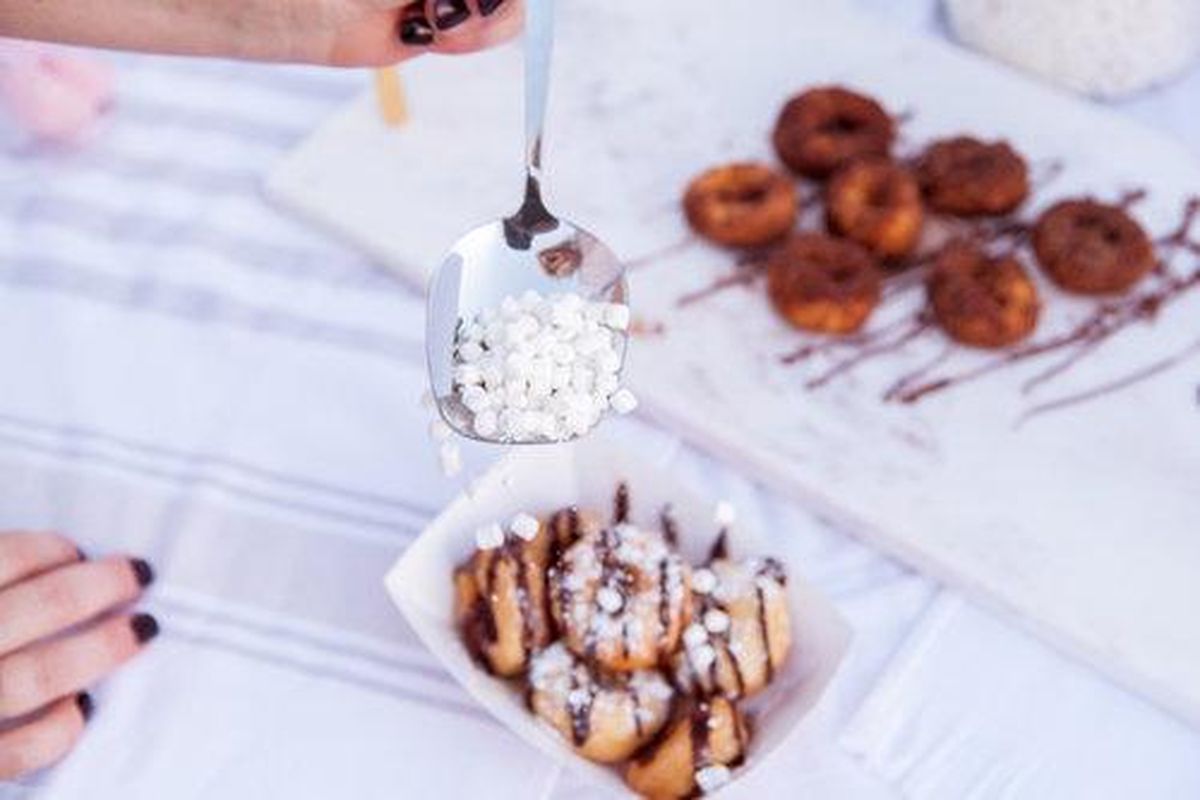 It might just be a perfect pairing.
Coffee and doughnuts are a classic combination. But, so often, the doughnuts are good and the coffee is basic drip, or the coffee is high quality and the doughnuts, well, aren't.
A collaboration between Indaba Coffee Roasters and Hello Sugar, a new made-to-order doughnut business, aims to offer both high-quality coffee and hot and fresh mini doughnuts.
The shop opened Friday – on National Doughnut Day – with lines that wrapped outside the building. It marks the fourth location for Indaba and the first location for Hello Sugar. They're sharing a space in the same building as the recently opened Park Lodge restaurant, located across the street from the Olmsted Park playground and right along the Centennial Trail on the western edge of Kendall Yards.
"There's amazing coffee shops in this town. And there are amazing doughnut shops. But usually you have to pick one or the other," said Ramsey Pruchnic, who owns Hello Sugar with his wife, Amy. "What if you could have great coffee and great doughnuts without having to get into the car to find the other? They pair so well together."
They had planned to open the shared shop in September, but construction and other delays pushed back the opening of the 2,000-square-foot space. It features clean lines and a contemporary design, high ceilings and exposed wood beams. The feel is light, bright and airy. Decor is done largely in white with black and natural wood accents. A garage-style, roll-top door opens onto a patio overlooking the park and provides indoor-outdoor ambiance.
Bench seating lines one of the walls. There's room for 46 inside plus another 28 on the patio.
The shared space features two walk-up counters – one for doughnuts, and one for specialty coffee drinks. For guests who don't want to wait in two lines for fresh doughnuts and gourmet coffee, the Hello Sugar counter will offer an exclusive blend roasted by Indaba for the doughnut business. But for lattes, mochas and other signature coffee drinks, customers will have to walk up to the Indaba counter.
Coffee connoisseurs can expect the "standard Indaba menu" at the new location, owner Bobby Enslow said. That includes cappuccinos, machiatos and cortados as well as caffe miel with raw honey and the signature lemon-vanilla latte.
Founded in 2009, Indaba began roasting in 2014 with a 1.5-kilogram Proaster. It was located at Indaba's original shop in Spokane's West Central neighborhood.
The new roaster, also a Proaster, handles 10 kilograms.
"I do 99 percent of the roasting," Enslow said. "It's taking up a lot of my time. This will allow us to continue to grow."
The new location will be home to Indaba's headquarters, which are moving here from the original West Central store. Enslow is looking to unload Indaba's older, smaller raoster.
"If anyone wants to buy a piece of Indaba history, it's for sale," he said. "It works."
Meantime, the new, larger roaster is located in the new shop's production area, near Hello Sugar's doughnut-making machine.
"We're really conscious of the un-boxing experience, if you will, and how you feel when you eat the doughnuts," Pruchnic said. "The experience is in the store. It's designed to be a whole experience. We're not a doughnut shop; we're a doughnut experience."
His wife is the doughnut company's "chief experience officer." She also stays home with their three children, ages 12, 8 and "4 in mid-June."
The shop was designed with children and Centennial Trail users in mind. A walk-up window accessible from outdoors lets customers on bikes or with dogs or strollers not have to maneuver inside the shop or worry about securing their pet or locking up gear.
"The menu is super simple," Pruchnic said.
Doughnuts come in six standard flavors, plus a seasonal option. In the fall, look for pumpkin and apple cider doughnuts.
"The seasonals are our opportunity to do something that reflects Spokane. Local partnerships are going to be really important," he said.
Gluten-free doughnuts will be made in advance. Batter for regular doughnuts will be made throughout the day. The base is vanilla. Toppings are where the flavor comes from. The signature Hello Sugar doughnut is dressed with powdered sugar and edible sparkles.
In fact, edible glitter is a hallmark of Hello Sugar mini doughnuts.
The Cocolala is vanilla-coconut flavored. The topping for the sea salt and maple doughnut is "similar to a maple bar" but also comes with sea salt and a gold sugar star. The Dutch baby flavor is "like a lemon crepe," Pruchnic said, with powdered sugar and a lemon slice. The strawberry shortcake comes with powdered sugar and strawberry jam. And the Summit comes with Nutella and mini marshmallows.
Doughnuts are made to order as customers watch.
"We don't sell out because we're making them fresh to order," Pruchnic said. "We might have a line, but you're going to get a doughnut and you're going to get the doughnut you want because it was literally made for you. You're handed a literally-out-of-the-fryer doughnut."
Well, you're handed six or 12. Hello Sugar mini doughnuts come in orders of a half-dozen or a dozen.
"They're minis so there's less guilt when you eat a dozen because they're smaller," said Pruchnic, who's also president of Strategy Labs, a new data-driven marketing company.
He and his wife will be found behind the counter from time to time. "But we are not going to be in the store every day," he said, noting he hopes the shared shop becomes a gathering place – for moms groups, men's Bible studies, meet-ups with friends and more.
"Doughnuts aren't meant to be eaten alone," he said. "It's a social endeavor. You eat doughnuts with other people."
And, he said, "mini doughnuts by nature are easily shareable."
---