News > Spokane
Goodbye Linnie's Thai: Storied corner to be site of new women's shelter
Sun., June 24, 2018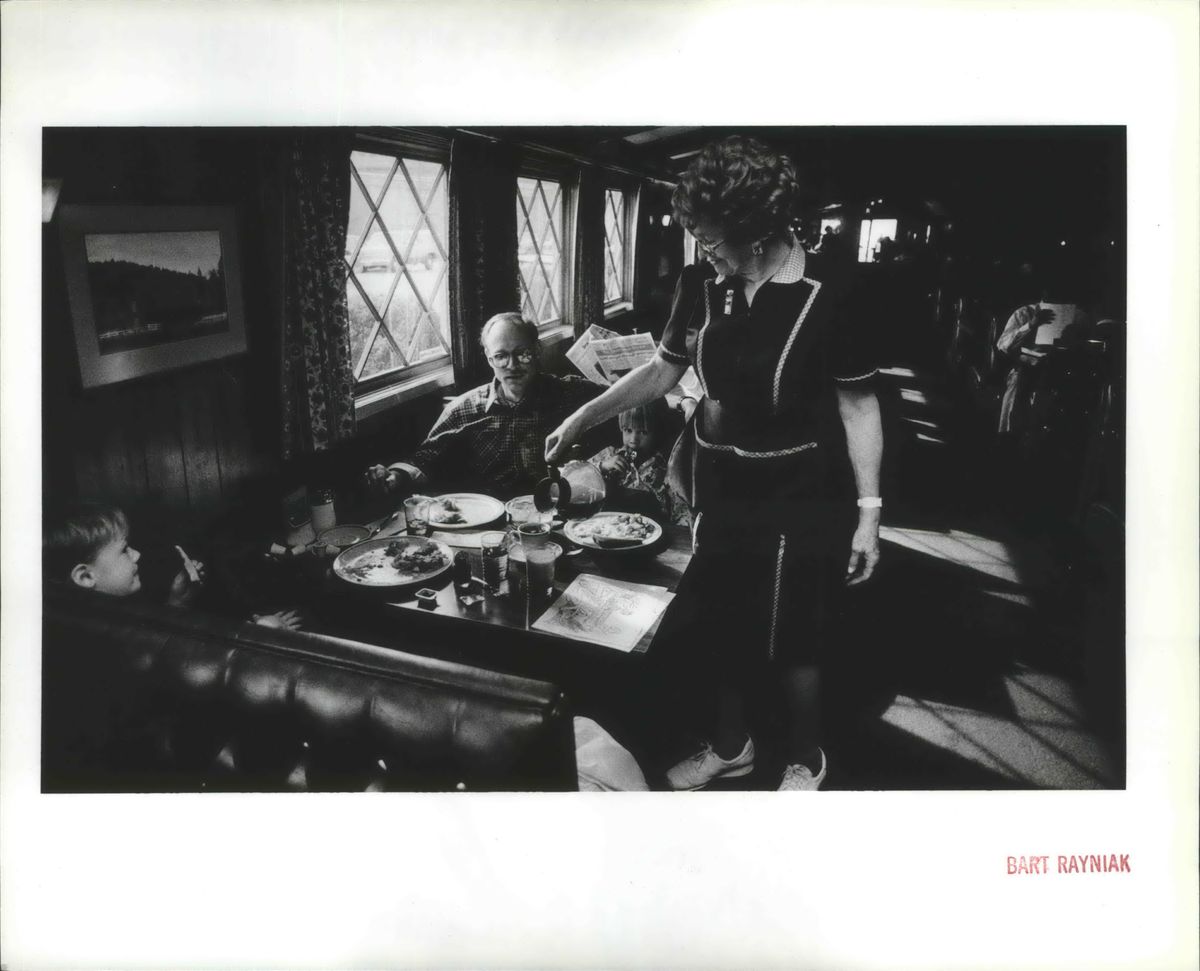 Marge Baker has been waiting tables at The Shack for 18 years, serving regulars like John Blalock and his children, Adam and Bonnie. (Bart Rayniak / Cowles Publishing)
Before Linnie's and before the long-lived Shack restaurant, there was a vegetable stand that sold coffee and hamburgers.
Now, as West Coast cities grapple with rising homelessness, the storied southwest corner of Third Avenue and Adams Street will change once again, this time into a four-story building that will act as a beacon of hope for homeless women.
Volunteers of America Eastern Washington & Northern Idaho has proposed building a $12 million building on the site where Linnie's Thai Cuisine currently stands.
Plans for the 50,000-square-foot building include a ground floor homeless shelter with 120 beds exclusively for women. Its upper floors will contain 60 studio apartments for people trying to get off the street. The building also will have classroom space, meeting rooms, offices for case managers and a full kitchen to cook meals for those in the shelter. The apartments will have their own kitchens.
The project, which is anticipated to begin in early 2019 and be finished by the end of the year, is part of an effort by the organization to help every woman who needs it, said Fawn Schott, VOA's president and CEO.
"Every night there are 400 women on the streets. Every night," Schott said. "They're not safe."
When Schott took over the group, she said, they were forced to turn away 10 to 15 women every night at their women's shelter, Hope House, due to lack of space.
After speaking to the shelter's manager, Schott began a two-pronged effort to help more women in need. First, the group sought to find permanent housing for more women. Second, they needed a bigger shelter.
"If we actually had a space where we could treat the women fully, we could have an impact," Schott said.
Schott put an additional $40,000 toward a program to help find housing, and it's worked, she said. In 2015, the year before Schott took over, the VOA helped find housing for 24 women. The next year, that number jumped to 98 women. In 2017, the number increased again, to 108 women.
"That $40,000 investment had a huge impact on the community and helped us end homelessness for a lot of women," she said, adding that a majority of the women stay off the streets. "We average about 80 percent success rate. We have a really great stayer rate."
Finding a bigger shelter was a harder nut to crack, but Schott knew the shelter had to be on the west end of downtown, near grocery stores, medical services and a bus line.
She began casting about for a site.
From veggie stand
to Shanty Room
Stand at the intersection of Third and Adams, and take a moment to consider the southwest corner.
It may not look like much now – a strange building that appears to be built on an as-needed basis, which is exactly what it is.
But before 1926, the lot held just a house built before the turn of the century.
Highway 10, the Sunset Highway, opened in 1915, and ran right in front of the house on Third. Traffic meant customers so, in 1926, someone built a 4-foot by 10-foot vegetable stand, selling his wares to the motorists. A business was born and the veggie shack sold in 1933.
"Floyd Cady bought the stand that year for $100 and converted it into a restaurant, handing hamburgers and coffee out through a window to customers who stood on the sidewalk corner to eat," read a 1962 article in the Spokane Daily Chronicle.
Soon enough, the house was being used to prepare the food that was sold in the stand. It got a name: The Shack. In the first 10 years of Cady's ownership, the restaurant gradually expanded. First, it could seat 25 people. By 1943, it had capacity for 60 diners.
Two years later, in 1948, the restaurant sold again, this time to H.C. Smith for $45,000. In an article about the sale, the Chronicle said the Shack "has grown into one of the outstanding restaurants of Spokane."
The following year, Smith added the Shanty Room Lounge and yet another addition to the restaurant, only to sell the restaurant in 1952 to M.M. Francis. The restaurant would remain in Francis' family for the next 50 years.
Come in as you are
A postcard from 1958 detailed the Shack's marketing campaign: "For Delicious, Appetizing, Full Course Dinners, Luncheons or Evening Snacks, you are invited to enjoy our food. We specialize in seafood. Prepared by expert chefs. Come in as you are." An ashtray from around this time sounds a similar note, claiming the Shack and Shanty Room was "one of Spokane's better restaurants."
As was lauded over the following decades, the menu didn't change much and included a collection of items that sound a bit quaint to our 21st century "foodie" ears: daily roasted whole turkey with stuffing, mashed potatoes and gravy; pan-fried oysters; Salisbury steak; and liver and onions.
In October 1988, the Shack still stood and still was making headlines. That year, The Spokesman-Review wrote an article about three legendary restaurants: the Shack, Casey's and Travo's. Together, they'd "been in business for a total of more than 150 years."
All three are now closed. Casey's best-remembered location on North Monroe is now a plasma donation center. Travo's is a high-end pet store downtown on Sprague Avenue.
In the article, the Shack was lauded as one of those places where you could go, get a bottomless cup of coffee and reminisce about the good old days. In fact, the article begins by recalling that in 1935, a cup of coffee and a slice of pie cost 20 cents, leaving room for a "fat tip" of five cents on the quarter. By 1988, pie and coffee cost $2.30. The article ended with a recipe for "The Shack's 21-Egg Grape Nut Custard."
Ed Shaw was running the place by this time. His uncle had bought the place in 1952, and his dad had managed it from 1946 to 1967.
In 2003, 50 years after his uncle purchased the restaurant, Shaw sold it to Linnie's owners, Amphonesy Muongkhoth and her husband, who went by E. The article said that Robert Gilles, the real estate broker, heard "dozens and dozens" of inquires about purchasing the building, but the owner, Ed Shaw, was "picky" about whom he sold it to.
"Linnie has an excellent reputation of a strong track record," Gilles said. "Though the owner was extremely picky who he sold it to, he thought they could succeed there."
The owners of Linnie's did not return calls seeking comment, but the restaurant has maintained the interior of the restaurant largely as it was under the Shack, including the red "leather" booths and lunch counter.
Shaw died two years later of a heart attack. In a reported obituary, Dick Page, who managed the Shack for 46 years, said that one weekend every December, Shaw turned the restaurant over to the Vanessa Behan Crisis Nursery for fundraising events. On top of that, he contributed $100,000 to the organization.
Tax credit needed
The days of preparing and serving food are over for Third and Adams, at least for the general public. But Shaw may have appreciated the similar goals of Vanessa Behan and the VOA.
Though the VOA purchased Linnie's for $515,000, the project's not a done deal.
Schott said the project relies on the Low-Income Housing Tax Credit program, which allows developers to raise funding for affordable housing projects by selling the credit to investors. In return, corporations and wealthy individuals receive a dollar-for-dollar reduction in federal income tax payments, while gaining equity in the project.
The application is due Wednesday, but it's buttressed by a $1 million capital investment from Premera Blue Cross, which kick-started the project.
"That seeded the shelter portion," Schott said, noting that the tax credit would only pay for the upper units' affordable housing. "We're very confident that we'll get tax credit funding, due to the size and scope of our project and the population that we serve."
Local journalism is essential.
Give directly to The Spokesman-Review's Northwest Passages community forums series -- which helps to offset the costs of several reporter and editor positions at the newspaper -- by using the easy options below. Gifts processed in this system are not tax deductible, but are predominately used to help meet the local financial requirements needed to receive national matching-grant funds.
Subscribe now to get breaking news alerts in your email inbox
Get breaking news delivered to your inbox as it happens.
---