News > Spokane
Summer Guide: A former Imagineer's journey to Star Wars: Galaxy's Edge
Sat., June 22, 2019 Recently, I took a journey to the Black Spire Outpost on the planet Batuu at "Star Wars": Galaxy's Edge – a new land at Disneyland, that is unlike any other at Walt Disney's original Magic Kingdom.
My journey started with a walk through one of the three tunnels into the land. Walking through those tunnels was a lot like one of those famous transitional "film wipes" used in the Star Wars films, making it feel like I was traveling to a different place that isn't in Kansas anymore, or California or even on Earth.
Once on Batuu, there was no sign of the outside world … or even Disneyland. This was a visit to a distant planet in a galaxy a long time ago and far, far away.
While it is a new land, it doesn't look or feel new. Black Spire Outpost feels and looks like it's been there a very long time. It has a real sense of its own history, traditions and characters.
There are no big "weenies" (the centerpiece of a park or an attraction, as Walt Disney used to call them) like Sleeping Beauty Castle to draw you in to the area. Instead, it's more of a place you explore, much like "Cars Land" at Disney California Adventure, or "Pandora – The World of Avatar" at Disney's Animal Kingdom in Florida.
This total immersion on an alien planet means the entire land is an attraction, not just a setting. Residents of the Outpost act like they live there, heightening the immersion by creating the illusion that Batuu exists just like any location in the Star Wars universe. Interestingly, the words Star Wars do not appear anywhere in the land and the "residents" do not know what that phrase even means.
Those residents are trying to make their way in a dangerous galaxy where the battle continues between the light and dark sides of the Force; many are eking out a living selling wares, food or liquid refreshments. Meanwhile, they're also trading information; information that can help or hurt the Resistance. Information that, as a visitor, lets you became actively involved in the machinations of the various storylines playing out – which was really cool.
Both the Resistance and the First Order have a presence on Batuu. Helping one side or the other (or both) is part of the fun. Stormtroopers patrolled, questioning everyone, looking for members of the Resistance.
Members of the Resistance were skulking around trying to keep the First Order at bay, while digging up information to help them in their fight. To add to the danger, there were spies on both sides everywhere.
Before I knew it, I was an active participant in my own Star Wars adventure, as I had to be careful who I talked to and what I talked about.
I started using the Star Wars: Datapad from the Play Disney Parks app on my smart mobile phone. This is a great part of the experience and really adds to the sense of adventure and discovery on multiple levels. Exploring all the nooks and crannies of Black Spire Outpost becomes something more than just checking out the sights.
The app translates signs around the Outpost, which are mostly written in Aurebesh, the native language of Batuu. Seeing those messages reveals more secrets.
I was able to scan various objects strewn about, discovering precious cargo and then passing that information along to the Resistance. The app also allows visitors to tune into communications sent via the planet's satellite dishes. It all works together in a way that gives you deeper involvement in the variety of stories happening around the Outpost.
The app even allows you to "hack" into different devices, control panels and even droids to aid the Resistance in its fight with the First Order.
While I chose to be on the side of the Resistance, I could have chosen to be part of the First Order, or even a scoundrel helping both sides – whichever I could profit from the most – with credits issued within the app.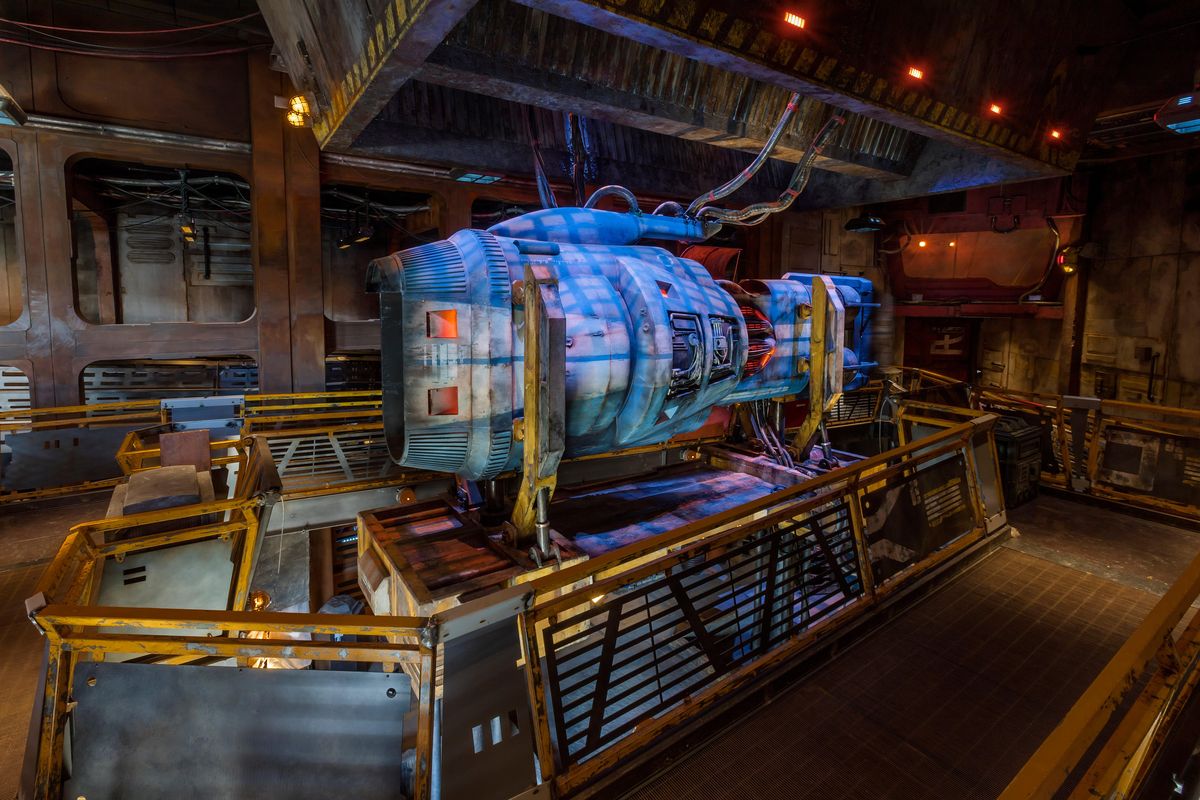 Star Wars: Galaxy's Edge - Disneyland Resort - 3/15/19. (Joshua Sudock / Disneyland Resort)
Currently, there is only one "attraction" open in the Galaxy's Edge land, and that's Millennium Falcon: Smugglers Run. Who hasn't dreamed of flying the ship that made the Kessel Run in 12 parsecs? This was my chance. I tried it twice, first as one of the two pilots (I was lousy at this) and second as one of the two gunners (I was better at this).
The Imagineers behind Smugglers Run did a great job of breaking new ground with the attraction while also making sure it had enough of the familiar to make it both fun and surprising.
While Smugglers Run is a Disney "attraction," elements of it are part of the overall interactive experience within the rest of the land. Success smuggling needed supplies for the Resistance gains riders much prestige throughout the Outpost. Failure, or crashing the ship, hurts a vistor's reputation in the land.
Food, beverage and merchandise locations are all run by "residents," making shopping and eating an integral a part of the adventure as well.
A visit to Savi's Workshop let's you create your own own lightsaber, for a fee. The staff stays in character while helping you build it, warning you to be careful who sees your lightsaber on Batuu. Owning a lightsaber can cause you problems with certain elements on the planet.
Notably, there's Oga's Cantina – think of the Mos Eisley Cantina – where all manner of creatures, human and others, can enjoy a beverage while having a clandestine meeting. Meanwhile, DJ R-3X (voiced by Paul Reubens AKA Pee-wee Herman), a droid and former pilot for Star Tours, plays the music.
The Cantina is a highlight in a land filled with impressive things to see and do. It also represents one of the few problems in Galaxy's Edge.
Disney's Imagineers should have foreseen the crowds trying to get in to Oga's Cantina. That could be easily solved by creating another cantina-like experience with a different theme at the other end of the land – which, at 14 acres, would be a draw for those looking for a place to hang out for a while.
That's still a minor moment of nitpicking for a land that now sets the bar for theme parks in this galaxy.
Disney outdid themselves in creating an incredibly immersive experience. Yes, Galaxy's Edge will soon get its second major attraction –the forthcoming "Rise of the Resistance: ride – but where Disney really succeeded was making the entire land an adventurous attraction.
Local journalism is essential.
Give directly to The Spokesman-Review's Northwest Passages community forums series -- which helps to offset the costs of several reporter and editor positions at the newspaper -- by using the easy options below. Gifts processed in this system are not tax deductible, but are predominately used to help meet the local financial requirements needed to receive national matching-grant funds.
Subscribe now to get breaking news alerts in your email inbox
Get breaking news delivered to your inbox as it happens.
---