A&E
Summer Guide: Silverwood has something for everyone, no matter your intensity level
Sat., June 22, 2019 Is there any better way to customize a summer day then heading to Silverwood Theme Park and Boulder Beach?
Patrons can hit every roller coaster twice or spend the day lounging on the Elkhorn Creek Lazy River, enjoy all the culinary delights the park has to offer or bring a picnic of their own.
No matter your intensity level, it's easy to build your perfect day of fun.
For the low-intensity crowd, check out park classics like the carousel, which is the first ride you see at Silverwood, the Ferris wheel, Flying Elephants and Frog Hopper, a miniature drop tower suitable for kids and parents alike.
If you're looking to cool down as you relax, there's the aforementioned Elkhorn Creek, plus Polliwog Park and Toddler Springs for the kids, in Boulder Beach.
For those looking to amp up the fun a notch, there are plenty of medium intensity rides to check out.
Ricochet Rapids is a family raft slide that takes riders down a 40-foot mountain into a 30-foot valley of water in an enclosed mega tube at a top speed of 20 mph.
Then there's Scrambler and Tilt-A-Whirl, the perfect rides for those who love to spin.
And for coaster enthusiasts who aren't yet big enough for the full coasters, there's Tiny Toot Coaster, located in Garfield's summer camp.
But for those looking to go big or go home, nothing at Silverwood beats Aftershock, which was voted top hanging coaster by Travel Channel in 2012.
The 191-foot coaster takes riders through a cobra roll and inverted loop forwards and backwards at speeds up to 65 mph.
Corkscrew, which originally opened at Knott's Berry Farm in 1975 and has been at Silverwood since 1990, and wooden roller coasters Timber Terror and Tremors also give riders a thrill.
Then there's Panic Plunge, which drops riders 120 feet at a top speed of 47 mph, and Spincycle, for those who want to spin and swing at the same time.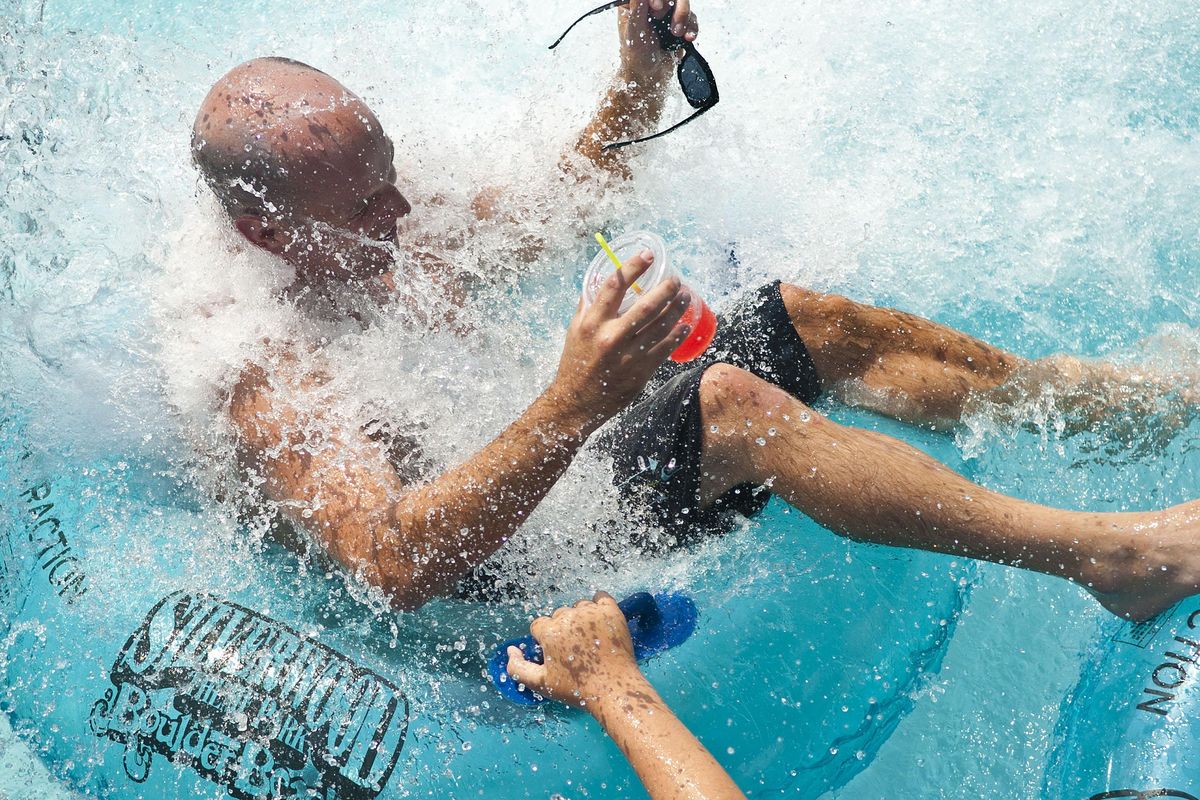 A Boulder Beach Water Park visitor gets doused at Silverwood Theme Park in Athol, Idaho, on Friday, August 10, 2018. Silverwood announced Tuesday it will be reopening along with its water park in May 30 for the 2020 season. (Kathy Plonka / The Spokesman-Review)Buy a print of this photo
Size requirements for all rides are available at www.silverwoodthemepark.com, as are tickets.
A one-day pass is $48/general; $27/ages 3-7 and 65 and older. A two-day pass (good for any two days through Sept. 29) is $80/general; $45/ages 3-7 and 65 and older. And a three-day pass (good for any three days through Sept. 29) is $110/general; $60/ages 3-7 and 65 and older.
If rides aren't your thing, you'll have no problem spending the afternoon trying your hand at classic carnival games like the three-point shootout, ring toss, a shooting gallery and an arcade.
No matter how you enjoy Silverwood and Boulder Beach, 27843 US-95, Athol, Idaho, here are a few tips to help you make the most of your time at the park:
TIP: Bring $5 for parking. You'll receive a park guide and a "Discover North Idaho" booklet after you pay.
TIP: Locate the light post nearest to your car and make a note of the ride on the sign. This will be a reference point for finding your car at the end of the day.
TIP: Check Silverwood's website for a list of allowed and disallowed items before you go.
TIP: Check the Silverwood Facebook page for ticket giveaways, and download the free Silverwood app to receive discount alerts.
TIP: Not sure if you'll be able to fully enjoy Silverwood and Boulder Beach in one day? Consider purchasing Bounce Back Admission. Purchase a ticket at the park on the day of your visit to receive a discount to come back to the park the following day.
TIP: For a chance to rest your feet while still being entertained, consider the park's Train Stunt Show. The train leaves every hour on the hour and takes visitors around the park and into the Silverwood back forest. The 30-minute show features comedy, improv, guest interaction and facts about Silverwood and the surrounding area. Have some spare change handy, just in case the train is hit by a team of bandits. (Any "loot" collected is donated to a local charity.)
TIP: Out-of-town visitors should consider the RV park if they plan to visit Silverwood for more than one day. Check silverwoodthemepark.com/lodging for more information on the RV park, pricing and availability.
TIP: Locker rentals are available at Boulder Beach, the General Store on Main Street, the arcade near the Country Carnival Entrance and the Thunder Canyon entrance.
TIP: There are plenty of restaurants in the park, though guests can also eat their picnic lunch at the tables between the parking lot and the entrance tunnel. If leaving the park for lunch (or any reason, really) be sure to get a hand stamp for readmission at the exit gate.
TIP: Personal snacks, including food for medical needs, as well as baby food and formula, are allowed in the park.
TIP: If you want to see a magic show, schedule your day accordingly. Nick Norton performs Thursdays through Mondays at 3, 5 and 7 p.m. through Sept. 2. Isaiah Daniels performs Tuesdays and Wednesdays at 3, 5 and 7 p.m. through Sept. 2; and 3 and 5 p.m. Saturdays and Sundays Sept. 8-22.
Local journalism is essential.
Give directly to The Spokesman-Review's Northwest Passages community forums series -- which helps to offset the costs of several reporter and editor positions at the newspaper -- by using the easy options below. Gifts processed in this system are not tax deductible, but are predominately used to help meet the local financial requirements needed to receive national matching-grant funds.
Subscribe to the Spokane7 email newsletter
Get the day's top entertainment headlines delivered to your inbox every morning.
---