Sports
A Grip on Sports: Thankful about sports? Us too, as well as being thankful for your loyalty
Thu., Nov. 28, 2019 A GRIP ON SPORTS • There is a lot for which Americans have to thank Abraham Lincoln. Today, Thanksgiving, is just one of them. But the most tasty, that's for sure.
•••••••
• I could tell you how thankful I am for my family (I am). Or my health (I am). Or my friends (I am). Or my dogs and, some times, my cat (I am). Or my basketball team (I am). Or a million different little things (I am – everyday).
But being this is A Grip on Sports, I'm going to focus my thanks this morning on one group. You folks. The people who read this column regularly. Who help me by occasionally catching my mistakes. Who click on the headline and allow some little person who lives inside the S-R computers to tally another page-view, whatever that is.
You folks are the reason I drag my sorry … nose out of bed every day and read story after story, all in the search of pieces you will learn from. It's not about the money. Never has been. It's about giving you a place and a column you can count on every day to help you navigate sports news important to Inland Northwest fans.
I'm thankful every day for the opportunity. And that it is appreciated. That is all.
OK, stop reading this maudlin crud and get back to reading about the sports you enjoy.
And don't forget to tell those close to you how thankful you are. It's a heck of a lot more important than whether or not the Seahawks cover Sunday. (They are favored by three.)
•••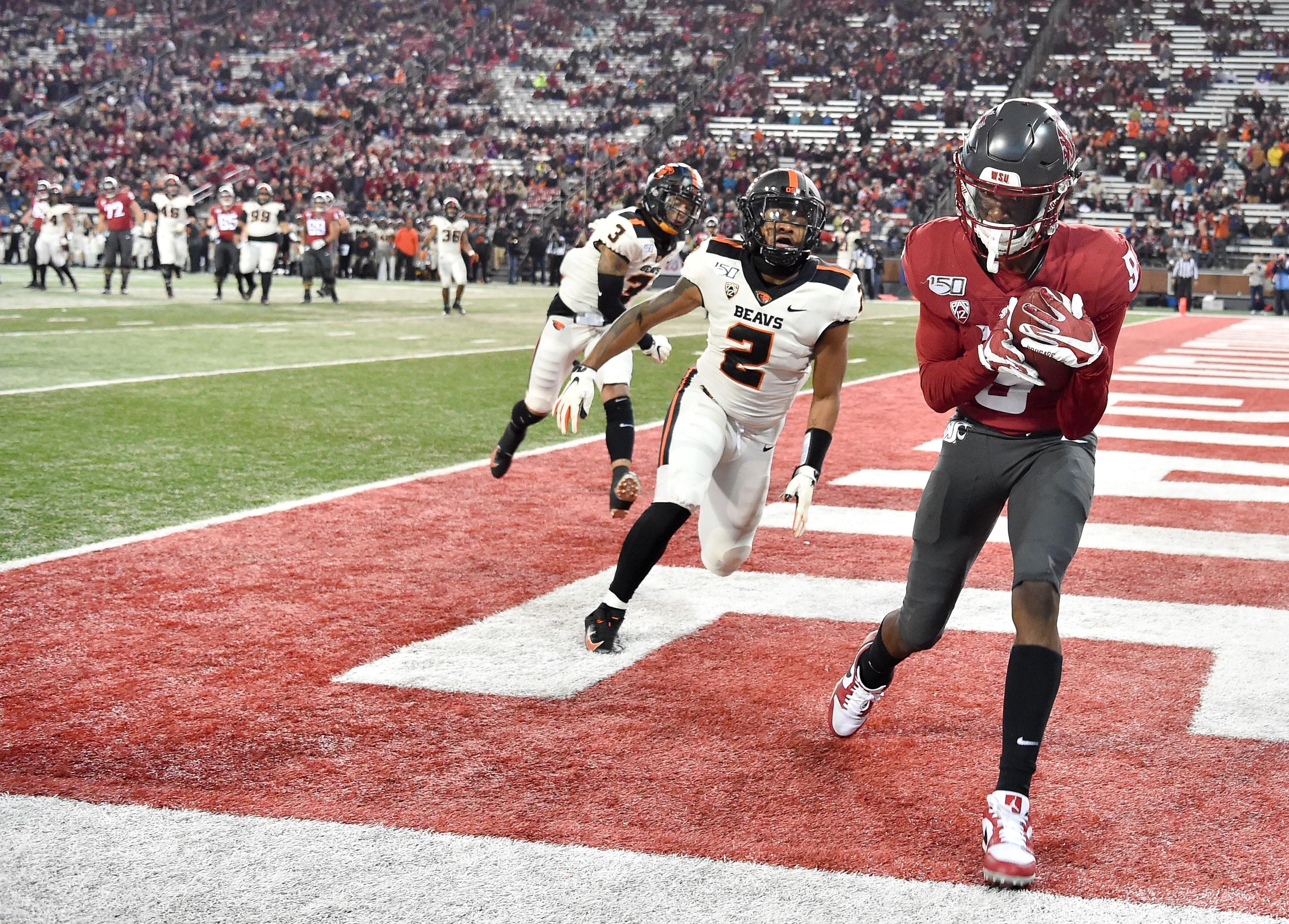 WSU: Have some time this morning after you put the bird in the oven? Then spend it reading Theo Lawson's feature on the smallest Cougar, receiver Renard Bell. It's worth the time. … Larry Weir talks with Paul Sorensen about Friday's Apple Cup on the latest Press Box pod. … The soccer team faces host South Carolina this afternoon with a shot at the sport's Final Four. That's as deep a run as its ever made in the sport, but it isn't a one-year thing. As Ryan Collingwood explains, it's the culmination of years of success in Pullman. … The men's basketball team fell to Colorado State to finish its Thanksgiving week tournament in the Cayman Islands. … Back to football, Larry Stone feels the Cougars have a golden opportunity to end their losing streak to Washington in this year's Apple Cup. How would that go over with the Husky faithful? … Trey Adams is about to be a part of his fifth Apple Cup. … Klay Thompson had some fun yesterday. … Elsewhere in the Pac-12, will their be any defense played in the Civil War? Oregon and Oregon State have struggled on that side of the ball at times this season. … Colorado has had openings on defense and some players have taken advantage. … Utah is good enough to be in the CFP. … This will be the final game for UCLA's seniors. … Football offers opportunities in many ways. Ask Arizona State's Al Luginbill. … Arizona has had to deal with change this season in many different ways. … This has been an awful football season for Stanford. … In basketball news, Washington has one of the conference's best players. … Oregon State had little trouble with San Jose State. … Colorado is always good on defense. … USC will be playing in Orlando. … Michigan State handed UCLA another loss.
Gonzaga: It may be a pretty thin Zag squad that faces 11th-ranked Oregon in today's Battle 4 Atlantis semifinal. Killian Tillie didn't play yesterday in their win over Southern Mississippi. Anton Watson went down with what looked like an ankle sprain a minute in. Starting guard Ryan Woolridge and Anton Gilder were both limping in the second half, with Gilder only playing a minute before leaving for good and Woolridge leaving after hurting his right leg near the end. Jim Meehan covers all of that and more in his game analysis and his three keys. … Next year the eighth-ranked Bulldogs will spend Thanksgiving in Orlando. Jim has that news. … He also has the key matchup for today's game with Oregon. …The folks in the office put together the usual recap with highlights. … We watched at home and then wrote our TV Take. There wasn't enough room to go into the non-game conversations the ESPNU folks indulged in, but we tried to cover some of them. We did, however, ignore the water-slide talk. … Justin Reed talked with GU's players about their Thanksgiving traditions. … Oregon rallied past Seton Hall to set up the matchup with Gonzaga. … Around the WCC, BYU finished third in Maui. … USD handled Hofstra.
Preps: Washington's football semifinals are this weekend, with Deer Park the largest Spokane-area school still playing. Dave Nichols has a preview of all the local games and well as a notebook of news from around the area. … The number of officials in all Washington high school sports is decreasing. The Times tried to figure out why.
Shock: The prodigal indoor football team returns in the spring. Ryan has a look at its schedule.
Seahawks: It looks as if Jadeveon Clowney will play against Minnesota. But Jarran Reed? That's still in question. … Bobby Wagner held his own version of Supermarket Sweepstakes.
Mariners: The M's continue to bolster their pitching staff. And their infield.
•••       
• Mr. Lincoln, as the New York Times would refer to our greatest president, asked his fellow Americans in 1863 to participate in a day of Thanksgiving on the last Thursday of November. We've been doing something of the sort every year since. So the next time the doctor tells you that you are a bit overweight, blame Lincoln. It works for me. … By the way, thankfully we will be back this afternoon with a Gonzaga TV Take, available just before you sit down to the family feast. Talk about a way to ruin your appetite. Until then …
Local journalism is essential.
Give directly to The Spokesman-Review's Northwest Passages community forums series -- which helps to offset the costs of several reporter and editor positions at the newspaper -- by using the easy options below. Gifts processed in this system are not tax deductible, but are predominately used to help meet the local financial requirements needed to receive national matching-grant funds.
Subscribe to the sports newsletter
Get the day's top sports headlines and breaking news delivered to your inbox by subscribing here.
---