News > Spokane
Astronaut Anne McClain shares space stories, urges students to rise above challenges in Gonzaga Prep speech
UPDATED: Thu., Oct. 10, 2019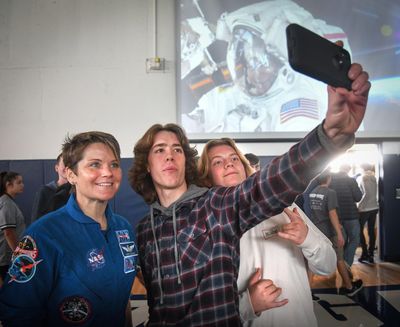 Clad in a NASA flight suit, Gonzaga Prep alumnus Anne McClain gave a gym full of high school students a rundown of her recent six-month vacation on Thursday, complete with slides.
Exercising. Science experiments. And, of course, selfies. All 250 miles above the Earth's surface.
"Slightly terrifying selfies," McClain said as a picture she took of herself outside the International Space Station earlier this year was beamed onto a projector. "You actually have to let go of the space station for a little while to take a picture of yourself, because it takes two hands, but it's a keeper."
Four months after her return to Earth, the 1997 graduate of the private Catholic high school in Spokane offered students a speech that was part road trip diary and part self-deprecating motivational speech intended to inspire students to follow their passions. In doing so, the Army lieutenant colonel steered clear of controversy sparked earlier this week, when several local schools indicated they wouldn't be attending her presentation.
Instead, McClain focused on the purpose of her mission aboard the orbiting vessel – which she described as "about the size of a five-bedroom house" – and her path to getting there in December. That included a joke intended for all the Bullpups in the crowd.
"I was nervous. I was excited. I was unsettled. I was proud," McClain said of her time at the school. "No one ever came up to me and asked for my autograph because I was an astronaut, and certainly no one ever came up to me with a microphone and asked me to share my thoughts.
"The scariest thing I'd ever done in life was hand in an English paper to someone with the last name of 'Birrer,'" McClain quipped, referring to instructor Christian Birrer, who's still the head of the department at G Prep, to laughter from the audience.
McClain described her spacewalks, which were the source of headlines in March, when the first planned all-female jaunt in orbit was canceled over concerns about space suits. McClain called them "the biggest pressure we had" during her time on the station, when she shared quarters with five other astronauts.
"Doing spacewalks is the ultimate team event, when you are ultimately as isolated as possible," McClain said.
Temperatures during the walks fluctuated hundreds of degrees when the astronauts were in direct, scorching sunlight and obscured in the blackness of space, McClain said. The metal they would work with on the outside of the station would expand and contract instantaneously as temperatures soared to 200 degrees or plummeted to 200 below, she said.
McClain also had to overcome some personal limitations, which was part of her message to students to find more bravery in themselves in the face of fear, rather than giving up.
"I am no more coordinated in space than I am on Earth," McClain said. "Which is not coordinated. My mom actually signed me up for ballet class when I was in fifth or sixth grade, here in Spokane, downtown, and when she went back to sign me up the second season, the teacher said, 'Have you thought about soccer?'"
There was time for fun in space, too. McClain showed pictures of a game the crew played on Easter. Rather than hiding eggs, McClain ferreted away packages of coffee from a supply drop, which she described as valuable as gold on the space station. She hid the packets all over the station, and her crew mates searched for them on Sunday with Ziploc bags in tow.
Students at Gonzaga Prep have been following McClain's trip from the launch in December to her return from orbit in June. That included a chat via satellite with her in the midst of her mission in May.
Senior Ryan Blevins said Thursday's talk offered a more personal look at McClain's time in space.
"To see her face-to-face, it felt more human, more personal," said Blevins. "To see her, and she walked these halls. She was actually here. I thought that was cool."
"She also focused a lot more on people connections, and how we interact with others," said junior Zachary Round.
McClain said she was concerned when she returned to Earth and came across people who didn't say hello to her on the street, after living in such tight quarters in space.
"For the past seven months, every single person I passed greeted me and said, 'Hello,' and tried to make my life easier," said McClain, who is reportedly among NASA's possible picks for the next moon mission.
She urged students in the audience to consider how they responded to those around them, and to be their own moral compass, rather than looking to social media or others for what is right and wrong.
Above all, she said, it's important not to let the insecurities of your youth define who you can be.
"I think it's easy in high school to think we have to get rid of all of these doubts in order to be successful in life," McClain said. "I'm here to tell you, actually, that all those doubts that you have at the back of your mind, that you carry with you in high school, they're going to be with you your entire life.
"The key is, what do you do anyway?" she said.
Local journalism is essential.
Give directly to The Spokesman-Review's Northwest Passages community forums series -- which helps to offset the costs of several reporter and editor positions at the newspaper -- by using the easy options below. Gifts processed in this system are not tax deductible, but are predominately used to help meet the local financial requirements needed to receive national matching-grant funds.
Subscribe to the Coronavirus newsletter
Get the day's latest Coronavirus news delivered to your inbox by subscribing to our newsletter.
---