A&E > Food
Another dish on the plate: Longtime Spokane chef Michael Wiley takes over Prohibition Gastropub
Oct. 21, 2020 Updated Thu., Oct. 22, 2020 at 10:35 a.m.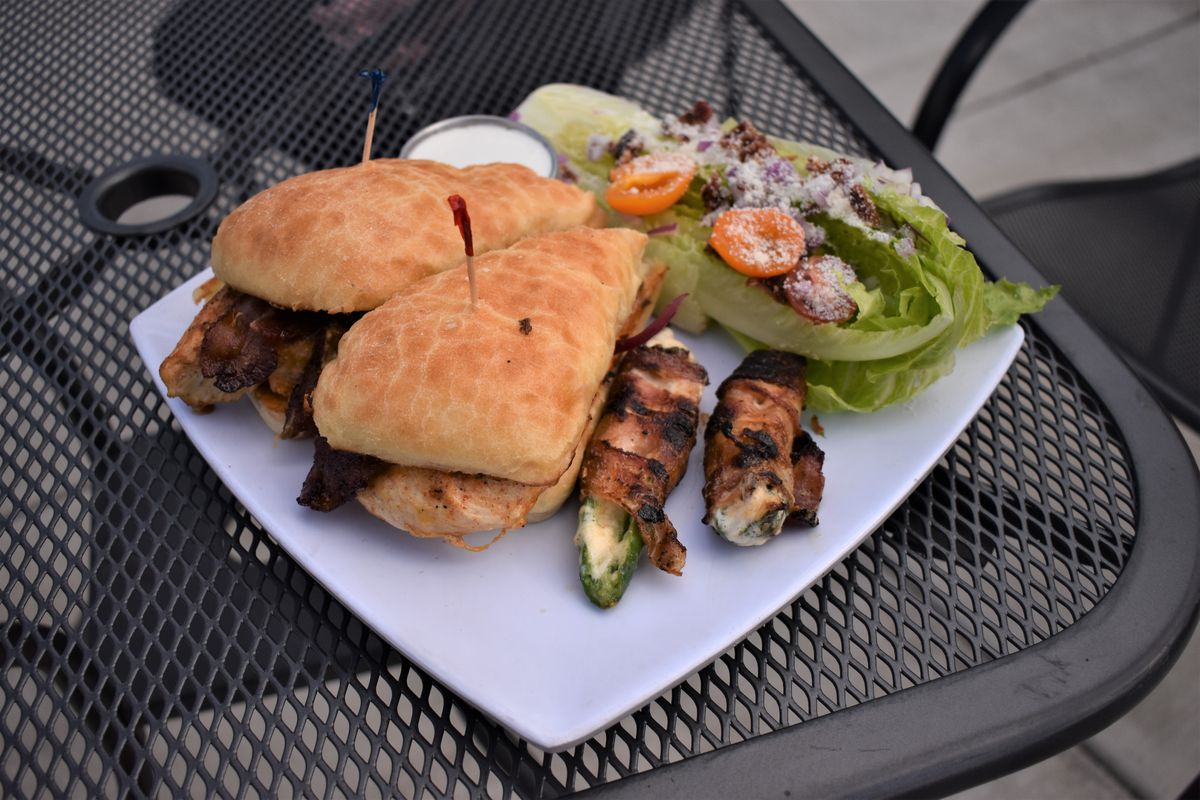 A chicken sandwich, wedge salad and jalapeno poppers at Prohibition Gastropub on Saturday afternoon. (Don Chareunsy/The Spokesman-Review)
There is no question that chefs who also are restaurateurs and owners are some of the hardest-working people around, and Michael Wiley is no different.
Wiley, 43, was born and raised in Spokane and got his start in the restaurant business at the Old Spaghetti Factory downtown at age 17 in 1994. Fast forward 26 years, and Wiley has since opened Wiley's Downtown Bistro and runs a catering business, Wiley's Catering Co.
Now add Prohibition Gastropub, which Wiley took over as owner and executive chef at the beginning of the month, as previous owner, manager and executive chef John Leonetti departed for Phoenix with his wife, Jill, and their baby.
Wiley sat down Saturday afternoon in Prohibition Gastropub's spacious outdoor back patio and talked about his quarter-century career in Spokane, what to expect at Prohibition Gastropub in the near future, jalapeno poppers and more:
So, chef, why have you added Prohibition Gastropub to your plate alongside Wiley's Downtown Bistro – and during a global pandemic?
The No. 1 reason is that the more I can touch, the more I can impact our community for the positive. It is a great opportunity to work with another team and another menu concept in another location, so that's definitely part of it.
Our mission has always been how to create positive energy, and the more opportunities I have, the more I can do that.
When did this opportunity arise?
We started looking at this softly in August and then took a little bit of a pause looking at it. They followed up with me and said, "Hey, have you thought of this further?" We really made it all happen within a month, which is unbelievable to pull this off in that period of time.
What is the biggest difference between Wiley's Downtown Bistro and Prohibition Gastropub?
The food styles and the energy of the restaurants themselves. Prohibition is casual, approachable bar food. It's the "Cheers" place and social. Wiley's is more approachable fine dining, and the groups are more in their own world versus socializing with the people around them.
Obviously, with COVID-19, socializing is greatly diminished at both locations. The food style and type of restaurant are both very diverse.
What has been the biggest challenge of taking on Prohibition Gastropub?
Logistics. If we had had a longer period of time going through all the logistics and the administrative part of that process, it would have been a lot easier. To try to bite off everything quickly – licensing, administration, contracts, staff changes and the whole nine yards – all at once in one month is really a tight window of time. That was the hardest part.
I anticipated the team transition to be the greatest struggle, but so far it has been an absolute pleasure.
Obviously, everyone has been affected by the global pandemic. How has business been for you at Wiley's Downtown Bistro?
At the bistro, we have strong nights, we have weak nights, and we have really weak lunches. Like all restaurants, success is based on location. The advantage of a downtown restaurant is that it is located in the epicenter of all the other places of business and entertainment, both of which are pretty much shut down right now.
The lunch crowd, which is so much business-based, is really hit and miss. But the weekends are strong. We are having success with weekend nights. With that said, we are at 50% capacity, so at our greatest Friday night, we're still doing half of the volume and half of the revenue we would have done before the pandemic, and there's nothing we can really do about that.
What are you going to do differently at Prohibition Gastropub?
The biggest thing is allowing its identity to speak for itself. It is a gastropub, and one of the reasons why it has such a strong following is because of its identity. We don't need another downtown bistro up here.
I'm really excited to play with gastropub food. The crew up here is amazing, as well. We know that we have a loyal following that already likes the concept. It's a great identity, so why change it? I think the biggest thing is how can I do a Wiley thumbprint, if you will, on a gastropub concept, menu, service and beverage experience and environment.
What can people expect in a Wiley thumbprint at Prohibition Gastropub?
As far as food and cocktails go, the best thing I feel I do as a leader is I allow the rest of the team to have input because if they have enthusiasm in what they are doing, it's going to come through to the guests. The biggest thing is working with the team to figure out the right fit.
There are some things we have already talked about, and there is some excitement there. They will make an impact on our service and some things on the menu. Don't get me wrong: The menu is phenomenal. I haven't had anything here that I haven't loved. But our little changes will make a different thumbprint. Not necessarily a better one – a different one.
What are three items you would recommend people order now at Prohibition Gastropub?
The burgers here are amazing, and there are none of them that I wouldn't have every day of the week. The wings are one of my favorite things that we do. When I took over, we did a post on social media asking people what are their favorites and talking about the new ownership.
The overwhelming feedback was, "Please don't take the jalapeno poppers off the menu." The jalapeno poppers are really fantastic. I don't plan on taking them off the menu, but I do plan on tweaking them a little bit in terms of what they come with and how they are presented.
The wings are some of the best I have ever had, but I am a sucker for wings.
What are you looking forward to most in your new endeavor of Prohibition Gastropub?
French fries! It's a new neighborhood for me, so I'm really looking forward to learning about a new group of people. It's a new team, and I'm really excited to work with the crew that is already here. I'm looking forward to it growing to the same kind of culture that we've created at the bistro.
The food style will be fun to play with, I have a really big patio in the back that I get to play with – this is all going to be really fun. I am really excited to continue to be part of Spokane's culinary community. After 26 years of doing it, it is in my heart.
Local journalism is essential.
Give directly to The Spokesman-Review's Northwest Passages community forums series -- which helps to offset the costs of several reporter and editor positions at the newspaper -- by using the easy options below. Gifts processed in this system are not tax deductible, but are predominately used to help meet the local financial requirements needed to receive national matching-grant funds.
Subscribe to the Spokane7 email newsletter
Get the day's top entertainment headlines delivered to your inbox every morning.
---