A&E > Food
Running Tab: Commellini Estate offers casual, elegant outside dining with new Tavola Calda
Sept. 9, 2020 Updated Mon., Oct. 19, 2020 at 5:22 p.m.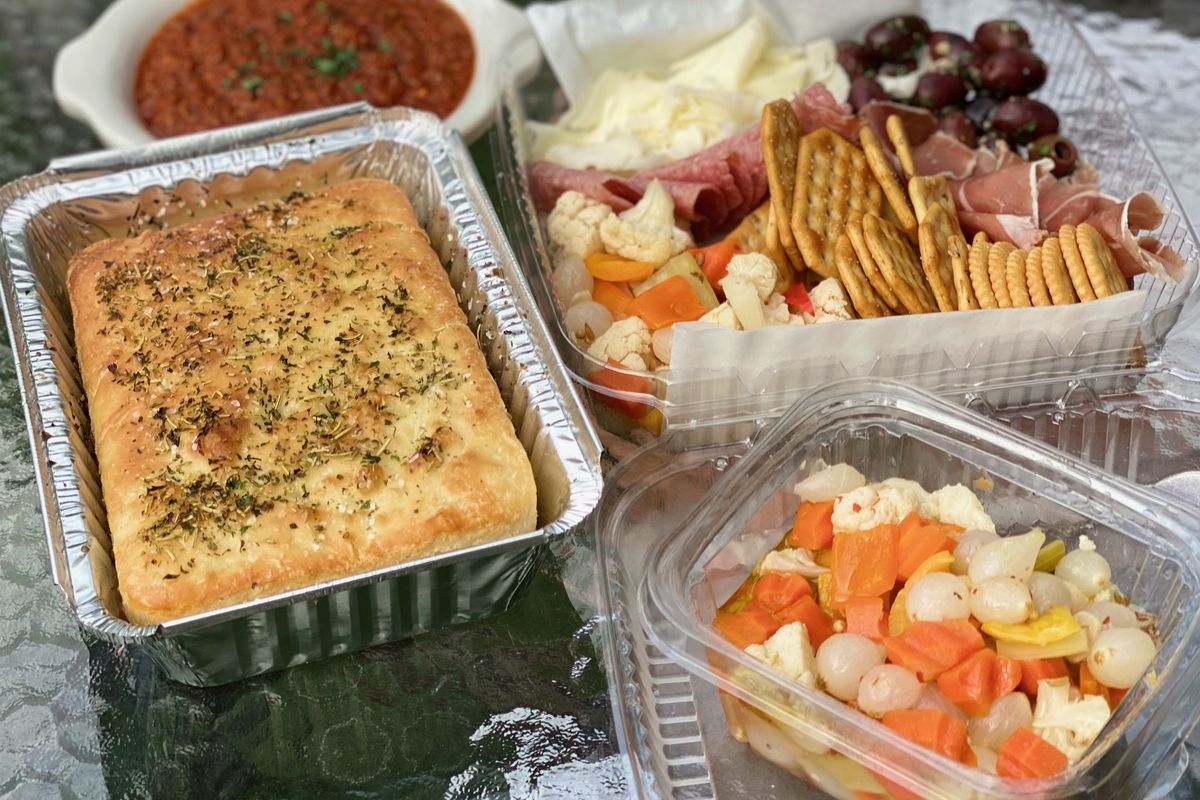 The new Tavola Calda at Commellini Estate in north Spokane offers appetizers including pickled vegetables, bread and charcuterie, pictured here in July. (James Russell/For The Spokesman-Review)
As I write this Running Tab column on deadline on the late Friday afternoon before the Labor Day weekend, my mind keeps wandering to my only plans for the next three days: salmon fishing on the Columbia River about two hours outside town on Saturday morning.
It will be only my second time ever fishing for salmon, and I had beginner's luck at Hanford Reach last September catching a 25-pound salmon on an early and chilly morning alongside family and friends. The experience, and later the salmon, were incredible.
It is so good to be back in the Pacific and Inland Northwest full time after nearly a quarter-century break, and there is no greater reminder for me why than all that the great outdoors has to offer, from fishing on the Columbia River, or at one of the numerous nearby lakes and the fresh produce and artisan breads that farmers grow and bakers create in the area to the numerous outdoor activities in the warm weather, from walking and hiking to running and bicycling.
And then there is another one of my favorite activities in the outdoors: dining. Outdoor dining, on patios, lawns and grounds and alongside rivers and lakes, is available in many cities, but it is truly special in this region, and it is especially appreciated now in this time of socially distancing.
Recent highlights of outdoor dining include the small, two-table sidewalk patio at the new Wooden City; the patios, with nearby herb and vegetable gardens, at Clover and Downriver Grill; the ample riverside outdoor spaces at No-Li Brewhouse and Osprey Restaurant & Bar; and the lush grounds of Arbor Crest Wine Cellars with sweeping views of Spokane Valley.
Now add to the list Tavola Calda at Commellini Estate, which celebrated its grand opening on July 16 in north Spokane. Located just minutes away from Wandermere Golf Course, Tavola Calda, "hot table" in English, is the popular wine and event center's first full-service restaurant after the closing of Commellini's, which operated for decades (the onside Mercato is an Italian market).
"At Tavola Calda, the emphasis is appropriately on the food, and it is a modern take on an old-world eatery," said Desiree Seghetti-Sulpizio, vice president of operations at Commellini Estate.
"Our goal is to safely provide an incredible dining experience amid a global pandemic. Our informal service style is intended to offer the ability to socially distance on our 200-acre property while still enjoying time together."
Guests at Tavola Calda order at the bar counter, then immediately receive their beverage selection, from sparkling water and cocktails to wine and decadent dessert concoctions. The outdoor dining is wherever guests feel most comfortable and includes patios, the historic venue and creekside and pondside locations under a tent of 1,000 lights.
The authentic and handcrafted Italian dishes are delivered tableside. During my dinner with family and friends the week of the grand opening last month, we chose a table by the pond with a view of the fountain and nearby mountains. Everything we ordered was flavorful and memorable alongside the wines, cocktails and limoncello.
Our feast included the antipasto platter and charcuterie; giardiniera (pickled vegetables); focaccia bread with zesty marinara; a beautifully stacked eggplant parmesan; fettuccini with shrimp scampi and alfredo sauce; spaghetti with meatballs and marinara; chicken cacciatore and fettuccini; and tiramisu. The tender chicken cacciatore and creamy and rich tiramisu were outstanding, and not a single complaint was uttered under the lights.
On the evening of my dinner, owner Lauri Seghetti, Seghettti-Sulpizio's charming mother, was onsite to socialize with friends and guests and to make certain that the new restaurant was running smoothly.
It is very clear, from her enthusiasm and warmth, that she loves her property, and she shared stories of the historic photographs hanging from the walls of Commellini Estate's entrance.
We loved Tavola Calda, too, and the evening could not have been more perfect.
Cheers to great food, great family and friends and the great outdoors!
Local journalism is essential.
Give directly to The Spokesman-Review's Northwest Passages community forums series -- which helps to offset the costs of several reporter and editor positions at the newspaper -- by using the easy options below. Gifts processed in this system are not tax deductible, but are predominately used to help meet the local financial requirements needed to receive national matching-grant funds.
Subscribe to the Spokane7 email newsletter
Get the day's top entertainment headlines delivered to your inbox every morning.
---