Recap and highlights: Drew Timme rallies top-seeded Gonzaga past Memphis 82-78 to reach 7th straight Sweet 16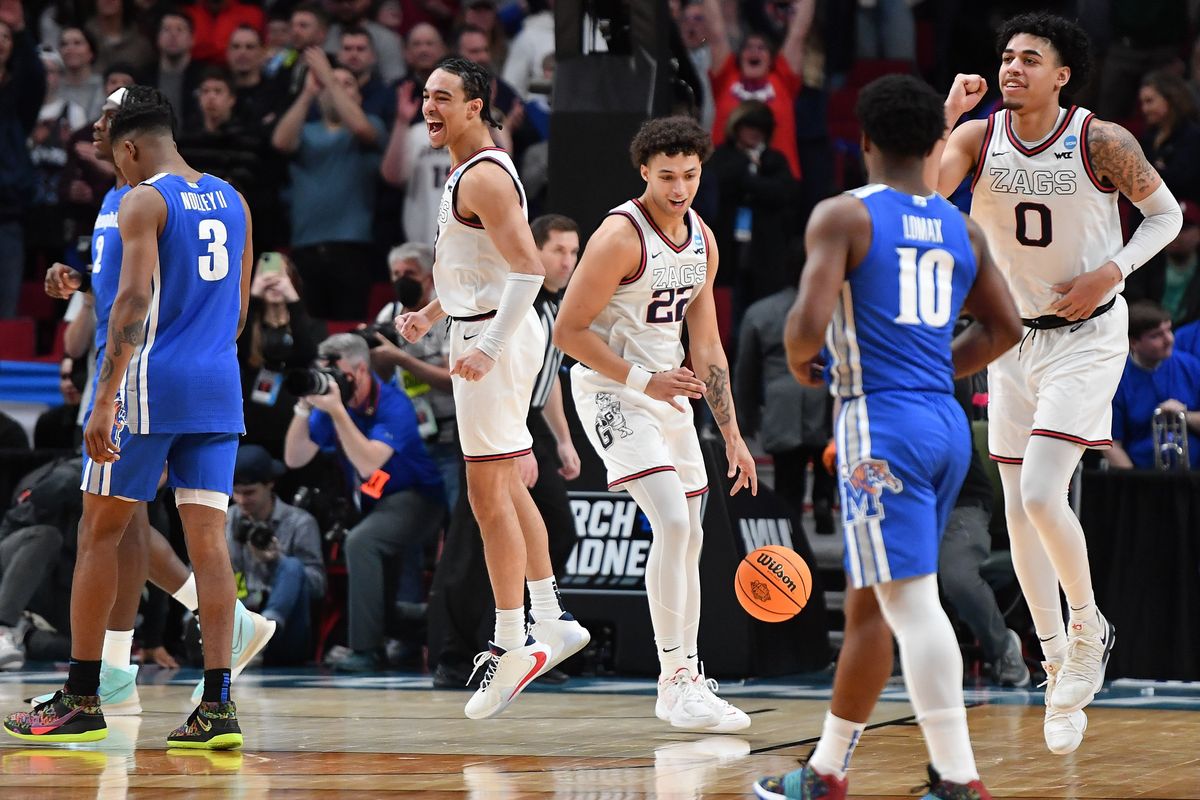 Drew Timme exploded in the second half and Andrew Nembhard came up clutch time and time again, as Gonzaga beat Memphis 82-78 in Portland to reach its 7th straight Sweet 16.
Memphis led by 10 at halftime, but Timme single-handidly went on an 11-2 run to get the Bulldogs (28-3) right back in it. He finished with a team-high 25 points and 14 rebounds.
Meanwhile, Nembhard scored 23 points, shooting 5 of 10 on 3-pointers and made the final four free throws to keep the Tigers (22-11) out of reach. Rasir Bolton was the only other Zag shooting well, making 3 of 6 3-pointers and scoring 17 points.
Gonzaga struggled to keep pace with the Tigers early on and were being dominated in the post. Memphis' bigs got in foul trouble in the second half as Timme was finding his form, which turned the momentum.
The Zags shot 13 of 24 on free throws, struggling from the line for the second straight game. They also went 9 of 27 on 3-pointers. Strawther was 0 of 6 on 3s.
The Bulldogs advance to play No. 4 seed Arkansas in the Sweet 16 on Thursday.
First half
15:48 - GU 8, UM 4: Bolton and Nembhard knock down a pair of 3-pointers to give the Zags an early advantage, but the focus remains on the battle in the post. 
Memphis went right to Duren inside on the first possession, who was blocked by Holmgren on his first attempts, but out-muscled the Gonzaga big man after an inbound pass.
Holmgren returned the favor a few plays later with a fade-away jumper and defensive stop on the next drive.
11:35 - GU 13, UM 13: The pace is blistering as Gonzaga and Memphis race up and down the court after each change of possession. 
Tigers have six offensive rebounds and generating a lot of points on second chance efforts. Nembhard leading the Zags with eight points on 2 of 4 shooting on 3-pointers.
Quinones leads Memphis with five points.
7:47 - GU 20, UM 17: Nembhard knocks down a deep 3-pointer and Duren picks up his second foul at the U8 media timeout.
Nembhard looks to be off to his best shooting night of the year, scoring a team high 11 points on 3 of 5 3-pointers.
3:45 - UM 34, GU 28: Bolton and Bates trade 3-pointers at the U4 media timeout and this one has the makings to be the best game of the day.
Few is called for a technical foul, which gives Memphis its largest lead. The Tigers are 7 of 10 on free throws while the Zags are 1 of 3, despite Memphis being called for two more fouls. Nembhard and Bolton have accounted for 17 of the Zags' points.
1:18, UM 38, GU 28: Harris flicks in a long-range floater at the end of the shot clock to give the Tigers a 10 point lead and Few calls a timeout.
The Zags haven't been able to get anything going inside, as the Tigers hold a 23-17 advantage on rebounds and Holmgren and Timme have been limited to five combined points.
Memphis has 19 bench points to Gonzaga's two.
Halftime
Memphis used its size and athleticism to build a 10 point lead over Gonzaga at halftime, dominating the paint and converting several highlight dunks in the process.
Drew Timme and Chet Holmgren accounted for just six points, as Holmgren was sidelined for half the period with two fouls. Instead, Andrew Nembhard leads with 13 points, while Rasir Bolton added six. The Zag guards slowed toward the end of the half, where Memphis took advantage.
The Tigers out-rebounded the Bulldogs 25-18. Tyler Harris came off the bench to score a team-high 11 points, while NBA prospect Jalen Duren sat in foul trouble.
Gonzaga has lost all three times it trailed at half this season.
Second half
15:34 - UM 45, GU 42: It's Timme time.
The Gonzaga forward completely turns his performance around from the first half single-handidly going on an 11-2 run to erase the Tigers' lead.
In a blink of an eye Timme is up to a team-high 15 points.
Elsewhere Arkansas advanced past New Mexico and will play the winner of Gonzaga-Memphis in the Sweet 16.
10:56 - UM 57, GU 55: Memphis is hanging onto a slight advantage as both teams continue to trade blows at the U12 media timeout.
The Tigers have 17 fouls to Gonzagas' 8, which will likely factor into the final 10 minutes, as Williams and Duren both have four.
Timme leads three Zags in double figures with 18 points and 11 rebounds.
7:50 - GU 63, UM 62: Gonzaga retakes the lead for the first time since the first half.
It's been all Timme out of the locker room, who is now up to 22 points on 9 of 13 shooting. Meanwhile, Memphis is running out of posts' with its two starters in foul trouble and Dandridge, who's put in a crucial effort off the bench, is gassed after played 19 minutes.
3:42 - GU 71, UM 66: Nembhard knocks down a 3-pointer and the momentum is riding with the Zags at the last media timeout.
Tigers haven't been able to stop the Zags' offense, who now could lock up a 7th-straight trip to the Sweet 16 with a few more successful possessions.
41.7 - GU 78, UM 73: Hardaway calls for a timeout after Bolton sinks a pair of free throws. Memphis now will need to get some quick points and the Zags will need to make their free throws.
The Bulldogs are 9 of 20 from the free throw line.
6.1 - GU 80, UM 78: Memphis makes a pair of free throws and the Zags will inbound from under the basket, while the Tigers look for a turnover or quick foul.
Starting 5
Pregame
Top-seeded Gonzaga is looking to advance to the Sweet 16 for the 7th straight season. In its way is No. 9 seed Memphis, led by former NBA All-Star Penny Hardaway, seeking a return to prominence.
The Bulldogs (27-3) and Tigers (22-10) tip off at 6:40 p.m. on TBS – the last game of Saturday's March madness slate.
Gonzaga is coming off a 93-72 win over No. 16 seed Georgia State, where the Zags struggled for the opening 30 minutes, before breaking away with a 20 point run.
Memphis beat No. 8 seed Boise State – led by former Gonzaga assistant Leon Rice – in the first round 64-53. The Tigers never trailed and took a commanding 38-19 lead into halftime, before fending off the Broncos in the second half.
Plenty of NBA scouts will be in attendance to watch the matchup between Chet Holmgren and Jalen Duren in the post. Both players are projected to be top 10 picks in the 2022 NBA Draft.
The winner of tonight's game will play the winner of No. 4 seed Arkansas and No. 12 seed New Mexico State in the Sweet 16 next Thursday.
Series history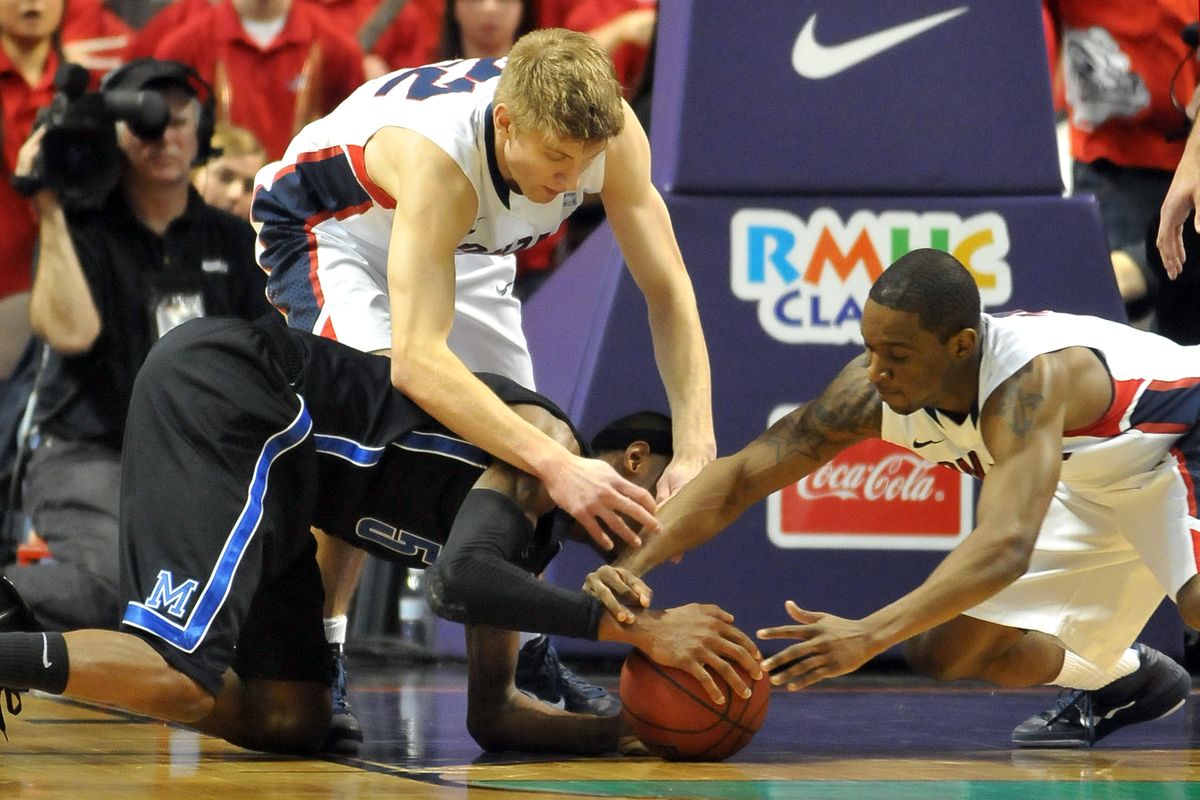 Memphis holds a 6-3 all-time series lead over Gonzaga, last playing on Jan. 31, 2015, where the No. 3 Zags won 82-64.
The two teams have never met in the NCAA Tournament. The Tigers have appeared in the tournament 26 times with an overall record of 35-26, though its wins from 1982-86 & 2008 have been vacated by the NCAA.
Memphis made the National Championship game in 1973 and 2008, losing both times. It advanced to the Sweet Sixteen last in 2009 as a No. 2 seed.
Team stats
Game preview
More on the Zags
---