Chris Kattan looks back at 'Saturday Night Live' and forward with his life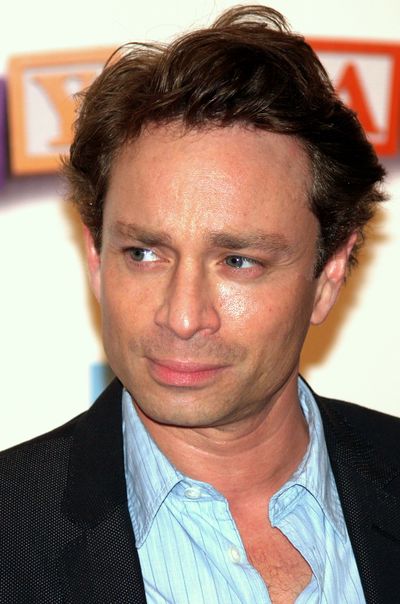 Rumors are swirling at "Saturday Night Live" that creator and producer Lorne Michaels, 78, soon will step down from his longtime gig since he's on the edge of octogenarian status, to be replaced by former "SNL" writer and star Tina Fey.
However, Chris Kattan, who was part of the cast with Fey from 1997-2003, doubts that Michaels will leave his post.
"I've heard that rumor like everybody else has but I doubt that Lorne Michaels is stepping down," Kattan said while calling from Illinois. "Lorne is a very healthy guy with a brilliant brain. I just can't see him leaving right now. 'SNL' is his show and he loves it."
Even though it's been 20 years since Kattan has been part of the iconic late-night program, the comic-actor adores the show. When Kattan performs Friday and Saturday at the Spokane Comedy Club, the star of the film "A Night at the Roxbury" will reminisce and joke about his experience on "SNL."
"I'll talk about my characters on 'SNL,' " Kattan said. "I'll interact with the audiences and tell stories about my experiences on the show. People really connected with the characters I played."
Mango, Mr. Peepers and Azrael Abyss were among the most popular characters Kattan played.
"It's fun looking back at what was accomplished on the show and talking about those characters," Kattan said. "Mango was so much fun to play. The guest hosts loved doing sketches that involved Mango."
Doug Butabi, the oblivious club reject from the "Roxbury" sketch and film, is Kattan's signature character. Kattan and fellow "SNL" cast member Will Ferrell, who played his brother Steve Butabi, were surprised when Michaels decided to produce a film, "A Night at the Roxbury," about the brothers Butabi.
"We thought that Lorne would have produced a movie about the cheerleaders" – featuring Farrell and Cheri Oteri – "which was always a great sketch or something else instead of going with us," Kattan said. "But it worked out for everyone. Will and I were in the Groundlings together (in Los Angeles) and we had that chemistry."
Ferrell and Kattan were inspired to write the sketch after a club experience in New York. "We saw this guy at the bar who nobody wanted to dance with," Kattan recalled. "But he was so determined to get someone to dance with him. It was so sweet how persistent this guy was. Women would walk right past him. So we worked up the sketch and then there was the movie."
The Butabi brothers bounced and swayed their heads to the Haddaway hit "What is Love?" throughout the quirky hit film. "So many people loved that," Kattan said. "It just worked."
Kattan, 52, said his favorite times were spent on the 17th floor of 30 Rockefeller Plaza with the writers and cast mates. "We had such a blast together," Kattan said. "It was like going to college in a way. All of that creativity on the same floor. I loved popping into an office that Fred (Armisen) and Maya (Rudolph) shared and we just had so much fun. It was such a talented cast."
Much attention is paid to the original cast and the Eddie Murphy years, but Kattan shared the stage with some of the greatest to ever scream, "Live from New York, it's Saturday Night!"
Seth Meyers, Colin Quinn, Norm McDonald, David Spade and Amy Poehler were part of the Kattan years. "I have so many memories working with such gifted entertainers and I'm very proud of the work that I did on the show," Kattan said.
Expect Kattan to riff about his personal life and deliver his observations when he performs at the Spokane Comedy Club. "I have plenty to draw from," Kattan said. "I also talk to the audience so every show I do is different."
Kattan, went to high school on Bainbridge Island, recalls traveling to Spokane in his youth to perform and catch concerts.
"We would drive in for shows when I was in high school," Kattan said. "I remember making the drive from Bainbridge Island to Spokane, which is a six-hour trek, to see Stevie Ray Vaughn (in 1986 at the Spokane Opera House). That was well worth the drive to Spokane. I also performed at the college there (Gonzaga), who hired our high school band for a show. I have so many great memories from years ago in Spokane. It's always been such a cool place."
---