Sports > High school sports
S-R Showcase: Ron Cox shares boys Region coaching duties with son Jamie, battling through brain cancer treatment
March 11, 2023 Updated Fri., March 17, 2023 at 2:13 p.m.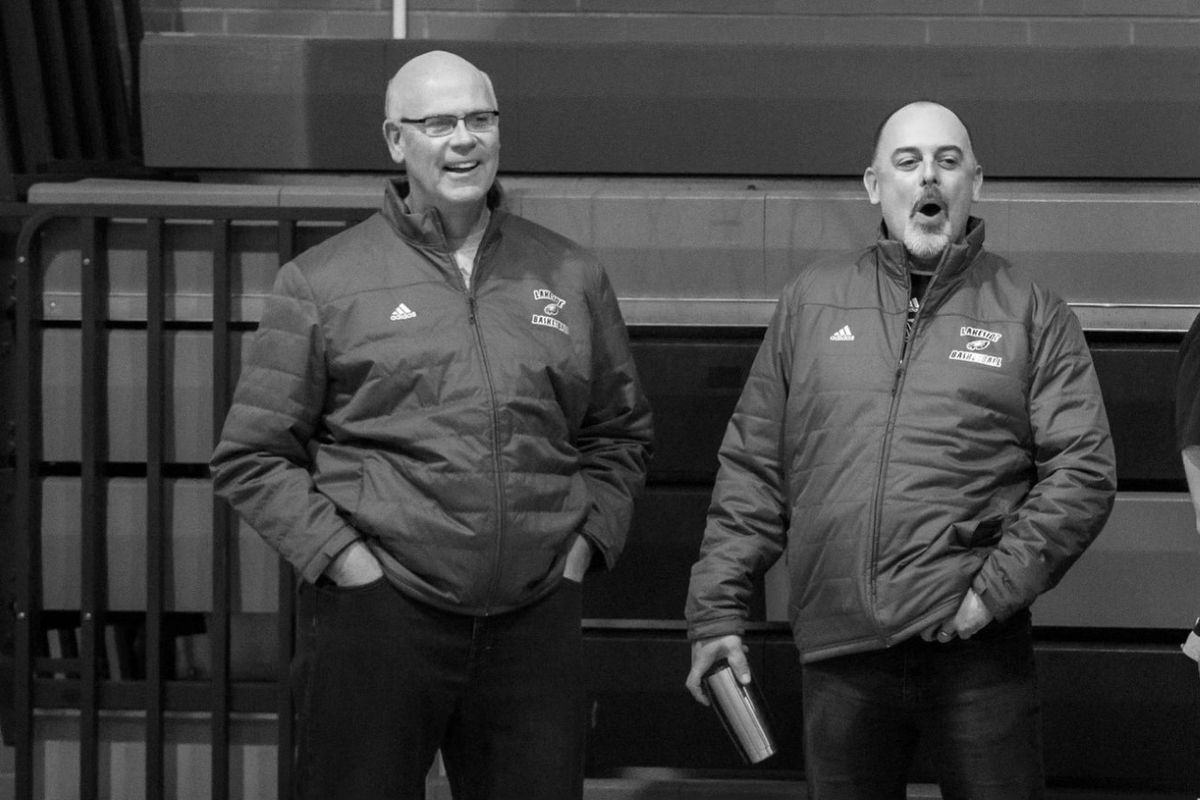 Ron Cox, left, and Jamie Cox take in practice at Lakeside HS in an undated family photo. (Courtesy)
The Spokesman-Review Basketball Showcase isn't just a big deal for the players and their families.
Because the games are held during the school year, active coaches are prohibited from participating in the event due to Washington Interscholastic Activities Association rules.
That means retired coaches will carry the clipboards Tuesday night for both sets of Metro and Region teams. It provides an opportunity for some recently retired coaches to get another night on the sideline.
That includes Ron Cox and his son Jamie, who will guide the boys Region team.
Ron Cox was a first-team All-America selection for Eastern Washington in 1977 and set career marks for points (1,741), rebounds (1,273) and field-goal percentage (62.9). He was inducted into the school's hall of fame in 1998.
He coached high school for 33 years and retired in 2020 – 20 years at Tekoa-Oakesdale and 13 years at Lakeside – with a career record of 425-310. He took six teams to the State B tourney, winning it all 1993, and had four state teams, including a sixth-place finish, with Lakeside. He was a two-time state coach of the year, in 1982 and 2004.
Even though Jamie Cox has been a longtime assistant for his father, and this is just an exhibition, the chance for father and son to coach side by side on this type of stage means a great deal to both of them.
"It's nice to be back together again," Ron Cox said. "There's been so many times, especially at Lakeside when I got the job originally, he was immediately picked to be one of the assistant coaches. That was some good times."
"I've coached with him or alongside him for 20-plus years," Jamie said. "It's always a pleasure to coach with my dad. When he called and asked if I would be his assistant for this all-star game, I said absolutely. The only thing that would screw it up was my chemotherapy or if I wasn't feeling good."
Jamie was diagnosed with a brain tumor in August. After emergency surgery, he is undergoing treatment, including chemo and radiation.
"I know God has a plan for me," Jamie said. "My faith is strong. I have amazing family support. Friends, community – there isn't a day goes by, especially early, I wasn't brought to tears by a card that was in the mail, or a text message by a former player or friend I hadn't heard from in years. The amount of support has been mind-boggling."
"You go through a whole roller coaster full of emotions with this," Ron Cox said. "Just the unknown. You take the small victories and are happy for those. And then you kind of move on and just continue to progress in hopefully a positive way."
Ron admires his son's strength through the process.
"I think of that often," he said. "Everybody's going to have those moments that they struggle. But for me, from the outside watching how he's taken this on, he's been so positive about things. He's been so upbeat about things. His plan is he's gonna win this."
Basketball and family have been a respite from the health concerns.
"He's been amazing to me," Ron Cox said. "He has days when he's tired. Days when he doesn't feel great. But he always talks about how blessed he is. That just amazes me."
The game runs deep in the family. Jamie met his wife Crystal when she was coaching the freshman girls team in the Lakeside program. They met on a bus trip to an away game.
"Without my dad's move to Lakeside, the beautiful family I have might never be – we might never have met," Jamie said.
In a bizarre and cruel twist of fate, Crystal is a two-time brain cancer survivor before Jamie was diagnosed. She was originally diagnosed in the winter of 2001 and again in 2008 after their second son was born.
"Every doctor we've talked to said it's just a 100% strange coincidence," Jamie said. "God put us together for a reason."
"There's always the 'why' of this," Ron Cox said. "What are the odds that they both would have to deal with this kind of thing?"
Crystal is a nurse and helps care for her husband from her unfortunate yet unique perspective.
"She is able to do stuff for me that a lot of people don't get with that kind of treatment at home," Jamie said. "She has been through it."
Ron said Jamie was always a "natural" when it came to coaching.
"He's got this personality about him that he really connects with kids," Ron Cox said. "He can mess around with them, joke around with them. Be firm with them. He's got all these qualities that really make him an awesome assistant coach."
"After playing for me, I often wondered why you would want to be a coach's kid," he said. "You just never get away from the coach – you have to go home with him. … You have to be a kid who is pretty receptive to that. (Jamie) gravitated toward it, now his son is moving in that direction too."
Jamie's oldest son Tristan, 21, will join his dad and grandpa on the bench for the all-star game for the first time.
"I was able to coach my son like my dad coached me," Jamie Cox said. "This will be a lot of fun."
Also at the event, former Greater Spokane League coaches Mike Arte and Jim Redmon will co-coach the girls Metro team.
Arte, who retired at the end of the 2022 season, coached the Gonzaga Prep girls for 34 years and compiled a record of 481-293. His teams won six league titles and made six state appearances, winning in 2014 and '15. Arte was GSL Coach of the Year four times and state coach of the year in 2014.
Redmon, who also retired in 2022, coached at Lewis and Clark for 25 years, 17 years with the girls team and eight with the boys. He took the Tigers girls to 13 state appearances, 11 in a row, and won four state titles – three consecutively from 2006-08, which had not been done before or since.
His boys teams made state twice, finishing third in 2018 as the ninth seed.
Marc Allert will helm the girls Region team, something he's done several times in the past. Allert coached for 32 years at Post Falls, 11 as the girls head coach. He owns a record of 177-94 with two state titles in 2013 and '18 and is a six-time Inland Empire League coach of the year and two-time state coach of the year.
The boys Metro coach is Tim Gaebe, who coached at Shadle Park for 33 years, 15 as the head boys basketball coach. He retired in 2017 with 208 wins, including a sixth-place finish at state in 2010.
Local journalism is essential.
Give directly to The Spokesman-Review's Northwest Passages community forums series -- which helps to offset the costs of several reporter and editor positions at the newspaper -- by using the easy options below. Gifts processed in this system are not tax deductible, but are predominately used to help meet the local financial requirements needed to receive national matching-grant funds.
Subscribe to the sports newsletter
Get the day's top sports headlines and breaking news delivered to your inbox by subscribing here.
---