Iconic Eateries: Vintage airplanes may be the draw for the Skyway Café, but the scratch-made food and camaraderie are not to be missed – 'This place is special'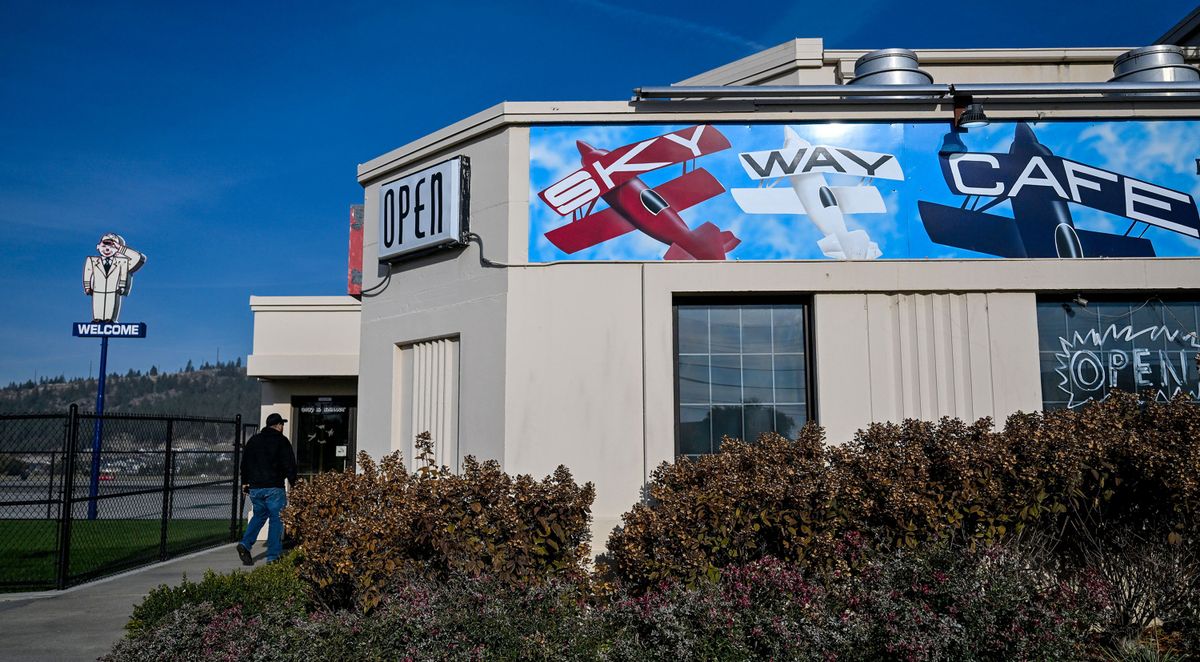 Vintage airplanes regularly take off from an airstrip just outside the back windows of the Skyway Café. A fleet of model planes hang suspended from its ceiling, and an abundance of military memorabilia decorate its walls.
But this spectacle of aviation, though a welcome bonus, isn't what draws customers to the restaurant that sits inside what was once the Spokane Airport terminal at Felts Field. Diners come to Skyway to interact with friends and family over a plate of good food.
Those familiar with the restaurant agree that it's the Skyway Café's ability to put its diners at ease with its familial atmosphere that enables it to retain generations of loyal customers.
"Everybody is just really comfortable here," said Sandra Melter, who has co-owned the breakfast and lunch café with her ex-husband, John Melter, since 2006. "It feels like you're sitting at grandma's house eating."
Meagan Wurmnest, her niece and restaurant manager, agreed.
"You go anywhere nowadays, everyone's on their phone. In here, you walk in, young, middle, older, not one person is on their cell phone, they're having real interaction with each other," she said. "This place is special. It's just, like, two notches above."
At Skyway, one can enjoy a three-egg "garbage" scramble for breakfast, served with hash browns and toast and loaded with broccoli, cauliflower, onions, peppers, tomatoes, bacon, sausage, ham and cheddar cheese, or perhaps Skyway's "Country Benedict."
"You get your money's worth. You're not gonna see the bottom of your plate," said Sandra Melter.
Wurmnest has worked at Skyway for 10 years, and Sandra Melter, 60, hopes she will become the next owner of the aviation-themed diner.
The Melters are the 21st and longest-running owners of the café over the course of nearly 100 years.
Under the name Parkwater Airstrip, aviation activities began at Felts Field in 1913. The air terminal, along with a small café, the Zoom Inn, was constructed in 1924. The Zoom Inn, now the Skyway Café, went on to hold many names and serve many purposes.
The space has been a nightclub, a dinner house, has survived a fire and has even gone bankrupt a few times, Sandra Melter explained.
The string of owners before the Melters included Teresa Maxfield, Sandra Melter's sister and the one responsible for establishing the restaurant's nostalgic brand; Desiree Olsness, who went on to head Dolly's Café in Spokane for 30 years; and Dorothy Harding, who employed Sandra Melter's mom at one point.
"My mom worked here for 17 years," she explained. "My mom used to bring us here and play on the grass when I was a little girl, so we always kind of had an attachment to the place."
Sandra Melter and her sister aren't the only ones to hold a fondness for the Skyway Café. It isn't unusual for some customers to visit the restaurant just as often as its employees.
One such regular, Bob Deem, has been frequenting the establishment "most every day at least once" for 10 years.
"Bob's pretty dang regular," explained Wurmnest.
Deem wears a gray baseball cap, gifted by Wurmnest, that reads "I'm Bob doing Bob things."
"I'm three and a half miles away, and the food's good," Deem said, explaining why he keeps coming back. "All of their soups are pretty good. I don't know of any that's not good, and if there is one out there, he hasn't made it yet."
Sandra Melter has an explanation for that.
"A lot of the recipes are from my mother's recipes and my grandmother's recipes," she said. "We cook all of our own meats, we make our own soups, we make our own breads and pies, which, a lot of places don't do that anymore. That's why they keep coming – the food's amazing."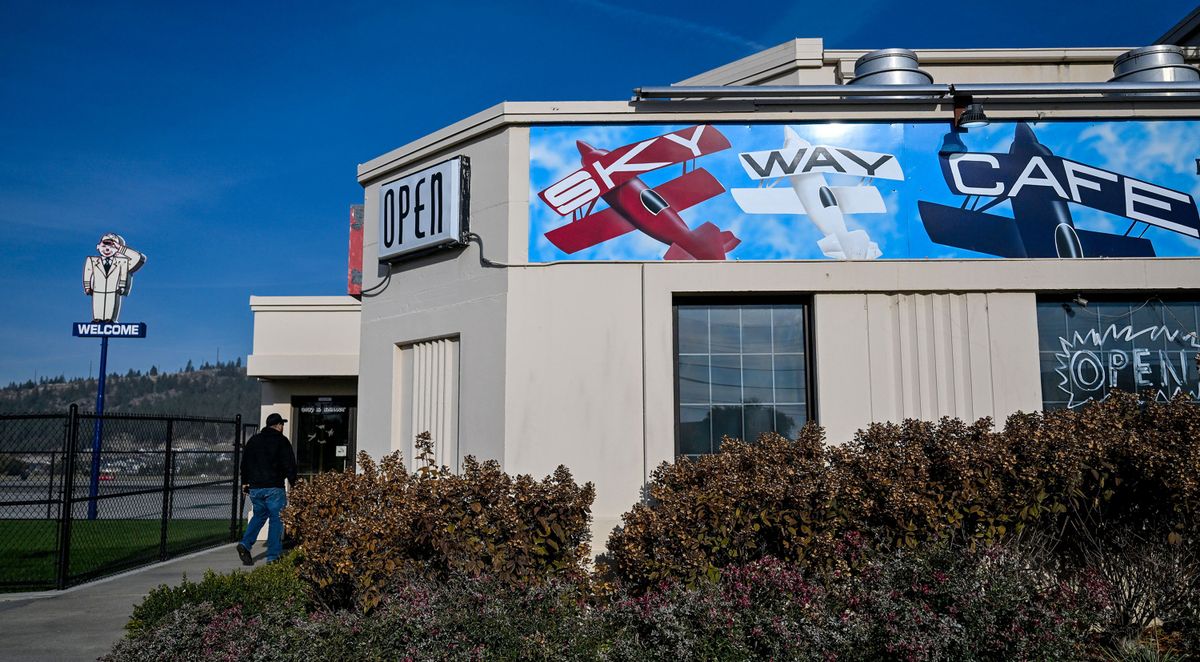 Deem said it's also the good company found at the Skyway Café that earns his business.
"A restaurant can be a lot of things, but the people make it," he said.
The restaurant has a group of Marine veterans that eats there every Friday, sitting at the same table and ordering the same food each time, always wearing red.
"We've got people who come in here and they are third generations coming," said Becky Eddy, an 18-year, "Jane of all trades" employee.
She used longtime customer "David" as an example.
"We've known each other for forever," she said. "I knew him on his 21st birthday, I saw when he met his bride; they now have three beautiful darling daughters."
"I probably have the biggest repeat business in Spokane County for a restaurant," Sandra Melter said. "We don't just get a few, we get families that it's a tradition to come here. It's not like once in a while either, it's continuous."
Sandra Melter turned to that strong customer base when the restaurant had to close its doors for eight months during the COVID-19 pandemic.
She described that period as "very stressful."
"I was worried about bankrupting a 100-year-old business," she said.
When the Skyway Café received calls asking when they were to reopen, Sandra Melter did what she could.
"I saved their phone number," she said. "I gave them a number, and then when we opened, I texted them all."
There was over 6,000 of them.
"I couldn't think of anything else," Sandra Melter said. "I don't know who I texted or who called. … They were just really glad that we were open."
Wurmnest doesn't think the Skyway Café is going anywhere, and neither is she.
"I feel like when you start working here, you've made it," Wurmnest said. "I've been here for a long time, hopefully for another hundred (years)."
---