A&E > Food
Thai at your pad
Wed., July 25, 2007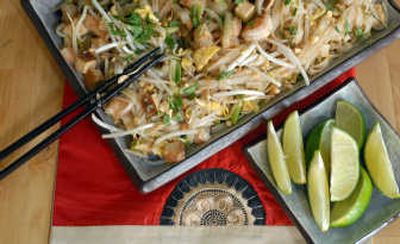 When it comes to the noodle dishes of Thailand, Pad Thai is among the best loved. For Pad Thai fans, that distinctive sweet, sour, spicy and salty flavor is worth the drive to the nearby Thai restaurant for take out.
Since I've moved to Coeur d'Alene, however, take-out Pad Thai hasn't been an option. The closest Thai restaurants are in Spokane and Sandpoint. And while two Thai restaurants are slated to open in Coeur d'Alene in the coming months, well, I can't wait.
I want my Pad Thai now. That means cooking it at home.
Those "Pad Thai in a box" options at the grocery store? Tried 'em. Not worth the money. The pre-made Pad Thai sauce available in a jar? Same story.
As it turns out, making Pad Thai at home is straightforward. Pon Tyson, owner of the Oriental Market on Trent Avenue in Spokane, can rattle off her recipe when asked. A half cup to a full cup of pork, shrimp, chicken, or tofu, a teaspoon smashed garlic, a couple of tablespoons fish sauce, a couple of eggs, sugar, bean sprouts, green onions, chili powder crushed peanuts, rice stick noodles.
Her required amounts? A handful of noodles, an egg or two if you like, salted or unsalted peanuts. "Whatever you like," she said.
Then she added one final ingredient, tamarind.
Tamarind, a reddish-brown pod grown on trees in Asia, Africa and India, is what gives Pad Thai its signature fruity-sour flavor. It's sold primarily in two forms, in dehydrated blocks or as a liquid concentrate. Both varieties are available at area Asian markets or better-stocked grocery or natural food stores.
Purists likely will want to try the block tamarind. To use it for Pad Thai sauce, re-hydrate the tamarind in hot water, let it steep and then push the pulp through a fine mesh sieve.
Substituting the concentrate isn't as simple as substituting two tablespoons liquid with the two tablespoons block tamarind called for in several recipes. According to package instructions, use 1 teaspoon tamarind concentrate per four-serving recipe. Use more if needed. Be sure to mix the concentrate with the hot water called for in your recipe. Otherwise, your Pad Thai will be dry.
Tyson said either option works, but she likes the convenience of the concentrate.
"That's better because you don't need to squeeze the juice out. That's a lot of work," Tyson said. "(The concentrate is) something that's easy, fast and tastes good."
Tamarind is the only exotic ingredient that's essential for good Pad Thai. Other recipes will call for dried shrimp, palm sugar, pickled cabbage or salted preserved radish. Tyson put these in her "whatever you like" category.
Rice stick, a pasta made from rice flour and similar in size to linguine, is available at most grocery stores. Some recipes call for the noodles to be soaked in boiling water for 5 minutes. Other recipes call for a soak in hot tap water for 20 minutes or so. Tyson would take it further – she soaks them in warm water for at least an hour before cooking.
As for the cooking, well, take a hint from the French. "Mise en place" means having all the ingredients ready to go before cooking. Anyone who's ever cooked a stir-fry knows how important that is. Once cooking has started, there's little time to stop and press garlic or rinse bean sprouts. A burned Pad Thai is a bad Pad Thai.
That said, there are plenty of ways to make Pad Thai a less intimidating weeknight meal. The tamarind sauce can be made the day before. The onions, shallots and garlic can be prepped in advance. Peel the shrimp and cube the tofu while the noodles soak.
In my quest for homemade Pad Thai, I centered on three recipes from sources I trust: Mark Bittman's "The Best Recipes in the World," "The Gourmet Cookbook," and Cook's Illustrated. I tried the recipe Alton Brown featured on an episode of "Good Eats," but ultimately discarded it. His ingredient list was massive and I had to shop at three Spokane Asian markets to find everything.
Bittman, my usual go-to guy, let me down on this one. His recipe calls for only two teaspoons of tamarind. The only other liquids in his recipe are oil and fish sauce. The final dish, to me, is too dry and skimpy on the tamarind flavor.
He also suggests using ketchup as a substitute for the tamarind. It's not that the ketchup is bad, it's just, well, wrong.
The Cook's Illustrated recipe – published in the July/August 2002 issue and recently featured on "America's Test Kitchen" – I first tried five years ago. At the time, I deemed it too fussy. Now that I've cooked it a few times, it seems less so. And this recipe gets it right, mostly.
The editors prefer soaking the rice sticks in warm water for 20 minutes, until pliable but not too soft. This allows the noodles to absorb the tamarind sauce and soften up in the wok. This recipe also calls for a garnish of cilantro, which adds a brightness to the dish, and a welcome dose of green to a plate of brownish noodles.
Ultimately, though, I found the Cook's Illustrated Pad Thai too dry. The ingredients also swamped the 12-inch nonstick skillet the writer suggested for cooking. Stirring proved difficult. That left me with "The Gourmet Cookbook" version.
The "Gourmet" version cooked up nice and saucy, with a pleasant balance of flavors. It's become my house Pad Thai, with some modifications.
When soaked in boiling water as called for in the recipe, the rice sticks stuck. So I went back to the Cook's Illustrated hot water soak method. I also give the tamarind a longer soak than the 3 minutes "Gourmet" calls for. I go for at least 10 minutes to insure a good tamarind flavor. Finally, I top the dish with a tablespoon or two of chopped cilantro and a squeeze of fresh lime juice.
Although I know in a few weeks fresh Pad Thai will be only a short drive away, I'll probably stick to the homemade variety. That way, I can sample other Thai dishes when the take-out bug strikes.
Pad Thai
Adapted from "The Gourmet Cookbook"
7 ounces dried flat rice noodles (1/8-inch wide)
1 cup boiling water
2 tablespoons tamarind (from a pliable block)
3 tablespoons fish sauce
3 tablespoons brown sugar
1 tablespoon granulated sugar
1/4 teaspoon salt
2 tablespoons vegetable oil
2 large eggs, lightly beaten
6 garlic cloves, finely chopped
3 small shallots, coarsely chopped
1/2 pound medium shrimp (31-35 count), peeled, deveined and cut into 1/2-inch pieces
1/2 pound baked tofu, rinsed, patted dry and cut into 1/2-inch cubes
8 ounces bean sprouts, rinsed and dried
8 green onions, quartered lengthwise and cut crosswise into 1-inch pieces
4 tablespoons crushed unsalted roasted peanuts
11/2 teaspoons red pepper flakes
1 to 2 tablespoons chopped cilantro
1 lime, cut into eight wedges
In a glass baking dish, spread out the rice noodles. Cover with hot tap water and let sit for 20 minutes, until pliable but not too soft. Stir occasionally to make sure noodles don't stick together. Drain well.
Pour boiling water into a bowl, add tamarind and stir, mashing gently, for 10 minutes to soften. Pour mixture through a fine-mesh sieve into a bowl, pressing hard on the solids and scraping the pulp from the bottom of the sieve. Discard seeds and solids.
Combine fish sauce, tamarind mixture, sugars and salt in a small saucepan and heat over moderate heat, stirring, until sugar is dissolved, 1 to 2 minutes. Remove from heat.
Heat one tablespoon oil in a wok over moderate heat until hot but not smoking. Add eggs and cook, stirring, until scrambled and just cooked through, about 1 minute. Transfer egg to a bowl and tear into small pieces.
Increase heat to medium high, add oil to wok and heat until just beginning to smoke. Add garlic and shallots and stir-fry until just beginning to brown, about 1 minute. Add shrimp and stir-fry 1 minute, then add tofu and stir-fry until shrimp is just cooked through, 1 to 2 minutes. Transfer to bowl with eggs.
Heat wok over moderately high heat. Add tamarind sauce and bring to a boil. Add noodles and stir-fry until tender and sauce is mostly absorbed, 2 to 3 minutes. Add egg and shrimp mixture, 2 cups bean sprouts, scallions, 2 tablespoons peanuts, and red pepper flakes and toss well.
Mound Pad Thai on a platter, top with remaining bean sprouts and sprinkle with remaining peanuts and cilantro. Serve with lime wedges.
Yield: 4 main-dish servings
Approximate nutrition per serving: 410 calories, 18 grams fat (3 grams saturated, 39 percent fat calories), 27 grams protein, 36 grams carbohydrate, 3 grams dietary fiber, 230 milligrams cholesterol, 1,300 milligrams sodium.
Local journalism is essential.
Give directly to The Spokesman-Review's Northwest Passages community forums series -- which helps to offset the costs of several reporter and editor positions at the newspaper -- by using the easy options below. Gifts processed in this system are not tax deductible, but are predominately used to help meet the local financial requirements needed to receive national matching-grant funds.
Subscribe to the Spokane7 email newsletter
Get the day's top entertainment headlines delivered to your inbox every morning.
---