A&E > Food
Barili Cellars opens with team approach
Spokane winery grew out of home winemaking venture
Wed., May 6, 2009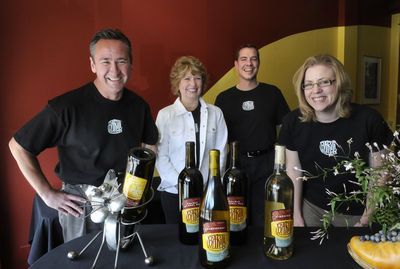 There's a new winery that isn't on the official Spokane tour map this weekend. Barili Cellars recently began pouring wines and will be open Friday, Saturday and Sunday to introduce its viognier, chardonnay and a red blend called Double Barrel Red.
The downtown Spokane winery is a collaboration of the winemaking talents of Steve Trabun and Russ Feist, with help from their wives Dana Trabun and Marlene Feist. They missed the chance to be on the Spokane Winery Association maps for the Spring Barrel Tasting, but plan to join the area's 14 other wineries in the group later this year.
The couples have worked on their first commercial wine release for about two years, but the beginnings of Barili Cellars can be traced back a decade when Trabun and Feist started making wines at home. Five years ago, wine grapes brought them together.
"We were going down to Prosser to get grapes as home winemakers and the vineyard owner said, 'Hey, would you mind taking a hundred pounds of grapes up for this other guy in Spokane?' " Trabun says. "It happened to be Russ, and that was how we met."
Within the next year, a job change brought Trabun to Avista Corp. where Feist works as a contract manager. The proximity gave them the chance to see each other more often and share ideas about home winemaking.
They continued to make wine independently, but did much of the work together.
"Russ had a press and we would go down and get the grapes together, come back and crush together and then we would take it to our respective basements or laundry rooms and do our own thing," Trabun says.
Trabun and Feist often found their conversations turning to dreams of opening a winery. Until one day when the dreaming turned to action.
They nurtured the fledgling winery under the licensing of another yet-to-open Spokane winery, trading labor to help build that business in exchange for a place to get their red wines into barrels. With the first of their own commercial wines fermenting, the couples worked to get their own license.
Enter Steve Salvatori and the Spokane Entrepreneurial Center.
Salvatori is a businessman who fosters new ventures by offering cheap rent and utilities for those who are just getting started. He served on some boards with Trabun and promised to keep them in mind as he looked for more startup space downtown.
"His whole mission in life is to give people a start," Trabun says. "The rest is pretty much history."
At first, it was hard for the winemakers to imagine their winery in the space Salvatori offered. The tasting room area was "teeny, tiny." The basement a tangle of pipes and wires, rocks and dirt.
Salvatori transformed the entry of the winery into stately, stone-clad foyer. They removed a wall, stretching the tasting room deeper into the building from the large display window.
The tasting room still is small, but so is the winery. Barili Cellars – barili is Italian for barrels – has 150 cases of wine for sale. They plan to make 300 cases of wine this fall. They'll plateau with 500 cases the following year.
They moved into the new winery in March, transferring the wines while it was cool outside. Some of the wine was drained into basement holding tanks using a hose threaded down through the sidewalk. The only mishap was a lid that had to be retrieved after it flipped off sometime during transport.
"It went extremely well considering all that could have gone wrong," says Dana Trabun. Her husband teases, "It added complexity."
In addition to helping Marlene Feist with marketing, event coordination and other tasting room essentials at Barili, Dana Trabun is bringing enology expertise to the operation. She's in the second year of the Washington State University extension enology certificate program. Marlene Feist is spokeswoman for the City of Spokane.
Blending the wine science with the experience of self-taught winemakers has worked well, they say. Most decisions are made quickly by the committee of four. "I think we approach winemaking from the same standpoint, because we seem to arrive at a consensus pretty easily," Steve Trabun says.
Although the fading economy has been a source of trepidation, they're relieved to have start up behind them and excited to offer something to sip.
The final push to open the doors included a flurry of mind-boggling decisions about bottles, labeling and cork selection.
Marlene Feist says her head started to spin long before they had to choose between dead leaf green and google green wine bottles. "These guys are the cooks. I'm just kind of a helper bee … It just seemed unreal that we would ever get to this point.
"It's time and we're ready, so we're just going to go for it," she adds. "We're hopeful that people have room in their budgets for a couple of bottles of wine."
Barili Cellars is offering three wines, including the 2008 Viognier ($19), 2008 Chardonnay ($15) and Double Barrel Red ($20), a blend of syrah and cabernet sauvignon.
The winery is buying viognier grapes from Seth Ryan Vineyards from the Red Mountain appellation in the Yakima valley. They'll also get some cabernet grapes there. The fruit for the Double Barrel Red came from Les Collines Vineyards in Walla Walla.
There are red wines in barrels from Dineen Vineyards in Zillah, Wash.
Feist and Trabun say the Barili Cellars wines are far superior to their home winemaking efforts. Access to better fruit, larger barrels and more sophisticated presses, in addition to their experience, make the difference. They're looking forward to sharing what they've learned.
"I want people to understand the process. I think people come in and taste wine and buy wine and take for granted what goes into it. We did," Trabun says.
Feist adds that he's found that people really want to connect to the winemaker and winery. "You can easily come in and have a glass of wine and leave," he says, "but to spend some time and talk about how it's made – I think that's important."
Baked Brie Appetizer
Marlene Feist writes: "Barili's Chardonnay is very versatile. Because people like wine and cheese, how about a baked brie appetizer?"
4 ounces mushrooms, cleaned and sliced
1/2 cup sweet onion (chopped small)
2 tablespoons butter
1/4 cup Barili Chardonnay
Round or wedge of Brie cheese
Prepared puff pastry sheet
One egg, beaten
Preheat oven to 350 degrees.
Sauté first four ingredients together. The vegetables are done when the onions are translucent and the mushrooms are wilted.
Place brie in the center of the pastry dough. Top with vegetable mixture and seal the dough around everything. Brush a little egg on the top of the dough to give it a shiny appearance. Bake until pastry is browned and the cheese is melted.
Yield: 6-12 servings, depending on the amount of cheese used.
Marinated Flank Steak
Marlene Feist says this pairs well with Barili's Double Barrel Red
4 ounces Annie's Naturals Goddess Dressing
2 teaspoons minced garlic
2 tablespoons Worchestershire sauce
1 1/2 pounds flank steak
Combine dressing, garlic and Worchestershine and marinate the steak in the mixture for at least 4 hours or (preferably) overnight. Grill, slice, and serve.
Yield: 4 to 6 servings
Shrimp Fajitas
Marlene Feist says, "The Viognier is crisp and light and great paired with food that has a little kick."
1 1/2 tablespoons butter
1 1/2 tablespoons olive oil
1/4 cup tequila
Juice from 2 limes
1 medium onion, chopped
1 yellow pepper, seeded and chopped
8 ounces mushrooms, cleaned and sliced
2 pounds shrimp, peeled and deveined
1 teaspoon red or chipotle pepper powder
In a large frying pan, melt the butter, add the olive oil, tequila and lime juice. When bubbling, add onion and yellow pepper and sauté, until soft. Add mushrooms and sauté until wilted, and then add shrimp. Cook shrimp until white. Add pepper.
Serve on tortilla shells and add condiments as you like: avocado slices, cheddar cheese, salsa, hot sauce and chopped tomatoes.
Yield: 6 to 8 servings.
Local journalism is essential.
Give directly to The Spokesman-Review's Northwest Passages community forums series -- which helps to offset the costs of several reporter and editor positions at the newspaper -- by using the easy options below. Gifts processed in this system are not tax deductible, but are predominately used to help meet the local financial requirements needed to receive national matching-grant funds.
Subscribe to the Spokane7 email newsletter
Get the day's top entertainment headlines delivered to your inbox every morning.
---