A&E > Food
Savoring Sandpoint
Wheelbarrow Wednesdays highlight homegrown flavors city puts on display throughout the summer
Wed., July 25, 2012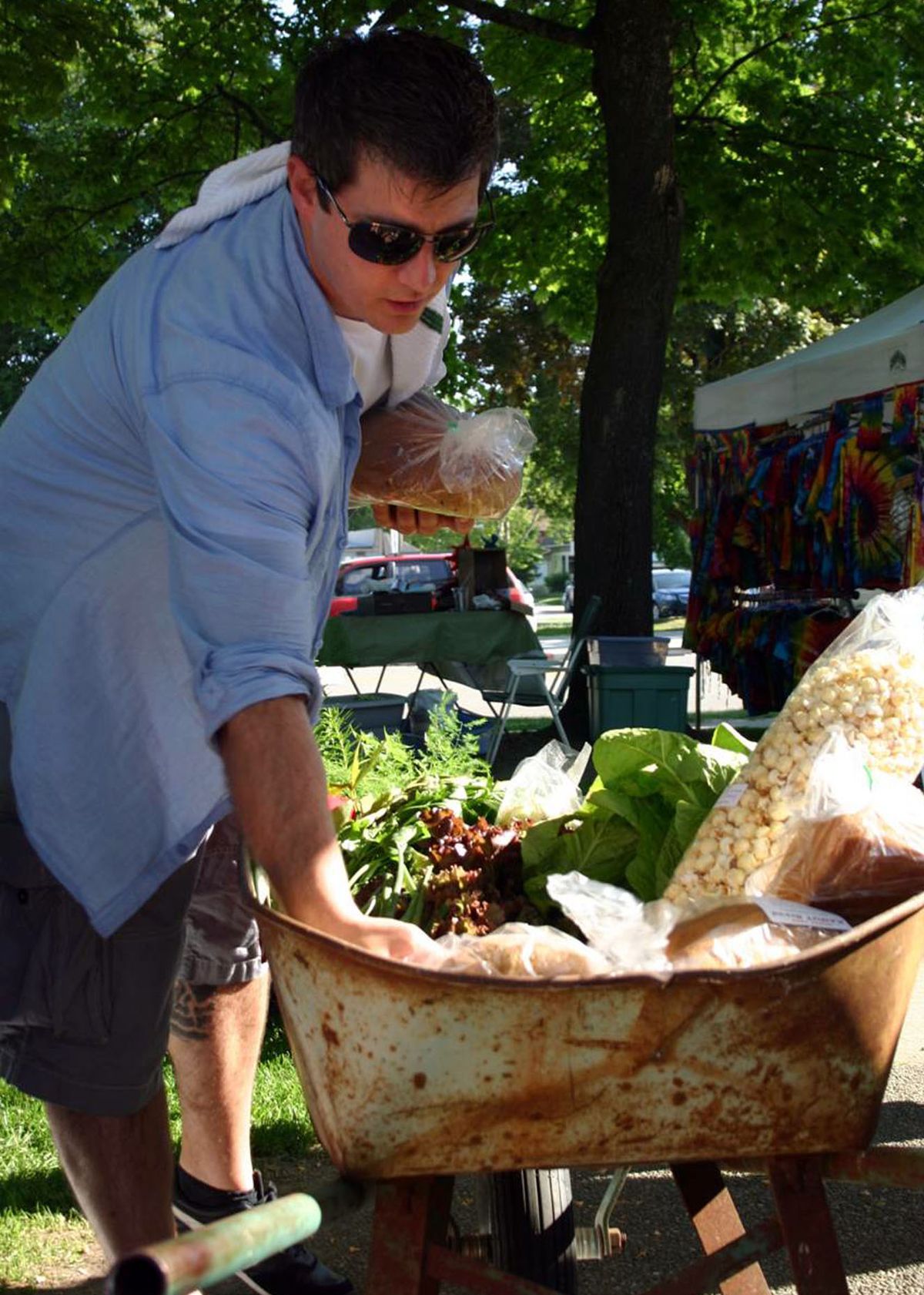 Chef Jeremy Hansen of Santé Restaurant and Charcuterie puts bread into a wheelbarrow at the Wheelbarrow Wednesday event at the Sandpoint Farmers Market. Dinner guests followed Hansen to the farmers market where he filled a wheelbarrow with ingredients for a meal served at Pend d'Oreille Winery for the farm-to-fork dinner.
SANDPOINT – Maybe Sandpoint is on the way to your next lakeside destination for summer fun. Perhaps music during the Festival at Sandpoint, Aug. 2-12, will be the draw. Either way, don't miss some of the town's gastronomic highlights while you're in the area.
During a recent visit, I tagged along with Mark Rivers, a consultant for the city's downtown and economic development initiatives, to talk about new efforts to highlight the town's foodie offerings. He's working with city businesses on plans for a Taste Trail that would point visitors to some of those homegrown flavors.
We shadowed chef Jeremy Hansen, owner of Spokane's Santé Restaurant and Charcuterie, while he shopped at the Farmers Market at Sandpoint for ingredients for the first Wheelbarrow Wednesday dinner served outside Pend d'Oreille Winery. Then, Rivers and I sipped coffees at Evans Brothers Coffee and espresso bar.
I finished the day overlooking Lake Pend Oreille with three courses on the patio at Ivano's sister restaurant, La Rosa Club, before heading back to Spokane.
Wheelbarrow Wednesdays
This new farm-to-fork tour and dinner is hosted by Pend d'Oreille Winery. Guests arrived at 4:30 p.m. and started with a cold glass of white wine before we followed Hansen over to the farmers market.
There Hansen shopped for dinner ingredients with guests in tow. He chatted with farmers about garlic scapes, squash blossoms and lettuce – filling a wheelbarrow pushed by a volunteer as he went. He pinched a taste of lemon balm and salad burnette from grower Megan Cordero and bought kamut and whole wheat bread from Glenn Woiler of Glenn's Breads.
Rivers wheeled the market groceries back to the winery for the chef while the group continued on to Evans Brothers Coffee for a coffee cupping. A cupping is the traditional way coffee experts slurp and taste different brewed coffee beans and roasts to reveal nuances of flavor. Guests also stop at MickDuff's Brewing Company and the Litehouse Blue Cheese Factory.
Hansen prepared five courses of locavore fare while the guests finished their tour. The dinner, also featuring locally raised lamb from Cascade Creek Farms, was served atop white tablecloth-covered tables outside Pend d'Oreille Winery.
There are two more Wheelbarrow Wednesdays yet to come this summer – Aug. 8 and Sept. 12. Tickets are $75 per person and can be purchased online at www.savorsandpoint.com
Evans Brothers Coffee
Brothers Rick and Randy Evans started this microroastery to bring organic and socially responsible coffees to Sandpoint for roasting.
Barista Daniel Gunter made cups of pour-over coffees so we could compare the floral and citrus of the El Salvador Las Delicias to the deeper chocolate notes of Ethiopian Kochere roasted there. The roastery has an espresso bar and local art hangs in the shop.
The Thursday Night Throwdown Inland Northwest will be traveling to Evans Brothers this week. The event, which includes a barista latte art competition and a single cup brewing battle, is a fun introduction to specialty coffee and Evans Brothers roasted beans. The Thursday Night Throwdown is a nationwide trend that began in Atlanta and was recently introduced to the area by Aaron Monheim and Bobby Enslow of INDABA Coffee in Spokane.
TNTINW begins at 7 p.m. on Thursday and includes a DJ and dancing, beer and wine by Eichardt's Pub and food from Jupiter Jane's Traveling Bus.
Stop in for all of that, or just for a great cup of locally roasted Joe.
La Rosa Club
All the food talk and coffee left me famished, so I dined on the patio at La Rosa Club before heading back to Spokane.
Sister restaurant to the longtime local favorite Ivano's, La Rosa Club is just across First Street. Everyone was dining al fresco in the lovely garden behind the restaurant that evening. There's a nice view of boats leaving to cruise out to Lake Pend Oreille.
They pride themselves on small plates and support the farmers market by buying there.
I started with a beautiful appetizer of mozzarella cheese topped with cantaloupe, speck, mint and pistachios ($9). The bold flavors of the grilled Italian flatbread featured Rogue gorgonzola, cremini mushrooms, roasted garlic and caramelized onions ($8). I saved two pieces to bring home. They transported me back to the patio in Sandpoint at lunch the following day.
The dessert special was hand-rolled truffles spiked with almonds and served in a pool of salted caramel sauce ($5).
I'll go back to try the dish that had everyone buzzing as I left – crispy fried beets with brewer's yeast and dill spiked sour cream. I won't go alone again, so I can taste more of the dishes on the creative menu.
Local journalism is essential.
Give directly to The Spokesman-Review's Northwest Passages community forums series -- which helps to offset the costs of several reporter and editor positions at the newspaper -- by using the easy options below. Gifts processed in this system are not tax deductible, but are predominately used to help meet the local financial requirements needed to receive national matching-grant funds.
Subscribe to the Spokane7 email newsletter
Get the day's top entertainment headlines delivered to your inbox every morning.
---