A&E > Food
Gourmet ganja: Cannabis-laced edibles are coming of age
April 18, 2017 Updated Tue., April 18, 2017 at 3:04 p.m.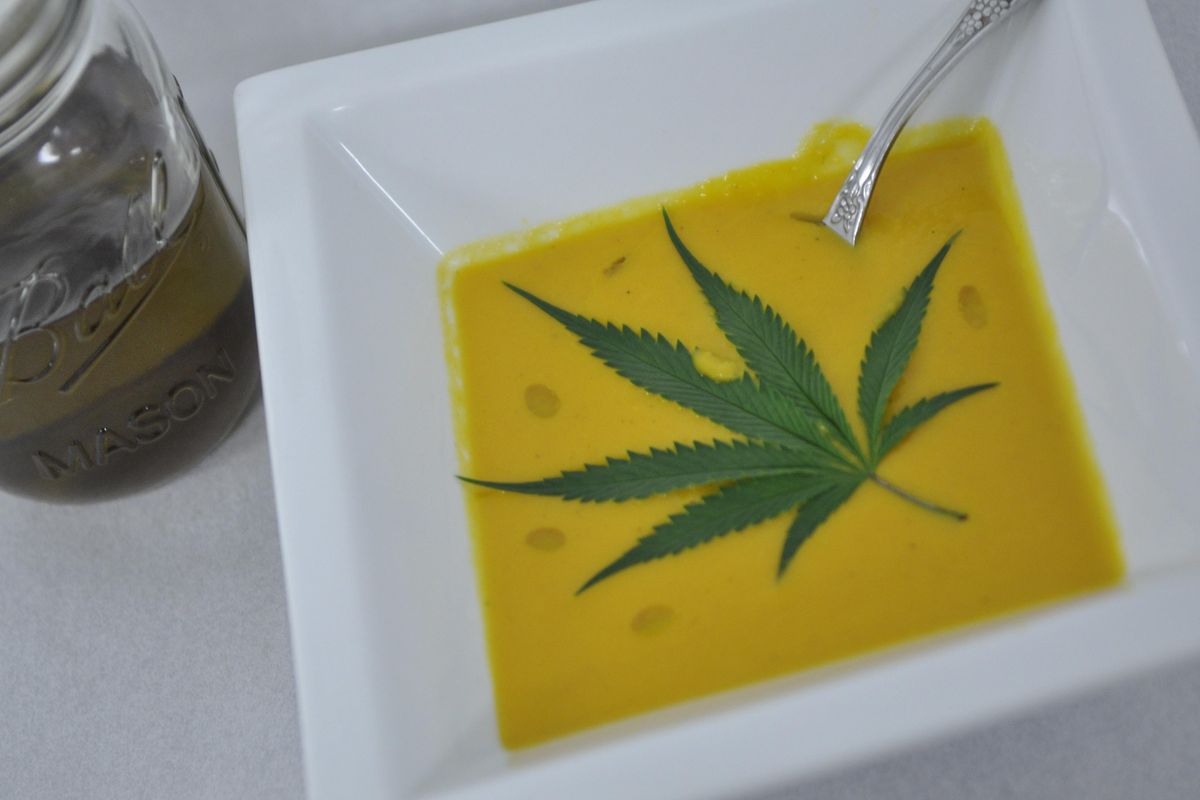 Cannabis-infused soup. (Adriana Janovich / The Spokesman-Review)Buy a print of this photo
The gorgeous green pea ravioli embody spring. Prosciutto's salty bite rounds out the dish, which pops on the plate, announcing the season with the brightness of the lemon, rosiness of ham and boldness of the verdant main ingredient.
It isn't actually green peas.
Tucked into these lovely little pasta pockets is THC, or tetrahydrocannabinol, the primary psychoactive component of cannabis.
This is gourmet ganja. Edibles, the term for cannabis-infused foods, are coming of age.
Marijuana enthusiasts have long since embraced weed for eating. But gone are the days when eating weed meant choosing between a classic marijuana brownie or laced chocolate chip cookie. Options are more varied now, more elegant, more refined.
They'll stone you when you're at the breakfast table. They'll stone you for lunch and dinner, too. Even cocktails can be crafted with cannabis.
"It doesn't have to be just brownies. It doesn't even have to be sweet," said Stephanie Lamb, a local marijuana-infused edibles chef. "You could infuse your morning coffee milk, if you were so inclined."
But, whatever you make – sweet or savory – be sure to mind the dosage. Oh, and, "Don't eat it fast."
Edibles are typically prepared with highly concentrated cannabis oil or butter, making it extremely easy to overdo it.
In general, there are two main types from which to choose. Sativa strains typically produce a head high, characterized by uplifting effects. Indica strains generally offer a calming and relaxing body high.
When it comes to usage, "It's kind of a common thing to say sativa is day and indica is night," Lamb said. "But it depends on the strain, really" – not to mention hybrids. "It also really depends on the person. It's very specific to your metabolism."
A single serving is generally considered 10 milligrams. But the effects won't feel the same to everyone. It's important, Lamb said, to be conscious of the potency, your tolerance and the time of day – and go slow, especially if you're new to pot-laced foods.
"A lot of people have had a very bad first edible experience," said Lamb, noting that's because they consumed too much too fast "and then – bam! – you can't move."
At home, she micro-doses all of her edibles. Those gorgeous green ravioli, for example, have only 1 milligram per dumpling. Eat 10, and you've ingested a single serving of cannabis. "I wanted people to be able to eat a plate of food," Lamb said.
A lighter dosage allows people to eat more; you can get full as well as high. You're also less likely to overdo it. Plus, it cuts down on that "weedy flavor, which," Lamb said, "turns off a lot of people." (Not her.)
But, "It's a lot of math."
To help determine measurements, she uses an online calculator from JeffThe420Chef at www.jeffthe420chef.com/calculator.
(For the uninitiated, 420 is a not-so-secret code term for cannabis consumption. The code's origins are hazy, with explanations including the time teens met after school to smoke or a code California police used to denote marijuana use. Today, it can refer to the time of day, such as 4:20 p.m., as well as April 20, which is Thursday.)
Generally speaking, if you want to eat your weed, commercial options are limited. And, "There's really no savory options," said Lamb, who heads the edibles department at Blue Roots Cannabis in Airway Heights, where she makes marijuana-infused cake bites, chocolates and sugar.
The cake bites, which come in four flavors – Twisted Citrus, Caramel Bomb, Peppi-Mint and Cookie Budder – are top-sellers.
But marijuana enthusiasts or medical marijuana users who want to get their high from savory foods typically have to make their own. The first step is usually infusing fat – such as coconut oil, olive oil, sesame oil or butter – or high-proof, neutral grain spirits for tinctures.
At home, Lamb usually starts with canna-butter or cannabis-infused olive oil. "I'm not a big smoker," she said. "I learned from being a patient that I like to ingest it."
Lamb, 32, said she became a medical marijuana patient in 2013. "My spine is fused weird. I have constant lower back pain. It's not fun."
While she's lived in the Spokane area for 14 years, she grew up in Hawaii. "So I was immersed in that ganja culture," she said. "It's not legal there, but it's more socially acceptable."
Marijuana is legal for recreational use in eight states and Washington, D.C., as well as for medical use in 28 states and the nation's capital, but it remains illegal under the federal Controlled Substances Act.
Voters in Washington state legalized adult possession of small amounts of the drug – as well as state-regulated farming and sales of weed – in November 2012. And this fiscal year, the heavily regulated industry is projected to generate some $272 million in taxes.
Lamb began working at Blue Roots at the end of August, but she's been baking professionally for about 10 years. While she said she likes the versatility of the cannabis-infused sugar she makes and has made marijuana-infused strawberry ice cream at home for fun, she admits, "I'm really not a sweets person."
She has, however, prepared sous-vide ribeye steak in cannabis-infused olive oil. She's also made pot-infused Mongolian beef, barbecue and tzatziki sauces, fettuccine and gnocchi – and documented most of her creations on Instagram @lilaccitylamb.
"You could totally do weed roast chicken," she said. And, if you're new to savory edibles, soups "are easy."
Her curried carrot creation is bright with a bite. Jalapeño gives it a bit of a kick. And, "You could make this for people who don't partake," Lamb said, noting the weed-infused olive oil can be drizzled on just before serving rather than blended into the soup, giving more options for guests.
Lamb uses infused olive oil the most. "It pairs well with most things," she said. "I thought it wouldn't pair well with milk, but I did it and it was pretty tasty. It tastes fine in coffee, too."
A little goes a long way. A pint of infused olive oil will usually last her about two months, Lamb said, noting, "Butter is best in baking."
Home cooks could use marijuana infused milk and cream to make mozzarella and ricotta as well as ice cream. Infused oil can also be used to make mayo.
"You could do double infusions," Lamb said – using other ingredients, such as basil or red pepper, along with the weed.
"It's not just about getting high," she said. "If I'm going to put something in my mouth, I want it to taste good. I want it to be worth the calories."
Of course, marijuana – with its distinctive "vegetal, herbaceous, earthy" taste and smell – can influence the flavor of a dish. But, "It really depends on the strength of your infusion," Lamb said.
"Personally, I don't mind the flavor," she said. "Then you know it's in there."
Canna-butter
From Stephanie Lamb
7 grams good quality marijuana, finely ground
1 pound butter
Step 1 – Decarboxylation activates THC. To decarb your cannabis, heat oven to 240 degrees. Place the plant material in a single layer on a rimmed baking sheet. Bake for 40 minutes, turning the sheet a couple of times to ensure even heating. The cannabis will become dry and crumbly.
Step 2 – In a medium saucepan bring a quart of water to a boil on the stove. When the water is boiling place the butter in the pan and allow it to melt completely. (You can vary the amounts, just be sure that the marijuana is always floating about 1 1/2 to 2 inches from the bottom of the pan.)
Step 3 – Once the butter has melted you can add the marijuana. Once the weed is added the heat should be turned down, very low, to barely a simmer. Simmer for 3 hours. The mixture will go from very watery to glossy and thick.
Step 4 – While the canna-butter is cooking, set up the bowl to hold the finished product. Place a double layer of cheesecloth over the top, and secure it with elastic, string or tape.
Step 5 – Strain the marijuana butter over the bowl, carefully trying not to spill. When the saucepan is empty, undo the twine, pick up the cheesecloth from all four sides and squeeze out all of the remaining butter.
Step 6 – Allow the canna-butter to cool for about an hour. Place in the fridge until the butter has risen to the top layer and is solid. (The THC and other properties have attached to the butter, and you are just about there.)
Step 7 – Run a knife around the edge and lift the butter off. Place upside down on your work surface and scrape off any of the cooking water. Your canna-butter is ready to roll.
Note: This recipe yields approximately 20-25 milligrams of THC per tablespoon, depending on the potency of the cannabis flower.
Cannabis-Infused Olive Oil
From Stephanie Lamb
2 cups extra-virgin olive oil
7 grams cannabis flower
Preheat oven to 240 degrees. Grind cannabis in spice grinder to medium grind. Pour ground flower onto sheet of aluminum foil. Fold sides up to make a packet. Place packet on baking sheet. Bake in oven 30-45 minutes, depending on stickiness of the flower (more sticky equals longer baking time). The cannabis is ready when it's a light, toasty brown.
While cannabis is in the oven, heat 2 cups of olive oil in a small saucepan on low. Unfold aluminum foil packet and empty the flower into warm olive oil. Stir to combine. Heat on low for 3 hours. Stir and check temperature every 10-15 minutes. The temperature should not reach above 245 degrees.
Take the oil off of the burner and allow to cool to room temperature. Line a strainer with a double layer of cheesecloth. Pour the oil into a sterilized pint jar through the cheesecloth-lined strainer. When all of the oil and cannabis have been poured into the cheesecloth, pick up the edges of the material and, with clean or gloved hands, squeeze the last of the oil into the jar. Seal the jar. Store out of direct sunlight. To extend shelf-life, store in the refrigerator.
Note: This recipe yields approximately 20-25mg of THC per tablespoon, depending on the potency of the cannabis flower.
Spring Pea Ravioli with Prosciutto, Mint and Marijuana
Adapted from theyellowtable.com by Stephanie Lamb
For the pasta dough
2 cups all-purpose or "00" flour, plus more for flouring surface
1/2 teaspoon salt
1 tablespoon cannabis-infused extra-virgin olive oil
4 eggs
For the pea-ricotta filling
2 cups frozen (or fresh) peas, blanched
2 teaspoons lemon zest
1 garlic clove, minced
1/2 cup fresh ricotta
1/2 cup grated Parmesan
1 tablespoon chopped fresh mint
2 tablespoons cannabis-infused extra-virgin olive oil
Salt and pepper
For serving
1/4 cup salted butter
2 slices prosciutto, chopped
1/2 cup blanched peas
3/4 cup pea shoots
2 tablespoons lemon juice
1 teaspoon lemon zest
2 tablespoons chopped fresh mint
Freshly grated Parmesan
Make the pasta dough. Combine the flour, salt, oil and eggs in a food processor. Process until the dough comes together in a rough ball. (If you don't have a food processor, mound the flour in the middle of a clean work surface. Make a hole in the middle and add the salt and eggs. Slowly beat the eggs with a fork, incorporating flour gradually until you have a sticky ball of dough.) Sprinkle additional flour on a clean work surface and knead the dough for 2-3 minutes, sprinkling flour onto the dough if it's too sticky, until a smooth ball forms. Wrap the ball in plastic wrap and place in the refrigerator at least 30 minutes.
Make the pea-ricotta filling. Pulse the peas, lemon zest, garlic, ricotta, Parmesan and mint in a food processor or blender. Add in the cannabis-infused olive oil and pulse until smooth. Season to taste with salt and pepper. Transfer to a bowl and place in the refrigerator until ready to use.
Roll the pasta dough. Set up a pasta machine on a large work surface. Remove the pasta dough from the refrigerator and divide into 4 pieces. Line a sheet tray with parchment paper. Run the first piece of dough through the widest setting on the machine a few times, lightly flouring as needed. Move the rollers to the next thinnest setting and run the dough through, gradually working down to the thinnest setting. Trim the sheet so it makes a large rectangle and place it on the parchment-lined baking sheet. Repeat the process with the remaining dough balls, laying the pasta rectangles between sheets of parchment paper.
Make the ravioli. Lay one sheet of pasta on a lightly floured work surface. Spoon the filling by heaping teaspoonful, about 1 inch apart. (If you have a pastry bag, this works wonders here, as you can keep the filling much more uniform.) You should be able to fit about 14-18 dollops of filling. Take another pasta sheet and gently lay it on top of the first sheet and the dollops of filling. Using your fingers, gently press around each mount of filling to release any air that might be trapped, then gently press on the edges to seal. Using a pizza wheel or a knife, make vertical and horizontal cuts between the fillings, to create square ravioli. Carefully transfer the ravioli in a single layer onto a parchment lined baking sheet, dusted with flour. Repeat with the remaining pasta sheets and filling, and place on another parchment lined baking sheet. Let the ravioli dry for an hour in a cool, dry place. If you're not planning to use the ravioli immediately, place the trays in the freezer for an hour, and then transfer to a zip-top bag to freeze until ready to use.
Cook and serve the ravioli. Bring a large pot of salted water to boil. Cook the ravioli in batches, so as not to crowd the pot, about 5 minutes per batch. Melt butter in a large sauté pan over medium-high heat. Add prosciutto and cook for 2-3 minutes, or until beginning to crisp. Add peas and pea shoots, and cook for another 1-2 minutes, or until the pea shoots have wilted. Remove from heat and stir in the lemon juice and zest. Add the ravioli to the pan and toss a few times to combine.
Yield: 4-6 servings
Cannabis Curried Carrot Soup
Adapted from New York Times Cooking by Stephanie Lamb
2 tablespoons butter
3/4 pound carrots, peeled and roughly chopped
1/2 medium onion, roughly chopped
1 jalapeño roughly chopped, seeds removed
1/2 teaspoon ground ginger
3/4 teaspoon curry powder
2 cups chicken or vegetable stock
Cannabis-infused extra-virgin olive oil
1 cup coconut milk
Juice of half a lime
Salt and pepper, to taste
In medium saucepan, melt butter. Add the chopped onion, carrots and jalapeño. Stir and cook until softened, about 15 minutes. Add stock, there should be enough to cover the vegetables. Bring to a boil over high heat and then reduce to medium and continue cooking until the carrots are cooked through.
If you have an immersion blender, puree the soup in the pot. If not, allow the soup to cool slightly and then puree in blender or food processor. Add cannabis-infused olive oil and enough coconut milk to achieve the consistency you'd like. Adjust the seasoning and add lime juice to taste. Serve warm.
Note: The key to this recipe is adding your infused olive oil after the soup has already been exposed to high heat and cooled slightly. This will prevent your THC from degrading. (Optionally, you could infuse the coconut milk.)
Yield: 2-4 servings
Find cannabis-infused recipes from Stephanie Lamb for Honey-Sriracha Glazed Canna-Wings, Garlic Canna-Soup and Soft Ginger Canna-Cookies here.
Local journalism is essential.
Give directly to The Spokesman-Review's Northwest Passages community forums series -- which helps to offset the costs of several reporter and editor positions at the newspaper -- by using the easy options below. Gifts processed in this system are not tax deductible, but are predominately used to help meet the local financial requirements needed to receive national matching-grant funds.
Subscribe to the Spokane7 email newsletter
Get the day's top entertainment headlines delivered to your inbox every morning.
---