Wiley's Downtown Bistro leaves the herbal essence behind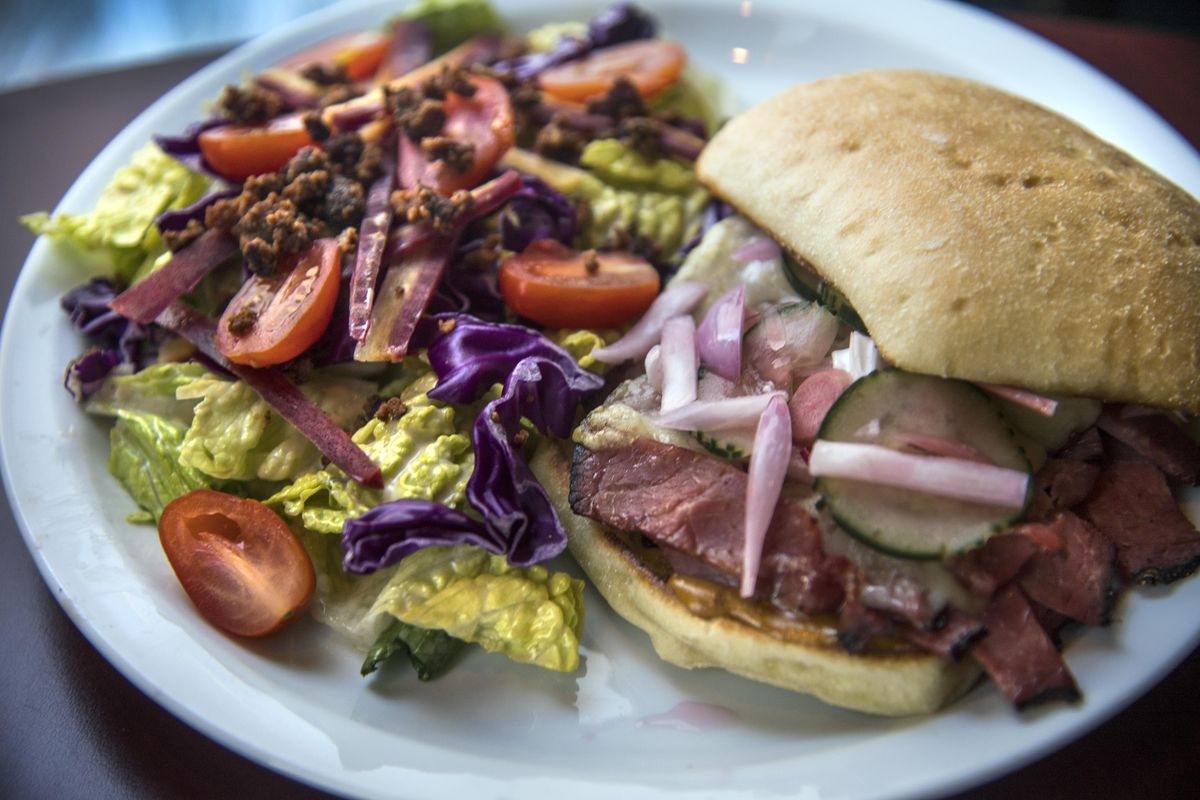 Food wasn't the first thing that came to mind.
Most folks thought of shampoo. Others conceived of cannabis. They wondered whether Herbal Essence was – based on the name – one of Washington's pot shops.
"I got people calling asking if we were a cannabis cafe," said proprietor Michael Wiley, who bought the business in February of last year. "There was some confusion there."
A year after he bought the business, Wiley's Downtown Bistro enjoys not only a new name but also a new look and a new concept. The menu, more focused, is a mix of American and European-inspired fare with a bent toward seasonal ingredients. The dining room, more open, is lighter, brighter, more airy.
"I've always wanted to have my own place," said Wiley, who's spent more than 20 years in the restaurant business.
He started at the Spaghetti Factory in downtown Spokane in 1994 as a 17-year-old high school senior. By 18, he was bussing tables a busser at the Spokane Club, where he worked for nine years and ended up managing the formal dining room. He's also worked at Latah Bistro and Churchill's Steakhouse.
In summer 2015, the Spokane native – a 1995 graduate of Lewis and Clark High School – started looking for a restaurant of his own. After a few false starts, Wiley was finally able to secure this spot.
He took over the space the day before Valentine's Day 2017 and started making changes. To the systems. To the menu. To the look of the dining room. The name was one of the last things to go.
"Some people literally would not eat here because of the name," Wiley said. "The name was one of the biggest obstacles."
He could see how it might make sense. "It's like the essence of the herbs" used in cooking, he said. But, "first thing people thought of was the shampoo."
Maybe, he said, the former owners "didn't connect the dots."
Although ownership of the cafe changed since it first opened in 2000, the name – evoking the shampoo, which is Herbal Essences, plural not singular – remained the same until Wiley finally changed it late last year. New signs went up in November.
Wiley, 41, said he didn't set out to name his restaurant after himself.
"We looked at 20 different, 30 different names for this place," he said, noting he was after something that's "easy to remember."
It was his brother who said, "'Hey, you should call it Wiley's.' And, I thought, 'I don't want a restaurant named after myself.' I don't have a big ego."
But, his brother reminded Wiley of his own saying, that whatever you do in life you should be proud enough of it to sign your name to it. He encouraged Wiley to take his own advice.
"Once I embraced the concept, I actually really liked it," Wiley said. "It feels good to be part of it."
He took on renovations himself, working on Sundays over the summer with help from his dad and staff members. They painted "everything," replaced all of the light fixtures and lowered a dividing wall that blocked natural light from the front windows and made the dining room feel small and dark.
Gone is the old color scheme of burnt orange, red and yellow. Wiley opted for more neutral tones, including a warm gray. He wanted clean lines and contemporary feel, a space that would be conducive to showing works by local artists. He also wanted the space to feel lighter, comfortable and more open and inviting.
Despite all the changes he's brought about the in the past year, Wiley said, "I wouldn't buy a restaurant I didn't think had the bones to be successful."
Herbal Essence was highly rated on customer restaurant review sites, and its menu was extensive.
"It was too much," said Wiley, who streamlined the offerings, cutting the number of salads and sandwiches by about half. There are seven of each.
The smashed burger features roast beef, turkey, ham, provolone and horseradish aioli. Look, also for a vegan tofu sandwich with hummus, snap peas, grapes and a lime vinaigrette as well as pulled pork, turkey-avocado, prawn-bacon, mushroom-brie and club sandwiches. Gluten-free buns are available for sandwiches for a $2.50 charge.
Salads are: Caesar, ahi, strawberry-chicken, Mediterranean, Southwest, chopped and prawn Louie. Tofu can be substituted at no charge.
The prawn salad, Wiley said, "is fricking killer."
Wraps, served on a whole wheat tortilla, are: Gorgonzola chicken, barbecue, veggie, smothered chicken and bacon, and roast beef with bell pepper, onion, mushrooms and American cheese.
There are also four appetizers or shareable plates: smoked mozzarella, shrimp cocktail, baked brie and hummus. Lunch menu pricing runs from $8 to $14.
Dinner menu pricing also starts at $8, but goes up to $28 for a sirloin steak with Gorgonzola, caramelized onions, mushrooms and mashed Yukon Gold potatoes.
Gluten-free, vegetarian and vegan options are noted on the menu, which includes two more shareables at dinner. They are seared yellowfin tuna and pulled pork egg rolls with cabbage and huckleberry barbecue sauce.
The pulled pork, mushroom-brie and prawn-bacon sandwiches carry over to the dinner menu, which also includes a burger with brie and pesto. There's a Caprese salad, too. Clam chowder is the soup staple.
Entrees – there are seven – include a tofu dish with green beans, red onions, bell peppers and a coconut rice cake. They range from $19 for the tofu dish to $28. One of the signature – and top-selling – items is braised short ribs with rosemary, green peppercorns, red wine pan sauce, veggies and mashed Yukon Gold potatoes. Look, also, for duck confit, prawn linguini and chicken linguini.
Happy hour is 3 to 6 p.m. Monday through Friday. It features $5 well drinks, house wine, draft beer, baked brie, smoked mozzarella, spring rolls and hummus plates.
Cocktails – classified as "up," "down" and "sideways" – are $10 or $11. There's a huckleberry lemonade, mint lemon drop, chocolate martini, dirty vodka martini, vanilla mule, ginger-mint mojito and elderflower sangria. The Jon Snow features Maker's Mark straight bourbon whiskey, Bombay Sapphire gin and lime.
Wine – there are 11 from which to choose, mostly red, some white – is $7 to $12 by the glass and $25 to $46 by the bottle. Draft beer is limited, but there are also bottles and cans.
There's seating for about 50. And, the restaurant is open for lunch and dinner Monday through Friday and dinner only Saturday. It's closed Sunday.
"I'm stoked about where we are right now. The feedback's been absolutely great," Wiley said. "I do everything for love. I want people to come in and give us a chance to take care of them and make them feel good. There's pride. It's pride of service and of creating something memorable."
---