A&E > Food
Guild hosts gala, honors restaurants
Jan. 9, 2019 Updated Thu., Jan. 10, 2019 at 11:15 a.m.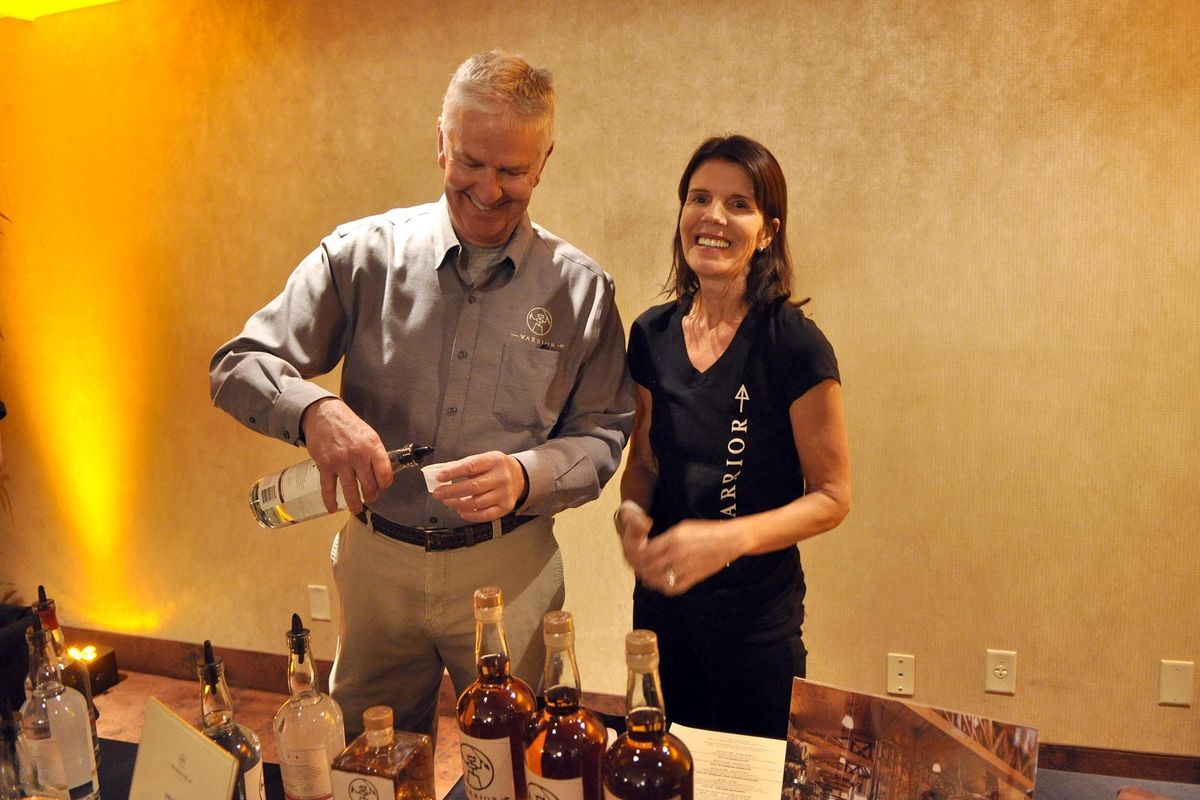 Rich and Mary Clemson, proprietors of Warrior Liquor Distilling, pour samples of their products at the Spokane Culinary Arts Guild Awards on Tuesday night at Max at Mirabeau in Spokane Valley. (Adriana Janovich / The Spokesman-Review)
The Spokane Culinary Arts Guild held its first awards gala Tuesday night at Max at Mirabeau in Spokane Valley.
This was the first year for the gala and the second year for the local chef and restaurant awards. This time, there were a lot more categories – and, of course, winners.
The Spokane Culinary Arts Guild, founded in 2017, is owned and operated by the husband-and-wife team of Erin and Rob Peterson. It's made up of volunteer "tastemakers" who help review restaurants and vote on the awards.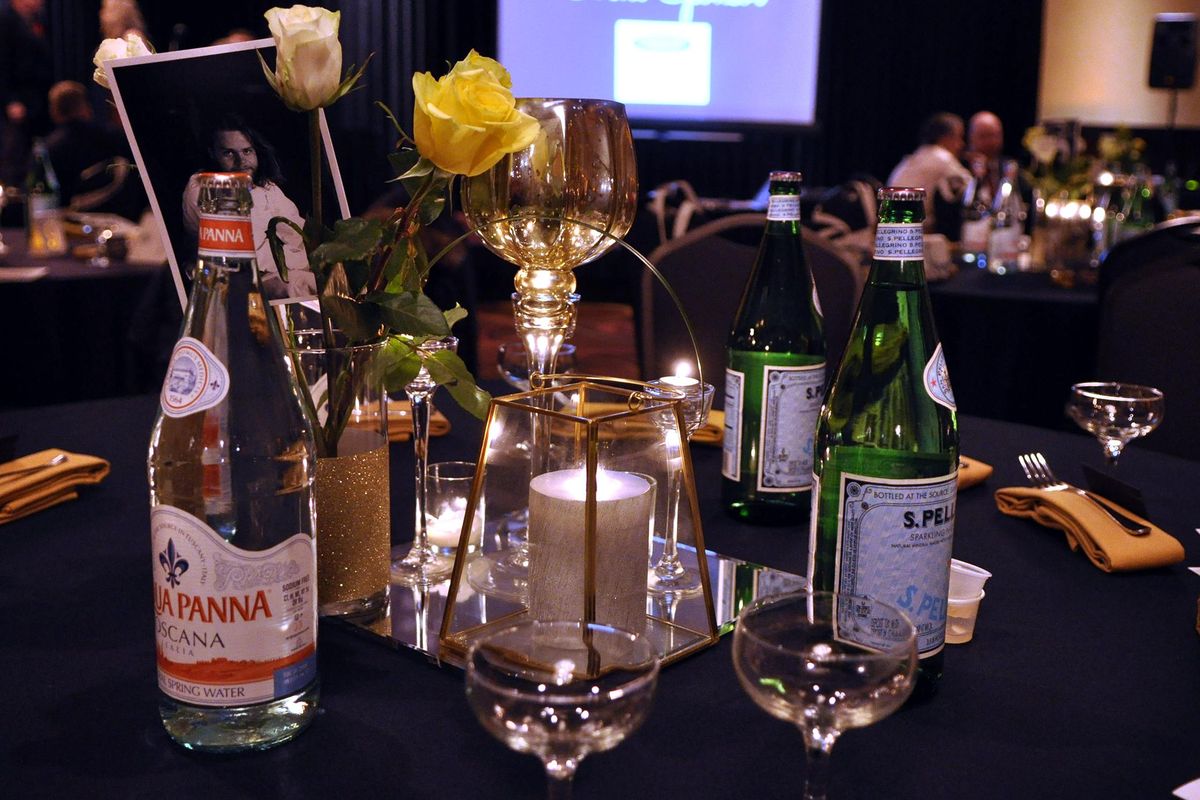 Centerpieces at the first Spokane Culinary Arts Guild Awards gala, held Tuesday night in Spokane Valley, featured photos of chefs. (Adriana Janovich / The Spokesman-Review)
"We don't call ahead. We don't ask for free meals," Erin Peterson said. The goal, she said, is to support and promote restaurants with patronage and free social media coverage.
"Spokane has some true excellence that's in a pocket here that no one really sees," she said. "I've made it my personal mission to seek out the very best and that's who we're honoring here tonight."
Renee Cebula of Raising the Bar vintage barware and Spokane chef, restaurateur and SCA Guild award-winner Jeremy Hansen gave keynote addresses.
Hansen started his speech by telling guests the restaurant business is "hard." There are a lot of "long days." To those who might be thinking about getting into the industry, he joked, "Don't do it."
Then, he said, "I'm actually honored to be part of it. … You get to express who you are as a human being. It's just a great living, and I wouldn't change it for anything. I've met a lot of amazing people. I've eaten a lot of amazing food. I've gotten to see our community grow."
Dinner was catered by the culinary staff at Max at Mirabeau, who received applause and a standing ovation at the end of the night.
The SCA Outstanding Restaurant Awards were presented by Numerica Credit Union. The winners are:
Fine Dining – Park Lodge
Upscale Casual – Vine and Olive
Casual – Ruins
Fast Casual – Cochinito
Brunch – Bruncheonette
Bar – Hogwash Whiskey Den
Gastropub – Prohibition Gastropub
Best New Restaurant for Fine Dining – Park Lodge
Best New Restaurant for Casual Dining – Cochinito
Best New Bar – Tiny Tiki
Spokane Legend – Luna
The Category Awards were presented by Windermere Valley/Liberty Lake. The winners are:
Best Destination Dining – 1898 Public House
Best Neighborhood Dining – Elliotts, An Urban Kitchen
Best Sushi – Izumi
Best Ice Cream – Panhandle Cone and Coffee
Best Hotel Dining – Table 13 at the Davenport Grand
Best Family Dining – Central Food
Best BBQ – Junior's Barbecue
Best Food Truck - Raw Dead Fish
Best Ethnic Dining – D'Bali Asian Bistro
Best Take Out – King of Ramen
Best Bakery – The Grain Shed
Best Craft Cocktails – Ruins
Best Cafe – Madeleine's Cafe and Patisserie
Best Quick Lunch – Soulful Soups and Spirits
Best Market – Main Market
Best Wine Tasting Room – Nectar Tasting Room
Best Brewery – Whistle Punk Brewing
Best Juice/Smoothies – The Wellness Bar
Best Southern Food – Ten/6
Best Doughnuts – Hello Sugar
Best Tacos – Cochinito
Best Steaks – Wolf Lodge
Best Seafood – Hay J's
Best Vegan Dining – Mizuna
Best Burger – Durkin's Liquor Bar
People's Choice for Burgers – Messy's Burgers
Best Sandwiches – Smacky's On Broadway
People's Choice for Sandwiches – Meltz
Best Coffee – Indaba
People's Choice for Coffee – Vault and Woops
Best Pizza – Veraci
People's Choice for Pizza – The Flying Goat
The Individual Awards were presented by San Pellegrino Sparkling Natural Mineral Water. The winners are:
Best Chef – Jeremy Hansen of Inland Pacific Kitchen, Hogwash Whiskey Den, Sante Restaurant and Charcuterie, Biscuit Wizard and 509 Cooks.
Best Front of House/Manager – Justin Curtis of Cochinito
Best Bartender – Simon Francis Moorby of Hogwash Whiskey Den
Best Food Event – Coeur d'Alene Food and Wine Festival
Best Food Blog – Feasting At Home by Sylvia Fountaine
Restaurateur of the Year – Tony Brown of Ruins
Best Guild Tastemaker – Queena Hale
(And I was honored, too – for Best Food Writing.)
For more information about the Spokane Culinary Arts Guild, visit www.spokaneculinaryartsguild.com.
To see a list of last year's winners, visit www.spokesman.com/stories/2018/jan/04/and-the-winners-are.
Local journalism is essential.
Give directly to The Spokesman-Review's Northwest Passages community forums series -- which helps to offset the costs of several reporter and editor positions at the newspaper -- by using the easy options below. Gifts processed in this system are not tax deductible, but are predominately used to help meet the local financial requirements needed to receive national matching-grant funds.
Subscribe to the Spokane7 email newsletter
Get the day's top entertainment headlines delivered to your inbox every morning.
---