Sports
Grip on Sports: Despite a few dents, Saturday's sports action was hard to beat
Sun., Jan. 13, 2019 A GRIP ON SPORTS • Another Saturday night of college basketball action left its mark. Actually, it may have been the college hoops combined with a day of NFL playoffs. Anyway, chairs and couches all over America have indents in them after being used for hour after hour. Read on.
••••••••••
• Honestly, if you wanted, you could have spent the entire day glued to the east chair, hand on the remote, feet ready for a quick trip to the refrigerator or … well, you know.
Of such days bliss – and large waistlines – are built.
We could try to cover it all, but why? You probably watched the Rams dominate the Cowboys up front on both sides of the ball – that ruined my lone upset prediction – and Indianapolis' offense take a snow day off in Kansas City.
Instead, we will concentrate our thoughts on the one college basketball game we watched from opening tip to last-second mistake. That would be Gonzaga's win at San Francisco.
• We'll start from the end and work our way back. Much of our thoughts are contained in our TV Take, which had to be rewritten a bit at the end. Why? Because Josh Perkins and Brandon Clarke combined on a toss-it-up-and-throw-it-down dunk to end the game.
With a 10-point lead. And the shot clock off. With seven seconds left. Uh, that's one of those unwritten rules you don't violate.
It's called not rubbing it in. Or, if you prefer, sportsmanship. Or being smart.
You just went into a conference foe's home, a place they had successfully defended seven times this season, and ransacked it. You didn't have to be a donkey about it.
Or, if you want to be egocentric about it, your difference-making big man was opened up to injury – this is the point the ESPN crew of Dave Feldman and Chris Spatola mentioned – because a USF player was underneath and his foul was going to be more than likely an angry one.
Just dribble the ball back out front and call it good. Don't forget, you have a rematch in Spokane coming up later.
• If the second game – or third if it happens in the conference tournament – is as good as last night's was, then count me in. This was high level basketball, especially by the home team. USF needed to play well to stay with the fifth-ranked Zags, and it did.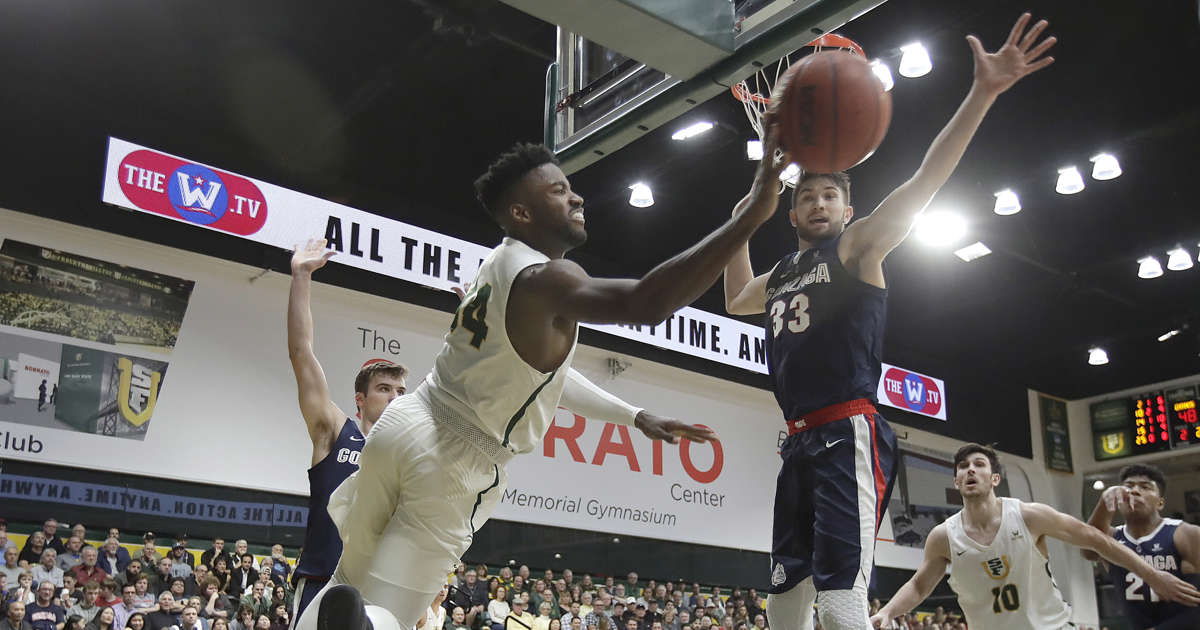 And the Bulldogs helped a bit, by at times becoming disjointed a bit offensively, not staying together and trusting their stuff. Gonzaga has plenty of guys who can break you down one-on-one, but the Zags are better when all five offensive players flow as one. As they did down the stretch.
Part of it last night is San Francisco's defense is solid. Part of it was the home-town advantage (the ability to be a bit more physical than you can be on the road). And part of it was Gonzaga not shooting well from the outside.
Add it up and the Bulldogs offense wasn't as efficient as it usually is. (Checks box score.) Oh, and by the way, despite all that, the Zags still scored 96 points.
• If there is one position group in which Gonzaga has a distinct advantage, it is its bigs. The trio of Clarke, Rui Hachimura and Killian Tillie combined for 59 points last night, despite all three dealing with foul trouble throughout.
• Speaking of whistles, we mentioned one in our TV Take the announcing crew didn't care for and talked about. There was a more egregious miss later, though, but they didn't really talk about it.
That was a "save" Geno Crandall made on a ball that was going out of bounds. One problem. Crandall made an entire step about a yard out of bounds before he threw the ball back in. It was obvious in real time and it was obvious when we ran it back.
The worst part about it was referee Jimmy Casas was right there on the baseline and somehow didn't see it. Neither did his veteran partners, Verne Harris and David Hall.
This missed call went in the Zags' favor. And helped fuel their end-of-game run.
•••
Gonzaga: Jim Meehan was in USF's gym – and that's what it is, as opposed to an arena – and has the game analysis. Last night's win was another in a series of close victories for the Bulldogs, who have gutted out a couple big ones down the stretch. … As we linked above, we had a TV Take. … The folks in the office added a recap with highlights. … Jim also has a story on a pretty spectacular play by a Gonzaga commit. … There was coverage in the Bay Area newspapers as well. … The women were in McCarthey yesterday (as was I) for a relatively easy win over Portland. The Pilots used some junk defenses, including a triangle and two, to try to slow the 14th-ranked Zags, but Laura Stockton, left alone much of the game, made them pay with 19 points. Jim Allen has the game story. … Dan Pelle was also there and he has this photo report. … Around the WCC, Pepperdine went into San Diego and picked up a win. … BYU held off Santa Clara for a weekend sweep. … Pacific handled Portland.
WSU: There isn't a lot of excitement around the Cougar basketball team right now, but it's too early to label it a dumpster fire – as is the case on Twitter – and move on. After all, Washington State plays in the Pac-12, where anything is possible, it opened with three road games, including a road swing that has never produced a victory, and it played without its best player, the injured Robert Franks. Let the Cougars lose at home first before you make a final determination. Oh, they lost 88-70 at Utah yesterday. The Utes bounced back from a bad home loss to Washington. … Elsewhere in the Pac-12, the Huskies picked up a Mountain sweep with a win at Colorado. There wasn't a large crowd. … There wasn't one at California either, unless you include the Arizona players flying to the offensive glass. … Stanford handed Arizona State an unexpected defeat. … USC and Oregon meet today in Eugene. … There is a first-place showdown today in that state. It just happens to include Oregon State and UCLA. … In football news, the lawsuits over preseason workouts at Oregon are shining a light on what happened.
EWU: There was a celebration yesterday in downtown Spokane of the Eagles' football season. I'm sure there will be one later in front of Jarms' Hardware in Cheney. … Around the Big Sky, tight games were the norm yesterday, with last-second wins for Northern Arizona and Idaho State and an overtime victory for Weber State at Portland State. … Montana dominated formerly undefeated (in conference) Northern Colorado.
Whitworth: The Pirates held on for another tough road win.
CCS: Former athletic director and assistant basketball coach Maury Ray will see his name live on at SFCC, as the school will name its arena after him.
Chiefs: It was a scorefest last night in the Arena, with Spokane doing the most of the scoring. The Chiefs topped Tri-City 8-3. Kevin Dudley was there and has this game story. So was Libby Kamrowski, who has a photo report.
Preps: Yes, there was basketball yesterday, for girls and boys. And there was wrestling as well.
Seahawks: The Hawks have a lot of questions to answer in the offseason, including one at kicker.
•••       
• It's going to be a day of old friends, new ones and football. Seems like a nice combination. And if a package arrives in time today, tonight might include some nostalgic TV watching. I can hear the theme song already. And see the Pontiac Firebird making a high-speed U-turn. By the way, if you want to listen to old friends talk about their football days, this is for you. Until later …
Local journalism is essential.
Give directly to The Spokesman-Review's Northwest Passages community forums series -- which helps to offset the costs of several reporter and editor positions at the newspaper -- by using the easy options below. Gifts processed in this system are not tax deductible, but are predominately used to help meet the local financial requirements needed to receive national matching-grant funds.
Subscribe to the sports newsletter
Get the day's top sports headlines and breaking news delivered to your inbox by subscribing here.
---