News > Crime/Public Safety
Stolen purse may be motivation in weekend's fatal drive-by shooting in Wandermere
UPDATED: Tue., July 9, 2019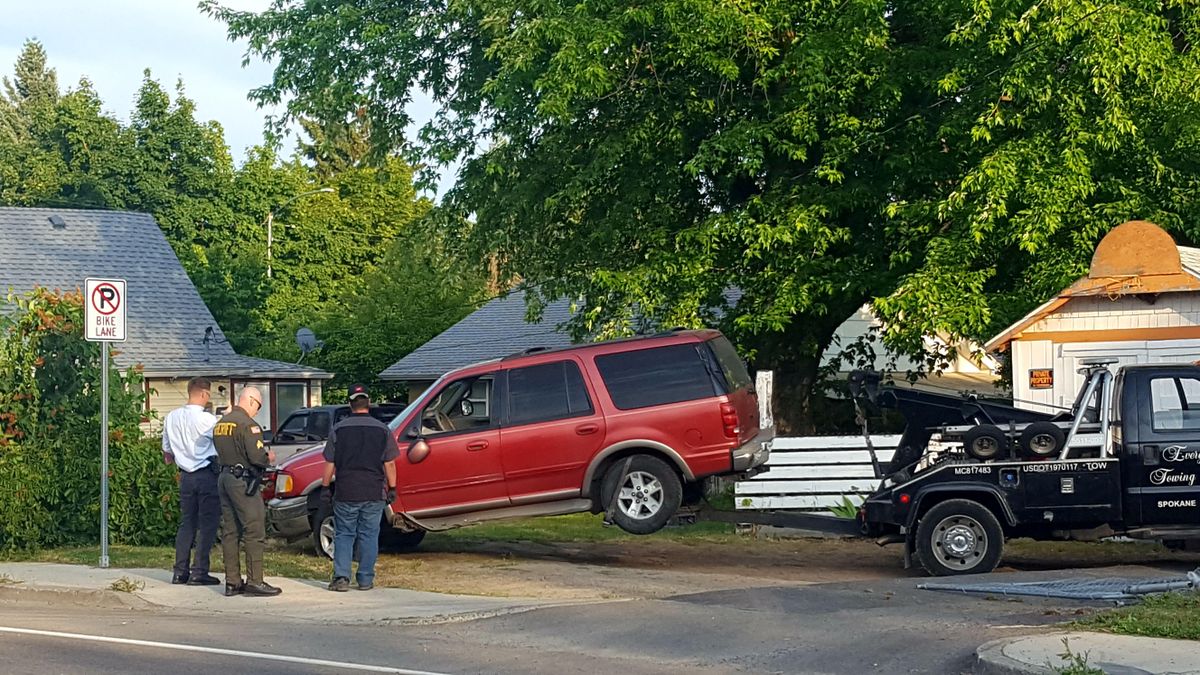 Police say 31-year-old Jonathan Andersen killed a woman Sunday, July 7, 2019 in north Spokane over a stolen purse. Andersen was arrested Monday afternoon after Spokane County sheriff's depuites caused his vehicle to crash in a north Spokane neighborhood. (Chad Sokol / The Spokesman-Review)
A stolen purse could be the motivation behind last weekend's fatal drive-by shooting in the Wandermere area.
Charging documents filed Tuesday morning against 31-year-old Jonathan Andersen say he followed the female victim's vehicle on Wandermere Road near Elto Avenue after the woman reportedly returned a purse to him earlier that day. Police say he fired multiple times from his driver's seat, striking the woman in the head.
Spokane County sheriff's deputies arrested Andersen in connection with Sunday's shooting after an hourslong manhunt that ended Monday night when his Ford Expedition crashed at Monroe Street and Rowan Avenue, after a deputy used a pursuit intervention technique, or PIT maneuver, to stop Andersen from fleeing.
Andersen, who has multiple felony convictions on his record since 2005, faces a charge of first-degree murder in the killing of the woman, identified in court records as Misty Hirsch.
Prosecutors on Tuesday also charged Andersen with two counts of attempted murder for the other two people in the car with Hirsch, in addition to attempting to elude a police vehicle. In Spokane County District Court on Tuesday afternoon, Commissioner Eric Dooyema set bail at $1 million.
Hirsch, according to charging documents, was driving with friends Sunday afternoon on Wandermere Road near Elto Avenue, a few blocks from the Wandermere Golf Course, when she was shot at two or three times from someone inside the passing Ford Expedition.
Hirsch's friend Mickiyah Nenema-SiJohn, who was riding in the passenger seat, told investigators that after hearing the shots ring out, she looked over to see Hirsch slumped over and bleeding from the head.
As of Tuesday morning, the county medical examiner's office had released neither the deceased's identity nor the cause and manner of death, though records say Dr. Sally Aiken, speaking to Spokane County Detective Michael Drapeau, ruled the shooting a homicide. The cause, a single gunshot wound to the head.
Another friend, identified only as "Ricky" in court records, flagged down traffic for help and then walked away from the scene. It's unclear whether deputies have been able to locate him.
Earlier that day, Nenema-SiJohn said she and Hirsch picked up Ricky, Hirsch's boyfriend, from his home in the area of Wedgewood at Colton Street. The three then went Lowe's Home Improvement at 6606 N. Division St. to "return some merchandise."
Nenema-SiJohn told deputies that as Hirsch returned an item, she went inside to buy some water while Ricky stayed outside and smoked cigarettes. Moments later, she said they all headed to the Wandermere area because Hirsch wanted to "show her something," court records say.
Records say as they drove north on Wandermere Road, Hirsch said she was headed the wrong way. When Hirsch made a U-turn at Glencrest Drive and headed south on Wandermere, Nenema-SiJohn said they heard a maroon and tan Ford Expedition "screeching its tires" behind them.
Nenema-SiJohn said Hirsch slowed and waved her hand for the vehicle to pass. As the Expedition pulled up on the left side the friend said the driver, a white man with a female in the passenger seat, opened fire.
Andersen's passenger, identified as Katie A. Gendron in court records, would later tell deputies that she and Anderson were parked in the same Lowe's parking lot minutes before the shooting.
She said a woman, believed to be Hirsch, exited the Cadillac Escalade and handed Andersen a purse.
"The female apologized for having the purse and said something to the effect that it was a mistake for her to take the purse," Detective Kirk Keyser wrote in Andersen's charging documents.
Gendron told deputies that Andersen began to follow the Escalade, which "tried several times to lose Andersen but was unable to," records say. As they began to pass on the left side, Andersen reportedly told her to "lean back" in her seat as he fired three rounds from a black semi-automatic handgun.
Records say the two then drove to Pine River Park north of the Wandermere Golf Course, where Andersen washed his hands in the Little Spokane River.
After arresting Andersen on Sunday, court records say the 31-year-old, during an interview, denied any involvement in the shooting, but then later admitted to knowing Gendron had her purse stolen. He told detectives Gendron's friend "KS" was likely the shooter.
As the interview ended and deputies began walking Andersen to jail, records say he proffered another explanation.
"Andersen then made statements that police had everything all wrong," say records, adding that the purse belonged to his fiancee, "Nicole."
In February of this year, Andersen was released from prison after serving a seven-year sentence on a slew of charges he picked up in 2012.
Among other crimes, Andersen stood accused of stealing a Rose Bowl championship ring belonging to former Spokane doctor and ex-pro football player Stefan Humphries.
He also pleaded guilty to stealing multiple vehicles from area car lots. Using a hammer and screwdriver to force open office doors, he was able take several vehicle keys and drive away.
Local journalism is essential.
Give directly to The Spokesman-Review's Northwest Passages community forums series -- which helps to offset the costs of several reporter and editor positions at the newspaper -- by using the easy options below. Gifts processed in this system are not tax deductible, but are predominately used to help meet the local financial requirements needed to receive national matching-grant funds.
Subscribe now to get breaking news alerts in your email inbox
Get breaking news delivered to your inbox as it happens.
---