A&E > Entertainment
Paul McCartney Got Back in Spokane: the full concert setlist Thursday night at the Arena
April 28, 2022 Updated Mon., May 2, 2022 at 8:20 a.m.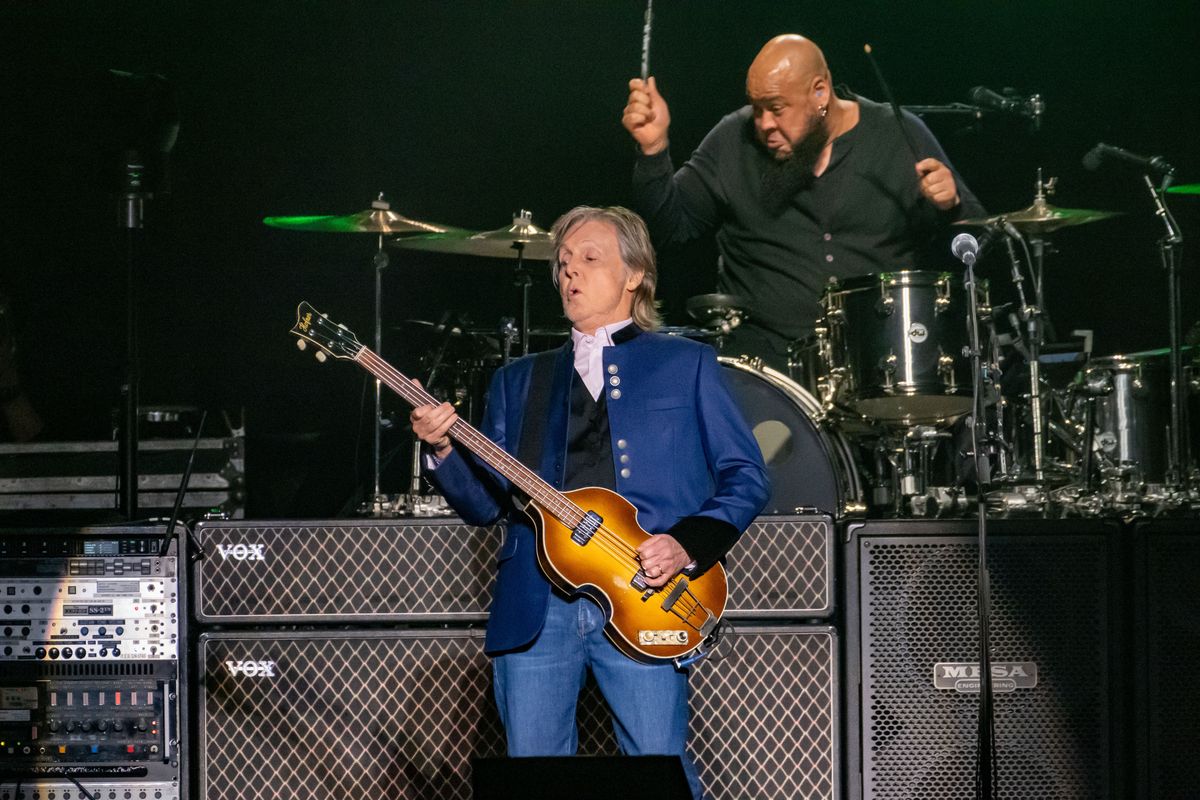 Paul McCartney performs during the opening night of his Got Back tour April 28 at the Spokane Arena. (Colin Mulvany/The Spokesman-Review)
Sir Paul McCartney kicked off his 2022 Got Back tour, which is stopping in 13 cities for 15 dates, at Spokane Arena on Thursday night, and the Beatles legend performed 36 songs in a concert that clocked in at 2 hours and 42 minutes. The classic "Can't Buy Me Love" kicked off the evening.
Start time: 8:09 p.m.
1. "Can't Buy Me Love"
2. "Junior's Farm"
3. "Letting Go"
4. "Got To Get You Into My Life"
5. "Come on to Me"
6. "Let Me Roll It"
7. "Getting Better"
8. "Women and Wives" (first song at piano)
9. "My Valentine" (with video featuring Natalie Portman and Johnny Depp)
10. "Nineteen Hundred and Eighty Five"
11. "Maybe I'm Amazed"
12. "I've Just Seen a Face"
13. "In Spite of All the Danger"
14. "Love Me Do"
15. "Dance Tonight"
16. "Blackbird"
17. "Here Today" (tribute to John Lennon)
18. "Queenie Eye" (the 2013 star-studded video includes Depp, as well)
19. "Lady Madonna"
20. "Fuh You"
21. "Being for the Benefit of Mr. Kite!"
22. "Something" (tribute to George Harrison)
23. "Ob-La-Di, Ob-La-Da"
24. "You Never Give Me Your Money"
25. "She Came in Through the Bathroom Window"
26. "Get Back"
27. "Band on the Run"
28. "Let It Be"
29. "Live and Let Die"
30. "Hey Jude"
31. Encore at 10:30 p.m. after Washington state, Ukraine, U.S. and British flags are waved onstage. "I've Got a Feeling" video duet with Lennon orchestrated by Oscar-winning director Peter Jackson.
32. "Birthday"
33. "Helter Skelter"
34. "Golden Slumbers"
35. "Carry That Weight"
36. "The End"
End time: 10:51 p.m.
Next up for Sir Paul: Two nights at Climate Pledge Arena in Seattle on Monday and Tuesday.
Local journalism is essential.
Give directly to The Spokesman-Review's Northwest Passages community forums series -- which helps to offset the costs of several reporter and editor positions at the newspaper -- by using the easy options below. Gifts processed in this system are not tax deductible, but are predominately used to help meet the local financial requirements needed to receive national matching-grant funds.
Subscribe to the Spokane7 email newsletter
Get the day's top entertainment headlines delivered to your inbox every morning.
---