Sports > Gonzaga basketball
Recap and highlights: No. 2 Gonzaga scores over 100 points for third-straight game in 115-83 rout of Santa Clara
Jan. 15, 2022 Updated Sat., Jan. 15, 2022 at 5:56 p.m.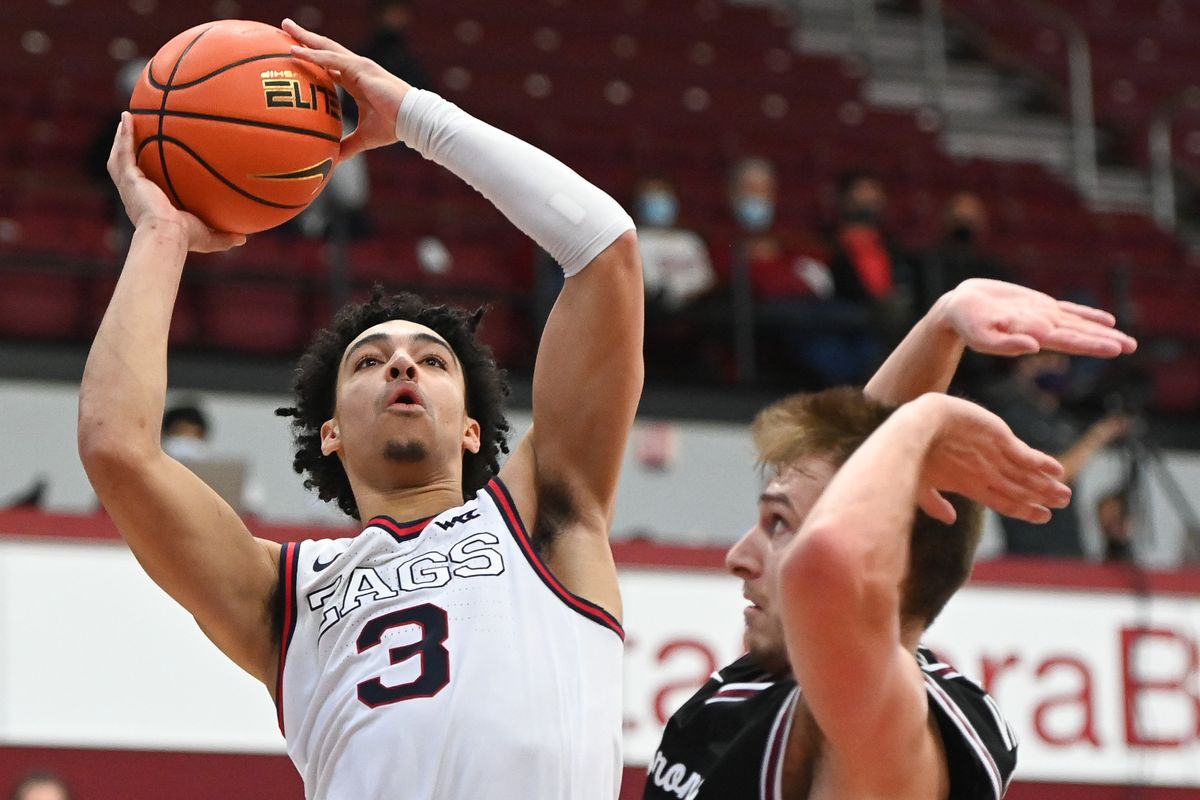 Gonzaga Bulldogs guard Andrew Nembhard (3) shoots the ball against the Santa Clara Broncos during the first half of a college basketball game on Saturday, Jan 15, 2022, at Leavy Center in Santa Clara, Calif. (Tyler Tjomsland/The Spokesman-Review)Buy a print of this photo
Overrated? Hardly, at least on the offensive end.
Heckles rained down on Drew Timme as he held the ball with the Zags up 17 points early in the second half. He promptly silenced them with a 3-pointer, as Timme scored a team-high 32 points in a 115-83 win over Santa Clara on Saturday.
The Bulldogs (14-2, 3-0 WCC) have scored over 100 points in three-straight games for the first time in school history. GU shot 58.7% from the field, 46.2% on 3-pointers and had 26 assists in another monster offensive night over a WCC foe.
The Broncos (11-6, 1-1) had little answer defensively – the same as BYU and Pepperdine in the Bulldogs' first two WCC games.
GU has averaged 114 points a game in its three conference games. It had six scorers reach double figures against SCU: Timme (32), Nembhard (19), Hickman (14), Bolton (12), Watson (11) and Holmgren (11).
The Zags will have a case to reclaim the top-spot in the Associated Press top-25 poll on Monday, after Baylor lost to Texas Tech on Tuesday.
The Bulldogs will now have a break as its game at Pacific on Thursday has been postponed. GU's next scheduled opponent is at home versus Loyola Marymount on Jan. 27 at 8 p.m.
First half
15:11 - GU 15, SCU 6: Zags take a 9-0 run into the first media timeout.
Timme leading the way with eight points on 4 of 5 shooting from the field, as Holmgren adds a 3-pointer with four rebounds and a block.
Santa Clara has missed its last four field goal attempts.
11:58 - GU 24, SCU 11: Watson makes the Zags' fourth 3-pointer of the game and a heldball takes the game to the U12 media timeout.
GU spreading the ball around with six scorers in the first eight minutes. Timme leads with eight, as Bolton adds five and Hickman, Watson and Holmgren each have a 3-pointer.
Bulldogs have seven assists to SCU's one.
10:18 - GU 31, SCU 11: Bolton makes a 3-pointer to give the Bulldogs a 10-0 run over the last 2:02 and the Broncos take a timeout.
Bolton and Timme each have 10 points apiece as GU is shooting 12 of 18 from the field.
5:56 - GU 41, SCU 23: The Broncos force a couple turnovers and make their last three 3-point attempts to cut the GU lead.
Justice and Williams both into double figures for SCU, while Timme leads all scorers with 15.
3:32 - GU 47, SCU 29: Both teams trading baskets at the U4 media timeout. Timme up to 19 points, on pace to finish with 30 points in bakc-to-back games. 
Bulldogs are shooting 61.3% from the field and 41.7% on 3-pointers.
Halftime
Gonzaga's offense continued to roll through the first half against Santa Clara, as the Zags shot 64.9% from the field, 46.2% on 3-pointers and are on pace to break 100 points for the third-straight game.
Drew Timme leads GU with 21 points – looking for his second-straight 30 point game. Andrew Nembhard adds 14 points with four assists and Rasir Bolton is third with 12 points.
The Bulldogs hold a 34-18 advantage in points in the paint and have twice as many assists at 14-7. The Broncos have been unable to score in transition with zero fast break points.
Jalen Williams – the WCC's leading scorer entering today's game – leads SCU with 12 points, as Keshawn Justice adds 11. Justice is the only Bronco shooting efficiently on 3-pointers, going 3-for-5 in the first half. The rest of SCU's team is 1 of 8 from beyond the arc.
Impact performance
Second half
16:20 - GU 68, SCU 52: Pipes makes a layup to give the Broncos an 8-0 run and Few calls a timeout.
Holmgren leading with four points in the second half. Nembhard opened the period with a layup, but exited with an apparent ankle injury and is going to check back into the game after the timeout.
14:25 - GU 74, SCU 54: Overrated chants echo down from the Bronco students, which are silenced by a Timme 3-pointer to give the Bulldogs a 20 point lead at the U16 media timeout.
Timme leads with 27 points on 12 of 14 shooting from the field.
11:56 - GU 80, SCU 54: The Zags take a 9-0 run into the U12 media timeout, as Timme converts an and-1 layup with the free throw attempt coming after the break.
Timme is up to 31 points – his third 30 point game of the season and second-straight. His season-high of 37 came against then-No. 5 Texas on Nov. 13.
7:41 - GU 95, SCU 61: Hickman sparks an 8-0 GU run leading into the U8 media timeout with back-to-back 3-pointers.
The Zags are well underway to their third-straight 100 point game to open WCC play. 
3:46 - GU 106, SCU 71: The Bulldogs reached the 100-point mark in three-straight games for the first time in school history.
Not just that, but the Zags are well on their way to scoring 110 or more in three-straight. 
Six Zags are in double figures: Timme (32), Nembhard (19), Bolton (12), Hickman (12), Holmgren (11) and Watson (11).
Starting 5
No change in the Zags' starting lineup. Santa Clara starters are Jalen Williams, PJ Pipes, Parker Braun, Keshawn Justice and Josip Vrankic.
Pregame
Fresh off its most impressive offensive performance of the season, Gonzaga has a quick turnaround before its first road game of the year.
The No. 2 Zags (13-2, 2-0 WCC) face Santa Clara (11-5, 1-0) at 1 p.m. on FOX 28/Root, less than 40 hours removed from a 110-84 win over BYU.
GU is on a six game win streak and playing its best basketball of the year on the offensive end, averaging 103.8 points over its last four games. Meanwhile, the Broncos beat Pacific 84-70 on Wednesday in their first game since Dec. 21.
SCU has won its last four over Florida A&M, Montana, San Jose State and PU. It also has notable wins over Stanford, Nevada and TCU. The Broncos have losses to Fresno State, UC Irvine, Louisiana Tech, California and Boise State.
The Bulldogs next game against Pacific on Thursday has been postponed, so the Zags will have a break until Jan. 27 against Loyola Marymount if it is unable to schedule a short-notice game in its place.
Series history
Gonzaga has won the last 22 meetings with Santa Clara, dating back to Jan. 20, 2011, where the Broncos won 85-71. GU is 35-2 against SCU in the last 20 years, and 66-30 all-time.
The Broncos have come within two points of the Bulldogs three times in the last 22 meetings GU has won, including twice in the 2013-14 season, where David Stockton made the go-ahead layup with two seconds remaining to win in the WCC Tournament Quarterfinals.
Team stats
Individual leaders
Game preview
More on the Zags
Local journalism is essential.
Give directly to The Spokesman-Review's Northwest Passages community forums series -- which helps to offset the costs of several reporter and editor positions at the newspaper -- by using the easy options below. Gifts processed in this system are not tax deductible, but are predominately used to help meet the local financial requirements needed to receive national matching-grant funds.
Follow along with the Zags
Subscribe to our Gonzaga Basketball newsletter to stay up with the latest news.
---