News > Spokane
Spokane wakes up to worst air in the country; some trash collection delayed
Aug. 20, 2018 Updated Mon., Aug. 20, 2018 at 10:41 p.m.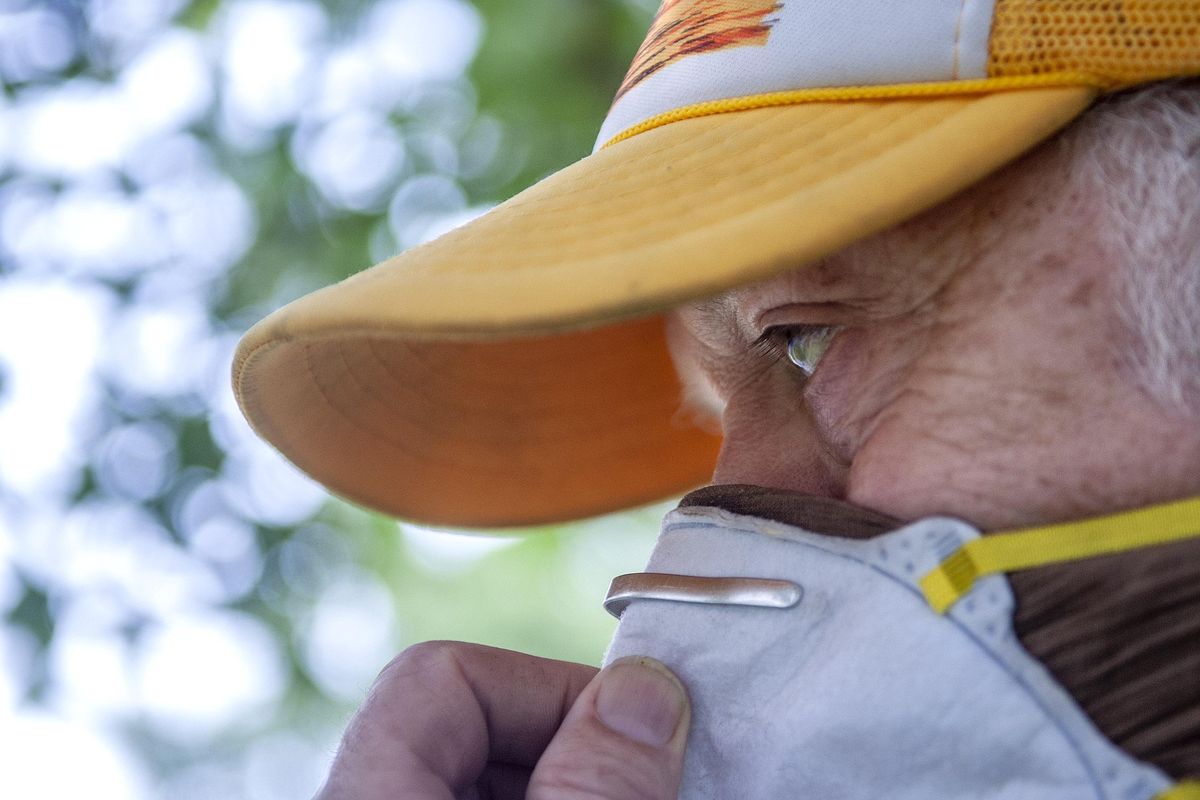 Steel Orr wears a mask while cutting grass in Spokane on Monday, Aug. 20, 2018. Spokane's air quality early Monday was the worst in the nation, according to the Environmental Protection Agency. (Kathy Plonka / The Spokesman-Review)
Spokane was reported to have the worst air quality in the nation Monday morning, and although conditions had improved by the afternoon, experts said there would probably be smoke in the air for days to come.
At about 6 a.m. Spokane reached 382 on the air quality index, which measures airborne particulate matter on a 1-to-500 scale, according to the U.S. Environmental Protection Agency's Air Now website.
Various readings by the EPA and the Spokane Regional Clean Air Agency hovered above 300 on Monday morning. Anything over 300 is considered hazardous, and all residents were advised to stay inside.
At about 3 p.m. both agencies reported index scores of about 160, which is near the low end of the "unhealthy" category. The Spokane agency reported a score of 126, in the "unhealthy for some groups" category, at 9:15 p.m.
While visibility also improved throughout the day, Robin Fox, a meteorologist with the National Weather Service in Spokane, said it's unlikely the smoke would clear out of the area without rain or strong winds that persist in one direction.
Some winds were blowing from the north and northeast on Monday, but they were expected to weaken by Tuesday, Fox said. For much of the past week, those winds have carried smoke from wildfires in British Columbia.
The smoke probably would not dissipate for long, she said. "Right now, it's just going to be mixing around our region."
Around the city, people were coping with the haze and hoping for the best.
At the STA Plaza, Spokane resident Shannon Crow was waiting for the bus while worrying about firefighters and residents living in fire-affected areas.
"I'm fine – I have air conditioning. "I wish it would get better, but they need to take care of the people and the wildlife with those fires."
Meanwhile, St. Aloysius Church, on the Gonzaga University campus, offered its well-ventilated building "for anyone who needs respite indoors."
"We share our prayers with all surrounding communities as we deal with hazardous air quality," St. Aloysius Parish posted on its Facebook page Monday morning.
The 24-hour average air quality index score on Sunday reached 257, the worst since records began to be kept in 1999. The previous worst was measured last year on Sept. 7, according to the clean air agency.
Providence Health Care clinics and hospitals, including Sacred Heart Medical Center, reported seeing a general increase in patients with respiratory complaints after the air quality hit the hazardous rating, spokeswoman Liz DeRuyter said.
"It is difficult to determine a percent of increase because these patients are often part of a population that are already at risk, and most likely to seek care at our emergency departments and clinics," DeRuyter said in a statement. "The low air quality increases their risk, and we anticipate that if the current conditions continue, we will see an increasing number of patients with respiratory distress."
Hazy conditions were so poor that the Spokane Clean Air Agency even recommended some people with heart or lung conditions consider leaving the area in search of cleaner air.
The city took note of the concerns Monday morning and canceled trash collection services for some areas.
Residents receiving curbside trash and recycling pickup on Monday may have their service delayed at least until Tuesday as the city attempts to limit employees' exposure to smoke, according to a news release. Homes that receive automated trash service will be unaffected, but those served by rear-loading "swamper" crews may be skipped.
Those residents should return their carts to the curb Tuesday to ensure service, according to the news release. Areas in northeast Spokane were scheduled for pickup Monday.
The parks department closed all attractions at Riverfront Park, including the Looff Carousel, according to a news release. None was scheduled for reopening. Restrooms near the park's Rotary Fountain and Forestry Shelter remained open.
Tuesday's Riverfront Eats event featuring lunchtime food trucks on the Howard Street Bridge was canceled.
The city's aquatic centers and athletics fields were closed, and the city's camps – Ultimate Sports Camp, Adventure Camp and Mobile Recreation – were canceled.
Mark Richard, president of the Downtown Spokane Partnership, said the organization's Clean Team would be held from cleaning downtown streets because of the smoke.
Local journalism is essential.
Give directly to The Spokesman-Review's Northwest Passages community forums series -- which helps to offset the costs of several reporter and editor positions at the newspaper -- by using the easy options below. Gifts processed in this system are not tax deductible, but are predominately used to help meet the local financial requirements needed to receive national matching-grant funds.
Subscribe now to get breaking news alerts in your email inbox
Get breaking news delivered to your inbox as it happens.
---