Sports > Gonzaga basketball
Recap and highlights: Texas Tech holds off Gonzaga 75-69 to advance to first Final Four
March 30, 2019 Updated Sat., March 30, 2019 at 6:43 p.m. ANAHEIM, Calif. – Jarrett Culver scored 19 points, going 7 of 8 from the free-throw line, and third-seeded Texas Tech used its top-ranked defense to down No. 1 seed Gonzaga 75-69 in the Elite Eight on Saturday at the Honda Center.
Matt Mooney added 17 points, while Davide Moretti scored 12 points for the Red Raiders (30-6).
Texas Tech forced 16 Gonzaga turnovers and held the nation's top-scoring offense to its third lowest scoring output of the season.
Rui Hachimura paced the Bulldogs (33-4) with 22 points, while junior forward Brandon Clarke had a double-double with 18 points and 12 rebounds.
The Zags shot 42.4 percent from the floor and 26.9 percent from deep, while Texas Tech shot 43.9 percent overall and 39.1 percent from 3-point range.
GU outrebounded TTU 37-29.
The Zags season comes to an end with the loss, while Texas Tech advances to its first Final Four next weekend in Minneapolis. The Red Raiders will face the winner of Sunday's game between Duke and Michigan State in the East Region.
Josh Perkins added 16 points for Gonzaga, while Zach Norvell Jr. had 10.
Second half
Final – Texas Tech 75, Gonzaga 69: Texas Tech clutch from the stripe at the end and the Zags just couldn't get anything to fall.
Texas Tech off to its first Final Four, while GU becomes the second top seed to lose.
0:03 – Texas Tech 75, Gonzaga 69: Tech gets the ball inbounds to Jarrett Culver, who is fouled. The Big 12 Player of the Year makes both from the stripe.
Josh Perkins drives all the way into the lane and dishes to Rui Hachimura who is fouled — but it might be too little, too late.
0:11 – Texas Tech 73, Gonzaga 69: Davide Moretti makes both free throws on the technical foul.
0:11 – Texas Tech 71, Gonzaga 69: Tech gets the ball in to Matt Mooney, who is fouled quickly by Jeremy Jones.
The senior guard knocks down both.
Zags get the back quickly down and Zach Norvell Jr. gets the bucket.
Drama though as Josh Perkins reaches over on the inbound to hit the ball from Mooney's hand which is a technical foul.
Two shots and the ball for Texas Tech.
0:21 – Texas Tech 69, Gonzaga 67: Zags not going away as GU gets a jump ball to go their way and then get a steal leading to a Josh Perkins triple.
Tech basketball
0:43 – Texas Tech 69, Gonzaga 64: Heck of a play from Tech's Tariq Owens to block a Rui hachimura 3-pointer and save the ball back to a teammate. Looked like he was out of bounds but that can't be reviewed.
Brandone Francis hits one of two free throws. Josh Perkins gets a layup on the other end and teh Zags take a timeout.
1:04 – Texas Tech 66, Gonzaga 62: Brandon Clarke knocks down a pair of free throws out of the break, but again its Davide Moretti who hits the 3 for the Red Raiders.
Clarke with another bucket on the other end to get to 18 points.
2:21 – Texas Tech 63, Gonzaga 58: Massive 3-pointer from Tech's Davide Moretti caps a 5-0 run and matches the Red Raiders' biggest lead of the game.
Zach Norvell Jr. has missed two stright 3s for GU, but he can make two in a row just as quickly.
Zags have made just three field goals in the last 12 minutes.
4:23 – Texas Tech 60, Gonzaga 58: Bulldogs turning to Rui Hachimura late and the junior standout is responding up to 22 points.
Big 3-pointer from Josh Perkins in transition gets the senior point guard to 11 points and ties the game. The tie is short-lived though as Matt Mooney drives past Brandon Clarke and gets the layup to go.
Tech calls a timeout to reset its defense after a Zach Norvell Jr. 3-pointer is missed, but the rebound is saved by Hachimura to give the Zags another possession.
7:48 – Texas Tech 53, Gonzaga 52: Pace of this one really slowing as Tech is taking its time on offense.
GU coach Mark Few not happy with the foul difference as the Zags have been called for seven to TTU's three this half. Red Raiders will go to the free-throw line for the rest of the game.
Rui Hachimura leads all scorers with 19 points, while Matt Mooney is pacing Tech with 13 points on 5 of 11 shooting. Brandon Clarke up to 14 points for GU.
Tech's pressure really getting to Gonzaga this half as the Bulldogs haven;t been able to find that next gear yet.
10:30 – Texas Tech 53, Gonzaga 50: Four straight points from the Red Raiders with Brandon Clarke on the bench forces Mark Few to take a timeout.
Zags had a good look at 3 from Zach Norvell Jr., but the sophomore couldn't connect. Rui Hachimura was stripped on the next possession as Tech forces its 12th turnover.
11:35 – Gonzaga 50, Texas Tech 49: Brandon Clarke making a big impact again on the defensive end with his second block of the game, a massive swat to stop an easy TTU bucket.
Clarke also notches his double-edouble. The big man has 12 points and 11 rebounds to go with his three assists.
Zags up to five fouls this half after a pair of cheap ones on Geno Crandall and Killian Tillie. This game could come down to who can knocks them down from the free-throw line late.
Tech shooting 45 percent overall and 41.2 percent from 3-point range, while GU is shooting 46.2 percent overall and just 31.3 percent from deep.
15:18 – Gonzaga 44, Texas Tech 42: Zags open the second half with two turnovers as Tech again turns up the pressure on defense.
Rui Hachimura gets his first points of the half on a 12-foot jumper. He's up to 17 points to lead the Zags.
Texas Tech staying patient on offense as Kyler Edwards drills a 3-pointer, but GU again has the answer as Zach Norvell Jr. hits nothing but net from way outside to get to six points.
GU now up to 11 turnovers to Tech's six. Zags do have 12 assists on their 16 makes, while TTU has seven assists on 15 makes.
Halftime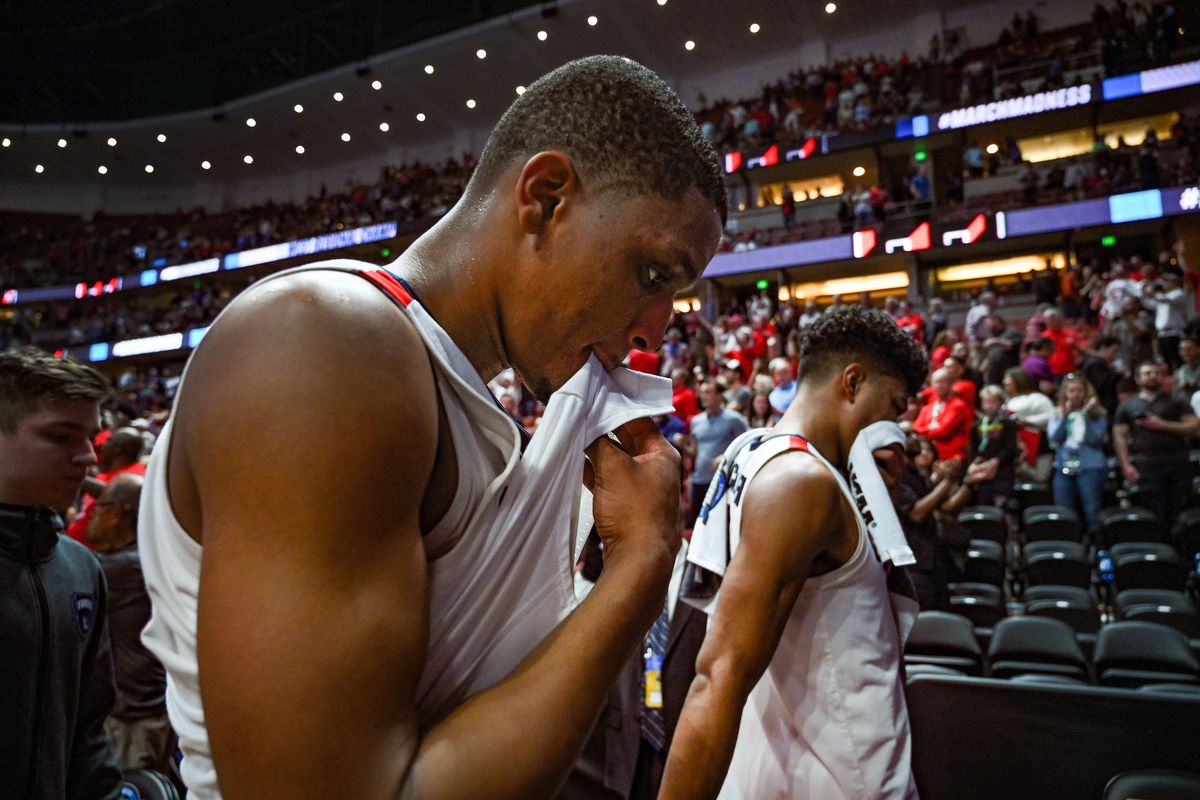 Gonzaga guard Zach Norvell Jr. (in front ) and Gonzaga forward Rui Hachimura (21) leave the court after Texas tech defeated the Zags in the NCAA West Regional Final college men's basketball game Thurs., March 30, 2019, at the Honda Center in Anaheim, Calif. . (Colin Mulvany / The Spokesman-Review)
First half
Halftime – Gonzaga 37, Texas Tech 35: Great 20 minutes of basketball in the West Region final.
Rui Hachimura pacing Gonzaga's top-ranked offense with 13 points, while the Red Raiders' top-ranked defense has forced GU into nine turnovers.
Matt Mooney leading TTU with 11 points, while Jarrett Culver has seven.
Brandon Clarke has 10 points for the Zags, while Josh Perkins has eight.
Zags shooting 50 percent from the floor and 36.4 percent from deep, while Texas Tech is shooting 44.8 percent overall and 41.7 percent from 3-point range.
Zags outrebounding Tech 20-11.
This game is shaping up to be a race to 70 points.
3:50 – Gonzaga 33, Texas Tech 31: Heck of a fadeaway jumper from Rui Hachmiura breaks the string of scoring from deep. The junior forward is up to 11 points for the Zags.
GU's turnover total now up to six with four of those coming from Brandon Clarke.
Texas Tech's offense getting a bit out of rhythm near the end of the half as GU is starting to settle into its game plan.
Zags get back in the lead after a Clarke Steal turns into a Hachimura layup after a nice pass from Jeremy Jones.
Texas Tech leading scorer Jarrett Culver just 2 of 8 from the floor for five points. Red Raiders need him to get going to have a chance to move on to the Final Four.
6:39 – Texas Tech 29, Gonzaga 27: Red Raiders aren't the only team that can play defense as Brandon Clarke gets a block, runs the floor and finds Josh Perkins for GU's first triple of the game.
Tech answers with a 3-pointer of its own on the next possession as Brandone Francis connects from deep.
Make that two straight 3s from TTU as big man Tariq Owens hits from deep. The 3-point contest continues at the other end as Killian Tillie gets his first points of the game on a corner trey.
TTU shooting 50 percent from deep.
Big reason GU is right in this is fast-break points. Zags lead the Red Raiders 9-0 in that stat, the last two coming off a Josh Perkins layup.
Only foul issues so far are on TTU's Norense Odiase, who has two.
Josh Perkins leads GU with eight points, while three Texas Tech players have five points.
The two teams have combined for nine 3-pointers so far.
11:59 – Texas Tech 13, Gonzaga 11: Texas Tech's defense is really clamping down on GU. Every time the Zags get the ball into Brandon Clarke or Rui Hachimura, the Red Raiders have two or three pairs of hands in the lane.
Hachimura up to seven points on 2 of 5 shooting for the Zags. Jarrett Culver leads TTU with five points.
Zags with two turnovers, but it will be difficult to keep that number low with the pressure TTU applies.
Red Raiders shooting 41.7 percent from the floor early on, with GU is making just 33.3 percent of its shots and is 0 for 4 from 3-point range
15:38 – Gonzaga 8, Texas Tech 8: Nothing comes easy in the opening minutes for these teams – which is expected in a battle of the nation's top defense against an improving defensive group in Gonzaga.
GU really working to get inside early on this undersized Texas Tech unit as Rui Hachimura has six points and Brandon Clarke has the other two.
On the other end of the court, TTU's guards are doing a great job of getting into the lane and making some tough plays at the rim.
Tough contest so far. Can't expect a lot of scoring with these defenses.
Gonzaga announces starting 5
Pregame
Game preview
Gonzaga roster
LEADERS
Texas Tech's roster
LEADERS
Local journalism is essential.
Give directly to The Spokesman-Review's Northwest Passages community forums series -- which helps to offset the costs of several reporter and editor positions at the newspaper -- by using the easy options below. Gifts processed in this system are not tax deductible, but are predominately used to help meet the local financial requirements needed to receive national matching-grant funds.
Follow along with the Zags
Subscribe to our Gonzaga Basketball newsletter to stay up with the latest news.
---