Sports > Gonzaga basketball
Recap and highlights: No. 11 Texas shines in new arena, Tyrese Hunter leads rout of No. 2 Gonzaga 93-74
Nov. 16, 2022 Updated Wed., Nov. 16, 2022 at 9:57 p.m.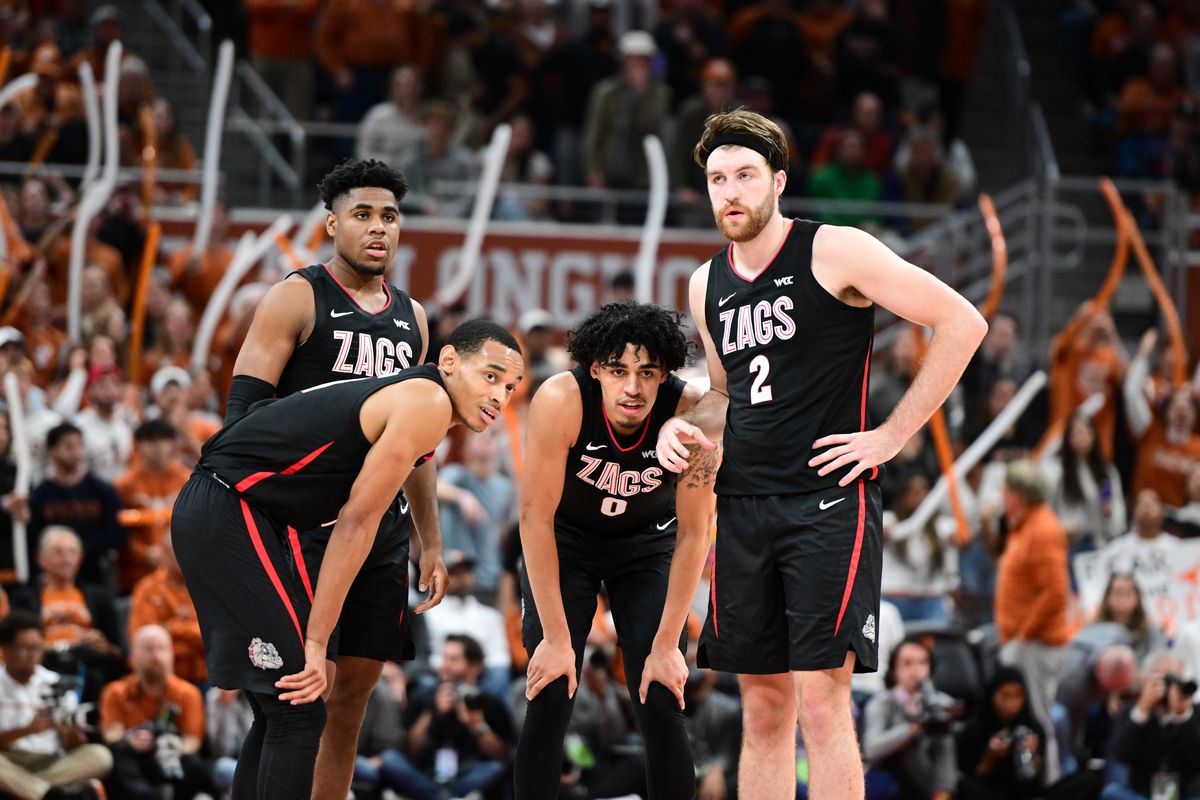 Gonzaga Bulldogs guard Nolan Hickman (11), guard Malachi Smith (13), guard Julian Strawther (0) and forward Drew Timme (2) react during the second half of a college basketball game on Wednesday, Nov. 16, 2022, in the Moody Center in Austin, TX. Texas won the game 93-74. (Tyler Tjomsland/The Spokesman-Review)
AUSTIN, Texas – There's been a transfer in power since the last time these teams met.
Texas rolled Gonzaga 93-74 on Wednesday night in front of a sellout crowd of 10,763 at the newly-opened Moody Center.
Iowa State transfer Tyrese Hunter – who considered going to Gonzaga during the summer – led a stellar shooting performance with 26 points.
The No. 11 Longhorns (3-0) entered the season shooting 19% on 3-pointers and flipped a switch converting 13 of 33 attempts.
The No. 2 Bulldogs (2-1) didn't fare ware playing its first true road game since 2019. The Zags committed 20 turnovers and had two technical fouls, surrendering the lead for good just over nine minutes into the game.
Unlike the previous game against Michigan State, Gonzaga couldn't bounce back from early punches and were outscored by nine in the second half.
There will be plenty for Gonzaga to work on. That point was driven home when Dillon Mitchell hammered back-to-back alley-oops with the rout on late in the second half.
Gonzaga plays No. 4 Kentucky at the Spokane Arena on Sunday.
ESPN / Youtube
First half
16:16 – GU 10, Texas 3: Disu makes a 3-pointer to open the scoring, then it's all Zags, who jump out on a 10-point run with two 3s from Hickman.
Hickman was called for a technical after making one of the 3-pointers. 
10:58 – GU 20, Texas 19: Back-and-forth we go as both teams are hitting shots in a physical game at the U12 media timeout.
Bulldogs are 4 of 4 on 3-pointers, much improved from Friday's game on an aircraft carrier. Watson leads GU with seven points. Carr leads Texas with six.
7:47 – Texas 26, GU 23: Longhorns take the lead through made shots from their backcourt duo of Carr and Hunter, who have combined for 15 points.
Reid limits the damage for GU before the U8 media timeout with a layup.
3:55 – Texas 38, GU 30: Longhorns getting some separation and take advantage of a replay-reviewed technical foul called against Watson – Gonzaga's second of the half.
UT is 6 of 6 on free throws, while the Zags are 1 of 2 at the U4 media timeout. Gonzaga also with twice the number of turnovers at 8-4. 
1:18 – Texas 45, GU 37: Cunningham drives inside for an easy layup and the Zags call for a timeout.
Not much resistance here from the Bulldogs defense, which has allowed Texas to shoot 53% from the field.
Halftime
A combination of tenacious defense, a ruckus crowd and sloppy play have sunk the Zags in the first half, allowing Texas to pour on the points and take a 47-37 lead in front of over 10,000 at the newly-opened Mooda Center.
Gonzaga committed 11 turnovers that Texas scored 11 points off of, shooting 51% from the field and 44% on 3-pointers.
Making shots hasn't been Gonzaga's issue, shooting 54% from the field and 5 of 7 on 3s. Watson, Timme and Hickman all lead the Zags with eight points apiece.
Texas' backcourt has been lights-out with graduate senior Marcus Carr, Tyrese Hunter and Sir'Jabari Rice combining for 29 points.
Gonzaga will need to shore up its defense and take the crowd out of the game to complete the second-half comeback.
Second half
18:04 – Texas 55, GU 40: The Longhorns connect on a pair of 3-pointers and Few calls for a quick timeout.
Texas shooting 50% on 3-pointers, after entering the game shooting 19.4% in its previous two games.
15:54 – Texas 61, GU 44: Longhorns are running away with this one, as Hunter continues to pile on 3-pointers. The Iowa State transfer has 18 points on 6 of 10 shooting (4 of 6 on 3s).
11:19 – Texas 70, GU 51: Things not getting any better for the Bulldogs, who have trailed by as many as 20 points.
Gonzaga shooting just 35.7% in the second half, compared to Texas' 56.3.
Barring a major run, Zags look like they'll take their first loss of the season ahead of playing Kentucky on Sunday.
9:09 – Texas 78, GU 58: 3-pointers keep falling and Few calls for another timeout. Hunter and Carr a combined 9 of 14 from deep and have 40 combined points.
Starting 5
No changes to Gonzaga's starting five with Hickman, Bolton, Strawther, Watson and Timme. Texas going with Carr, Hunter, Allen, Mitchell and Disu.
Pregame
It's Timme vs. Texas, Round 2.
Gonzaga All-American Drew Timme will lead the No. 2 Bulldogs into Austin, Texas to face the No. 11 Longhorns tonight at 6:30 p.m. The game will be broadcast on ESPN2.
Timme is coming off a 22-point performance during a 64-63 win over Michigan State in last Friday's Armed Forces Classic aboard the USS Abraham Lincoln. There won't be any wind affecting the Zags 3-point attempts tonight in the Moody Center, but GU will still look to feed Timme on the inside, as the senior recorded a career-high 37 points in the Bulldogs win over the Longhorns last season. 
The Bulldogs (2-0) ran away with a win over North Florida in the opener and then grinded out a second-half comeback over the Spartans, who knocked off fourth-ranked Kentucky in double overtime on Tuesday.
Texas is off to a strong start with routs of UTEP, 72-57, and Houston Christian, 82-31. The Longhorns also beat No. 9 Arkansas in an exhibition, 90-60.
Texas features a mix of senior leadership in graduate senior Marcus Carr at point guard and senior Timmy Allen at forward, along with underclassmen Tyrese Hunter and Dillon Mitchell. 
Gonzaga's nonconference gantlet doesn't get easier from here, when the Zags play Kentucky on Sunday at the Spokane Arena.
Series history
Gonzaga holds a 4-0 all-time series lead over Texas, including an 86-74 win over the then-No. 5 Longhorns in The Kennel last year. Fittingly the native Texan Drew Timme scorched his home state team with a career-high 37 points.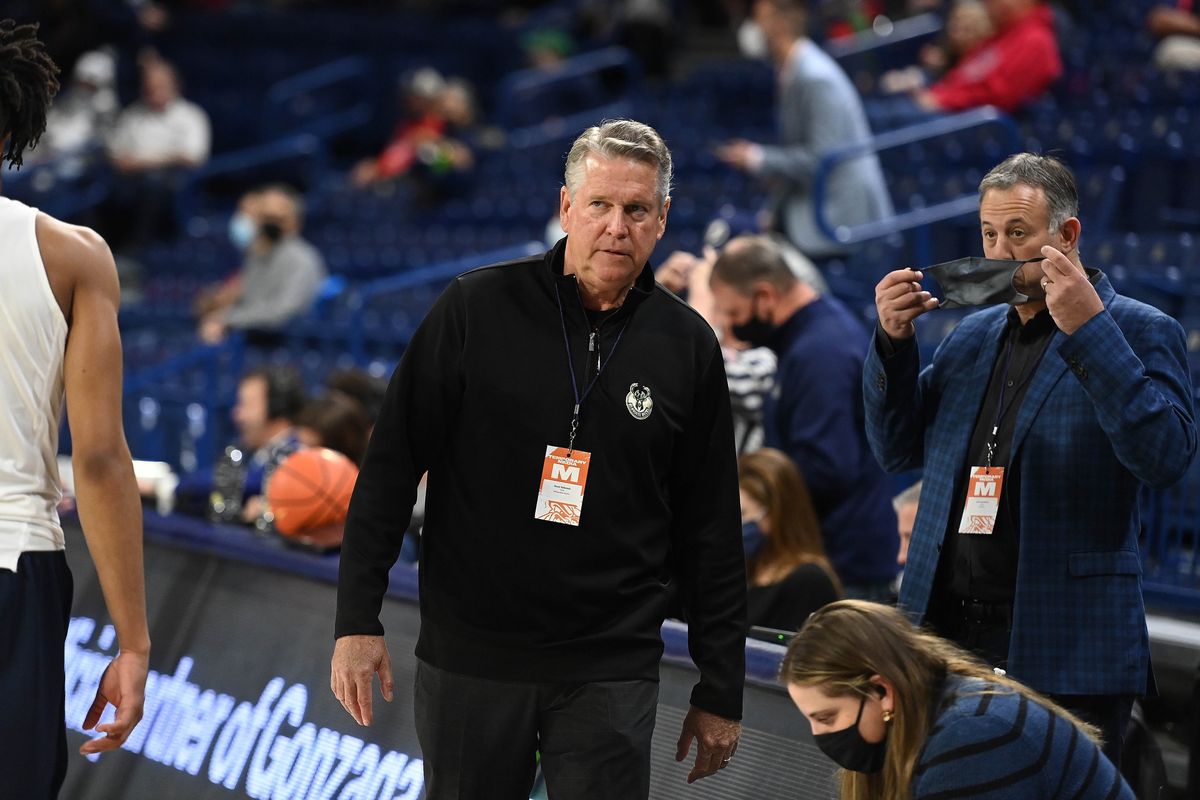 A scout for the Milwaukee Bucks hangs near the scorers table before the game with Texas , Saturday, Nov. 13, 2021, in the McCarthey Athletic Center. (COLIN MULVANY/THE SPOKESMAN-REVIEW)
The other three times the two teams met: (Nov. 26, 2017) No. 17 Gonzaga 76, Texas 71 OT. (Dec. 2, 2006) No. 22 Gonzaga 87, Texas 77. (Nov. 23, 2001) Gonzaga 67, Texas 64.
Team stats
Individual leaders
Game preview
More on the Zags
Local journalism is essential.
Give directly to The Spokesman-Review's Northwest Passages community forums series -- which helps to offset the costs of several reporter and editor positions at the newspaper -- by using the easy options below. Gifts processed in this system are not tax deductible, but are predominately used to help meet the local financial requirements needed to receive national matching-grant funds.
Follow along with the Zags
Subscribe to our Gonzaga Basketball newsletter to stay up with the latest news.
---