Recap and highlights: Cameron Ward puts on a show as Washington State holds on to beat Oregon State 38-35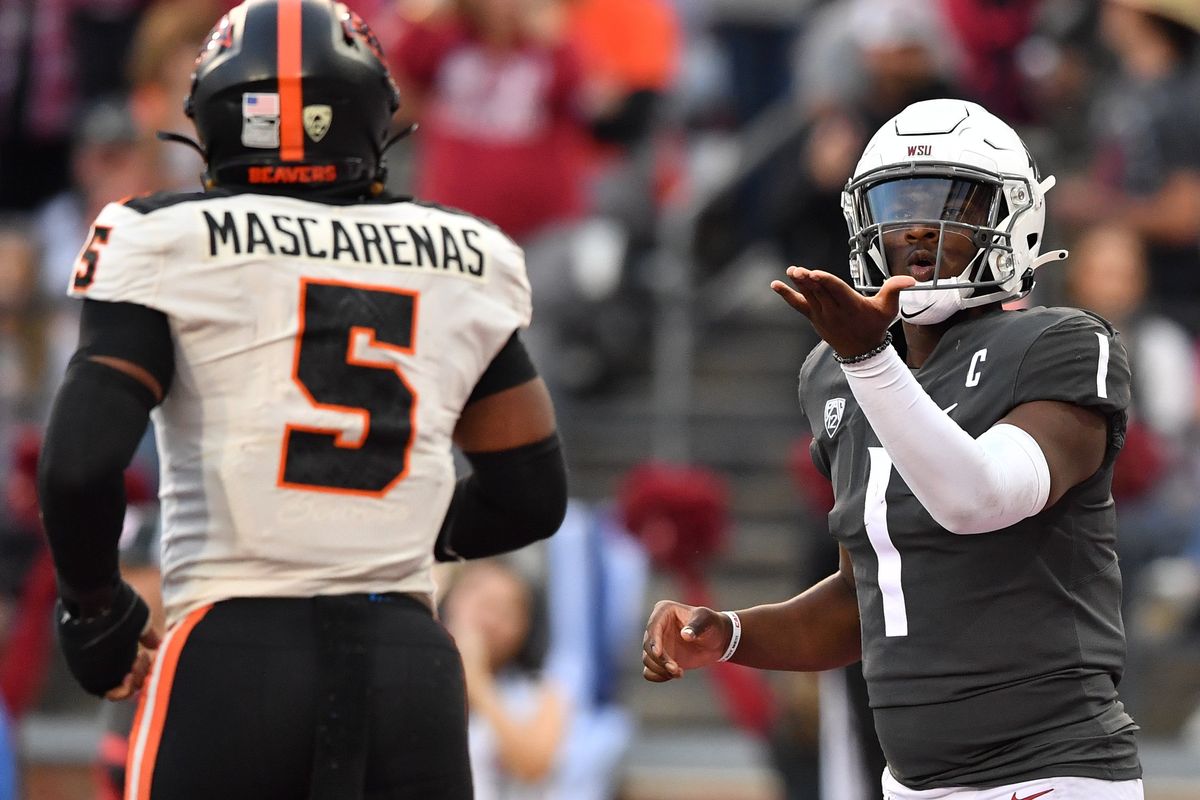 PULLMAN — At some point when the play ended, Jake Dickert ran out of words. Cameron Ward had just scrambled and thrown a touchdown, pushing Washington State's lead to two scores over Oregon State.
So as Ward came to the sideline, Dickert could only look down and smile. The Cougs were in control. In their 38-35 win over the Beavers, they never let go. For that, they could thank their quarterback, played the game of his life in the biggest spot of his life.
Ward completed 28 of 34 passes for 404 yards and 4 touchdowns. He lost a fumble, but for the fourth straight game to open the season, he did not throw an interception.
Ward wowed with his athleticism and impressed with his creativity, as he led the Cougars to their second win over a ranked opponent in two weeks. Wide receiver Josh Kelly hauled in two one-handed catches en route to eight receptions for 159 yards and three touchdowns. Kyle Williams caught seven passes for 174 yards and one touchdown.
Even Washington State's rushing attack, for the first three weeks of the season a concern for the Cougars, helped along the way. Running back Nakia Watson totaled eight carries for 46 yards, including two of his longest runs of the season, and scatback Jaylen Jenkins worked his way around a costly fumble with five carries for 28 yards.
That helped Washington State win one of the more fascinating matchups in the sport this week. The last two teams in the Pac-12, trying to show the nation they belong in a power conference, in a primetime slot broadcast.
The only drama came late in the fourth quarter. On fourth-and-goal from the Beavers' 2, Ward's pass to Kelly fell incomplete. Oregon State followed with a long drive to the WSU 5, where on fourth down, Uiagalelei completed a 5-yard touchdown pass to tight end Jack Velling. That sliced WSU's lead to 38-35 with 1:12 to play.
The Beavers tried an onside kick. After a WSU bobble, the Cougars came out of a scrum with the ball and kneeled out the game.
Otherwise, so in-tune was the Cougs' offense that offensive coordinator Ben Arbuckle seemed to toy with the Beavers' defense. On one occasion, he inserted backup quarterback John Mateer to take a shotgun snap. Mateer handed it off to Ward, who turned around and found Mateer for a nine-yard completion. Later in the game, to sustain a drive that ended in a touchdown, punter Nick Haberer faked a punt and lofted it to tight end Billy Riviere III for a first down.
The highlights started early. On the second play from scrimmage, Ward loaded up and threw a deep pass to Williams, who caught it in stride for a 63-yard touchdown. Later in the quarter, Ward lobbed it over the middle for Kelly, who used one hand to pin the ball to his body, an impressive one-handed catch.
On the first play of the second quarter, Ward hit a short completion to Kelly, who shook off several tackles, utilized a spin move that forced three Beavers to collide with each other and bolted 44 yards for a touchdown.
There were more plays that might lead off SportsCenter. Late in the third quarter, Ward dropped back and lofted it up to the end zone for Kelly, and before the Oregon State defensive back could get his head turned around, Kelly hauled it in — again with one hand. That pushed the Cougars' lead to 35-14.
Except the Beavers kept things interesting. They followed that score with one of their own, a 26-yard rush from quarterback DJ Uiagalelei, who burst up the middle on fourth down. The Cougars responded with a 44-yard field goal from kicker Dean Janikowski, giving his team a 38-21 lead, only for OSU to answer with a 4-yard touchdown rush from running back Deshaun Fenwick.
WSU won without top receiver Lincoln Victor, who left in the first quarter. Holding an extra point, an OSU player appeared to step on Victor's foot. Later in the game, Victor reemerged on crutches, no shoe on his left foot.
In his absence, WSU never really missed a beat. That's says something about Ward and the Cougars offense.
First quarter
14:55 – WSU 0, OSU 0: Beavers win the toss and defer to the second half. Victor handles the return and the Cougars start at their own 25.
14:10 – WSU 7, OSU 0: Cougars waste no time, scoring on their second offensive play. Ward connects with Williams over the top of the defense for a 63-yard touchdown.
Ward took a keeper on the first play for a 12-yard carry.
11:39 – WSU 7, OSU 0: Beavers pick up a 27-yard gain on a run by Martinez, but stall and are forced to punt. WSU takes over on its 10 after a fair catch. 
OSU fumbled out of bounds on a third-and-2 attempt.
7:57 – WSU 14, OSU 0: Ward efficiently guides the Cougars down the field and punches in a 1-yard rushing touchdown after an unsportsmanlike penalty.
Ward is 5 of 6 for 137 yards passing and has three carries for 15 yards. Little resistance for the Cougars early, with seven first downs and one third down conversion. 
3:48 – WSU 14, OSU 7: Beavers answer with a 9-play, 75-yard drive, capped by a 38-yard rushing touchdown by Fenwick. 
OSU leaning on its rushing attack with eight carries for 86 yards so far.
0:00 – WSU 14, OSU 7: Cougars driving near midfield at the end of the first quarter. Face a third-and-10 when play resumes.
Second quarter
14:49 – WSU 21, OSU 7: Cougars convert and then some, as Ward hits Kelly on a hitch and Kelly does the rest, making multiple defenders miss on the way to a 44-yard touchdown. 
Kelly having a breakout day with five receptions for 120 yards and a touchdown. Ward is 12 of 13 for 213 yards and two touchdowns.
10:30 – WSU 21, OSU 7: The Beavers get backed up after a personal foul and Lockkett III intercepts UUiagalelei on third down. Cougars take over at their 19.
8:42 – WSU 21, OSU 7: Cougars continue to drive down the field with ease, but Jenkins fumbles on a swing pass and the Beavers recover.
After a review, OSU starts on its 22.
5:35 – WSU 21, OSU 14: Turnover proves costly for the Cougars, as OSU capitalizes with a quick 78-yard drive.
Fenwick scores on a rushing touchdown from 13 yards after Uiaglelei hit Bolden on a 46-yard pass. Fenwick has four carries for 64 yards and two TDs.
3:43 – WSU 21, OSU 14: Cougars let themselves down on a second straight drive. Ward tries to break from the pocket and is stripped by Lolohea. Beavers take over at the WSU 40.
2:12 – WSU 21, OSU 14: Beavers go for it on fourth down and Hicks comes up with a key sack. Fumble doesn't cost the cougars this time. WSU will start on its 45.
0:10 – WSU 28, OSU 14: Bigtime drive for the Cougars before halftime. Ward completes an 11-yard pass to Kelly for the score. 
Kelly has seven receptions for 140 yards and two TDs. Williams has four receptions for 119 yards and a TD.
Halftime
Washington State has come out firing on offense and leads Oregon State 28-14 at Gesa Field in Pullman.
The Cougars gained 352 yards in the half and overcame two turnovers to lead by two scores. Cameron Ward goes into the locker room 19 of 20 for 293 yards and three touchdowns passing.
Oregon State is leaning on its rushing attack and has 135 yards on the ground. The Beavers have turned the ball over on an interception and on downs later in the half.
Washington State has not punted.
The Beavers will receive the second half kickoff.
Third quarter
13:05 – WSU 28, OSU 14: Beavers go for it on fourth down and Uiagalelei's pass is incomplete. Great stop by the Cougars, who take over on the OSU 34.
WSU wide receiver Lincoln Victor will not return and is on crutches.
12:04 – WSU 28, OSU 14: Beavers defense comes up with a stop and the Cougars try a field goal. Janikowski's attempt from 51 yards is no good.
10:04 – WSU 28, OSU 14: Cougars defense stands strong and Malani drops Uiagalelei for a sack on third down. Beavers punt to the WSU 17.
7:27 – WSU 28, OSU 14: Ward is sacked on second down and takes a shot on an incomplete pass on third down. Cougars pull out a fake punt on fourth down and Haberer converts with a pass to Riviere. 
No penalty on the play.
5:15 – WSU 35, OSU 14: Cougars fake punt pays off and Ward hits Kelly on a 19-yard touchdown to cap the 83-yard drive.
Kelly has eight receptions for 159 yards and three touchdowns, stepping up big with Victor injured.
0:00 – WSU 35, OSU 14: Beavers are driving and face a third down on the WSU 29 when play resumes. OSU will need to pick up the pace if it wants to come back in the fourth.
Fourth quarter
14:14 – WSU 35, OSU 21: Uiagalelei wastes no time getting the Beavers on the board. He rushes up the middle for a 26-yard touchdown on fourth-and-2.
9:12 – WSU 38, OSU 21: Janikowski nails a 44-yard field goal in off the post to extend the lead. Ward did a good job of evading a sack on second down that would have dropped WSU out of range.
6:18 – WSU 38, OSU 28: Fenwick rushes for a 4-yard touchdown as the Beavers cut it to 10. 
Lampkin kept the Beavers drive alive with a pass interference on fourth-and-13. 
3:58 – WSU 38, OSU 28: Ward throws incomplete on third down and the Beavers will take over on their own 2. Long way to go down two scores, as WSU opts to not take the field goal.
Ward completed a 35-yard pass to Williams on third down to keep the drive going.
1:12 – WSU 38, OSU 35: Uiagalelei completes a 5-yard touchdown over the middle to Velling. May be too little too late, as the Beavers will need to recover an onside kick. No timeouts for OSU. 
1:10 – WSU 38, OSU 35: Cougars luck out, as they touch the onside kick early and are able to come out of the scrum with the ball. WSU will take a knee and survive with the win.
Pregame
Call it what you want – Civil Cup, Farmland Friendly, or Pac-2 Championship – Saturday's meeting between Washington State and Oregon State, the two Pac-12 teams lost in the shuffle of conference realignment, carries plenty of off the field baggage.
On the field, however, are two undefeated teams ranked in the AP Top 25.
The No. 21 Cougars (3-0) host the No. 14 Badgers (3-0) at 4 p.m. on Fox 28. Those with Comcast in the Spokane area won't be able to see the game due to a contract dispute. 
Washington State completed a sweep of its nonconference schedule with a 64-21 rout of Northern Colorado last week. It also beat then-No. 19 Wisconsin 31-22 and Colorado State 50-24.
The Cougars have found success with a strong defense and one of the nation's best passing offenses, ranked third in the country with over 400 yards per game.
Oregon State has cruised to three wins over California-based schools. The Beavers beat San Diego State 26-9 last week and routed both San Jose State and UC Davis.
Series history
The Cougars hold a 56-48-3 all-time record over the Beavers, dating back to 1903. Oregon State secured a comfortable 24-10 win in last year's game in Corvallis, which snapped an 8-year WSU win streak.
Team stats
Individual leaders
Game preview
More on the Cougs
---