Drew Timme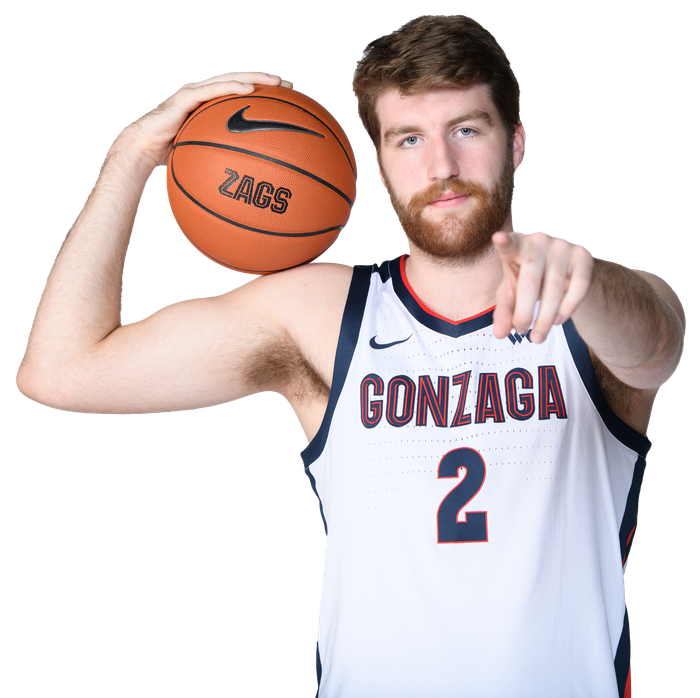 Jersey: 2 Position: F
Age: 21 Height: 6-10 Weight: 235
Hometown: Richardson, Texas, United States
Birthdate: Sept. 9, 2000
Bio: Last name pronounced Timmy. Averaged 27.7 points, 17.9 rebounds and 4.3 assists at J.J. Pearce High and helped team advance to second round of state tournament. No. 43 in 247sports' composite rankings, highest of GU's six incoming freshmen. Nominated for 2019 McDonald's All-American game.
Jr.

Scouting report:
Projected to be the country's top returning big man – and top returning player, according to some – after breakout sophomore season. Has an opportunity to climb up NBA Draft boards is he can improve his perimeter shooting.
So.

Scouting report:
Timme elevated his game in his second year, moving into a starting role as a volume-scoring rim runner with a variety of old-school post moves. Led the WCC in scoring and led GU in rebounding with 19.0 points and 7.0 boards per game. Was a breakout star at the NCAA Tournament where he scored 119 total points, including 100 in a four-game stretch against UCLA (25), USC (23), Creighton (22) and Oklahoma (career-high 30). Earned Karl Malone Award for nation's top forward, was named to All-NCAA Tournament First Team and nabbed Second Team All-America honors from Sporting News and Sports Illustrated.
Fr.

Scouting report:
Named to the WCC All-Freshman Team after appearing in 33 games and averaging 9.8 points and 5.4 rebounds. Led the team in shooting at 62.1% and was on the WCC All-Tournament Team.
Drew Timme
Sports > Gonzaga basketball

UPDATED: Mon., Nov. 15, 2021

Sports > Gonzaga basketball

UPDATED: Mon., Nov. 15, 2021

Sports > Gonzaga basketball

UPDATED: Thu., Nov. 4, 2021

Sports > NCAA basketball

UPDATED: Mon., Oct. 25, 2021

Sports > Gonzaga basketball

UPDATED: Thu., Oct. 21, 2021

Sports > Gonzaga basketball

UPDATED: Sat., Oct. 9, 2021

Sports > NCAA basketball

UPDATED: Sat., Oct. 9, 2021

Sports > Gonzaga basketball

UPDATED: Wed., Aug. 18, 2021

Sports > NCAA basketball

UPDATED: Thu., July 15, 2021

Sports > Gonzaga basketball

UPDATED: Thu., July 1, 2021

Sports > NCAA basketball

Sun., June 6, 2021

Sports > Gonzaga basketball

UPDATED: Wed., May 26, 2021

Sports > Gonzaga basketball

UPDATED: Tue., April 6, 2021

Sports > Gonzaga basketball

UPDATED: Tue., March 16, 2021

Sports > Gonzaga basketball

UPDATED: Mon., March 22, 2021

Sports > Gonzaga basketball

UPDATED: Sat., April 3, 2021

Sports > Gonzaga basketball

UPDATED: Mon., March 29, 2021

Sports > Gonzaga basketball

UPDATED: Tue., March 9, 2021

Sports > Gonzaga basketball

UPDATED: Tue., March 30, 2021

Sports > Gonzaga basketball

UPDATED: Tue., March 30, 2021
Photo gallery